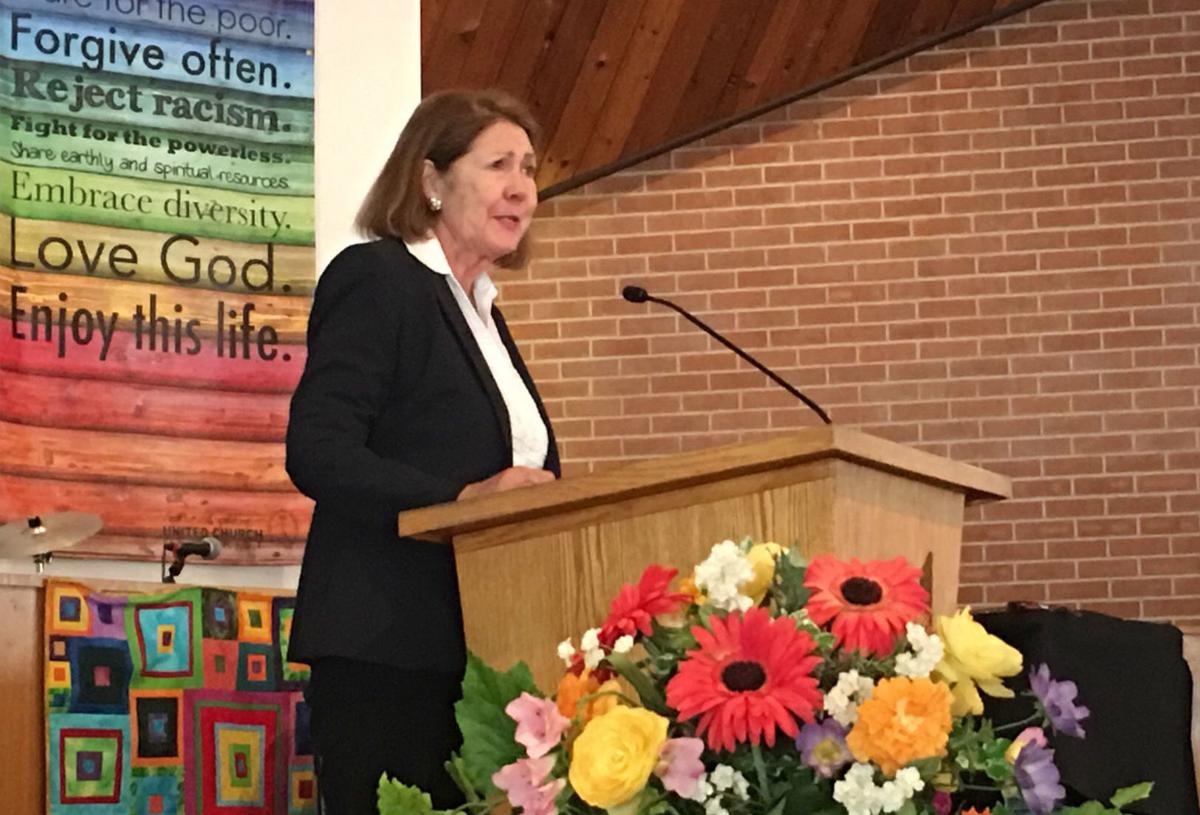 US. Rep. Ann Kirkpatrick, a Democrat who represents Tucson and Southern Arizona, announced Wednesday that she is stepping away from her duties temporarily to seek treatment for alcohol dependence after suffering a serious fall last week that left her with multiple cracked ribs and spinal fractures.
"I am finally seeking this help after struggling to do so in the past, and I am ready to admit that I, like countless other Americans, suffer from this disease," she said in a statement. "Hard work and determination — which have brought me success in life — have not been enough to win this battle. Other than being a wife, mother, and grandmother, the most important job in the world to me is representing my fellow Arizonans. I know I must get better in order to do my best in each of these roles."
Kirkpatrick, 69, who represents Arizona's second congressional district, had been absent from Congress over the last week, missing a key Thursday vote on the Iran War Powers resolution, which would limit President Donald Trump's ability to use military action against Iran without congressional approval. The resolution ultimately passed the House.
Her spokeswoman, Abigail O'Brien, told the Arizona Daily Star that Kirkpatrick was taken to the hospital prior to the vote after she fell in Washington, D.C., but her injuries were "worse than they originally thought." In addition to the spinal fractures and cracked ribs, she had to get some staples in her head.
O'Brien estimated that her absence will last three weeks, "possibly more." While she cannot vote on any House bills during her absence, all of her positions on recorded votes will be made public in the Congressional Record. Her offices in Washington D.C. and Arizona will continue to be fully operational.
"She's focused on getting healthy right now," O'Brien said. "We're continuing to work as we always have."
Kirkpatrick said in her statement that she expects to fully recover after physical therapy.
"With humility, I share this news with you," she said. "Throughout my time in public service, I have always said that you may not agree with me but you will know where I stand. I will continue to honor that commitment to transparency and communication. So while my immediate focus is on my rehabilitation and treatment, I am taking this important step forward with the full expectation and desire to return to work stronger and healthier and to continue serving my beloved Arizona."
Kirkpatrick has represented parts of Arizona for most of the past decade, including rural and conservative areas. She previously represented a different swing district in northern and eastern Arizona before she ran unsuccessfully against Republican Sen. John McCain in 2016.
McCain's widow, Cindy McCain, who has been open about her own struggles with addiction to prescription pain pills three decades ago, said on Twitter that she's "sending lots of support and friendship to @RepKirkpatrick."
Rep. Paul Gosar, a Republican who unseated Kirkpatrick in a 2010 House race, tweeted that he's keeping her in his thoughts. Kirkpatrick won the seat back after Gosar switched to a different district for the 2012 election.
"There are many stressors in this business and at every reception and dinner alcohol is provided," he wrote. "It's easy — too easy — to become addicted and I wish god speed to my colleague, my friend and my fellow Arizonan. God bless you Ann."
U.S. Rep. Raúl Grijalva, a fellow Southern Arizona Democrat, called Kirkpatrick a "tireless public servant."
"I wish her well during this time, applaud her for this courageous step, and look forward to welcoming her back to Washington to keep fighting for the people of Southern Arizona," Grijalva wrote in a tweet.
O'Brien added that Kirkpatrick has received "a ton of support," including from House Majority Leader Steny Hoyer and Speaker of the House Nancy Pelosi, both Democrats.
"This is something that a lot of people in some way, whether it's their families or their friends, have experienced," O'Brien said. "It's something that's unfortunately relatable and we're getting a lot of support — overwhelmingly kind."
Kirkpatrick won her congressional district in 2018 after defeating Lea Marquez Peterson, who led the Tucson Hispanic Chamber of Commerce. The CD2 race is expected to draw national party attention again this year, with at least eight candidates vying so far to challenge the four-term congresswoman.
Republicans who have announced are former lobbyist Shay Stautz, author Mike Ligon, defense contractor Brandon Martin, Pima Community College employee and former Arizona Daily Star columnist Joseph Morgan, and small-business owner Justine Wadsack. Two Democrats, Andres Portela, Southwest Fair Housing Council media coordinator; and self-described activist Nevin Kohler are challenging Kirkpatrick for the Democratic nomination. Iman-Utopia Layjou Bah, the author of the book "Global Utopian Kingdom," has also announced he is running in CD2 as an independent.
What effect the absence may have on the race is "hard to say," according to University of Arizona professor Kate Kenski, who works in the department of communication. She said the competitive history of the district, combined with the fact that the presidential election typically generates higher turnout, make it hard to predict.
"The district has a history of volatility," Kenski said, pointing out both Republicans and Democrats have traded the seat in the last decade. "What matters is how voters view the impact of the news. … The impact of her limited absence may ended up not being detrimental."
Pima County Republican chairman David Eppihimer offered his support for Kirkpatrick's alcohol addiction, but said Republicans are still working "vigorously" to win the CD2 seat.
"We wish her a speedy and full recovery. I had not known of the alcohol dependency and wish her full recovery from that and any treatment she may undertake," he said. "Whomever the voters decide is our candidate, we will be supporting them vigorously to unseat Ms. Kirkpatrick. That's our goal."
O'Brien, Kirkpatrick's spokeswoman, said that her staff will continue "full speed ahead" in her absence and that she has no plans to abandon her race.
Meanwhile, in her statement, Kirkpatrick offered a thank you.
"I am grateful to the people of Arizona whom I am privileged to serve, my amazing staff who work tirelessly on your behalf, and my infinitely supportive and loving family," she said. "From the bottom of my heart, thank you for your support."