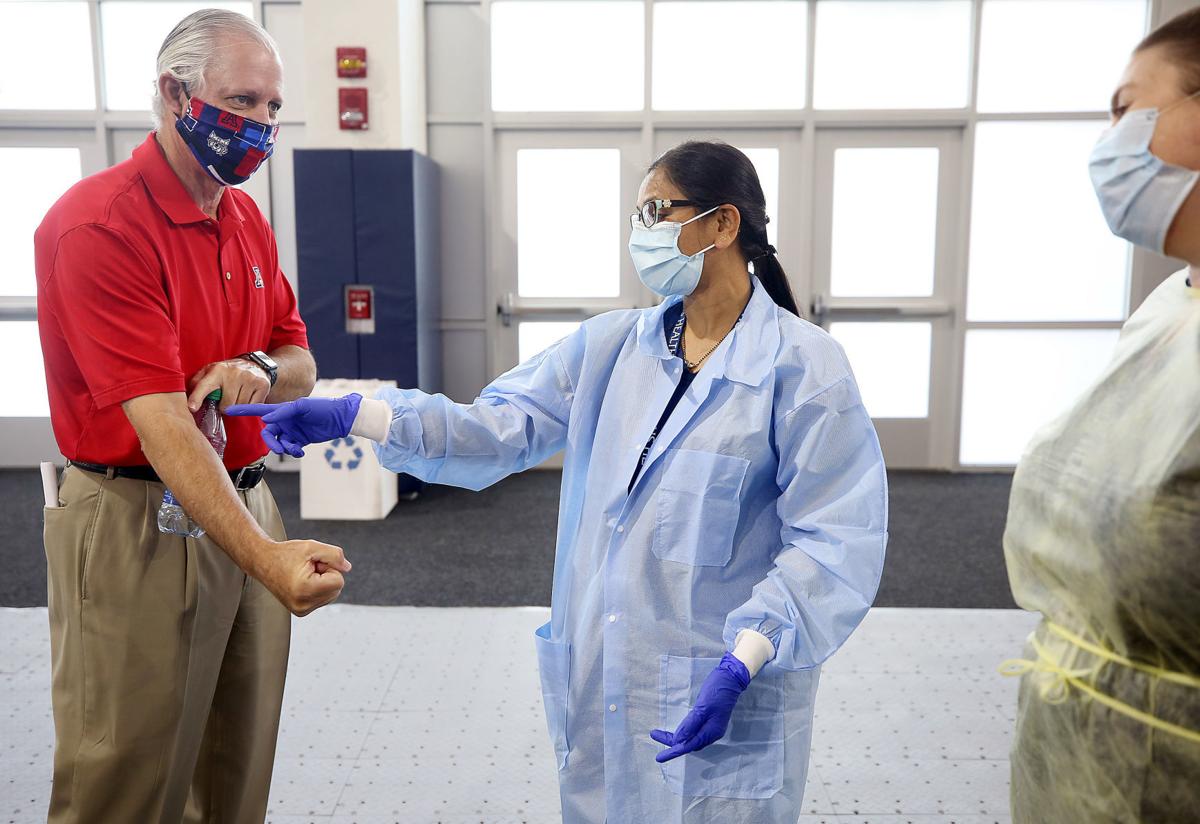 On May 5, as UA President Robert C. Robbins began rolling out the school's coronavirus response, he made an appearance on MSNBC's "Meet the Press Daily" and detailed the basis of a plan for how students would return to the Tucson campus in the fall.
"We're going to test, we're going to trace, and we're going to treat," he said.
Robbins, who is wrapping up his third year as the UA president, used that message to propel himself through a media tour of roughly two dozen of the nation's morning shows, cable news programs and newspapers in the weeks since.
Behind the scenes, Robbins' elevation from cardiac surgeon to a must-book coronavirus guest was largely the work of a deal quietly brokered by the University of Arizona Foundation, the school's nonprofit fundraising wing.
The foundation enlisted the help of Cavalry LLC, primarily known for its connection to Republican U.S. Senate Majority Leader Mitch McConnell, to provide media access to Robbins and others to promote the school's response and to help it weather decreases in revenue and philanthropic gifts caused by the pandemic.
"The results and the outcomes have been exceptional," the UA said. "The foundation reports more than $650,000 has come in from parents and alumni as a result of the media blitz to support the testing and research programs and a record number of prospective students committed to the university in May."
The agreement has irked some UA faculty members, who cited a lack of transparency regarding the firm's work, and that the public-relations campaign came as employees face $90-plus-million in pay cuts brought on by the pandemic.
It remains unknown how much Cavalry is being paid, although the UA has said no state or tuition money is being used. The school hasn't said who arranged the agreement, citing a policy against releasing foundation contracts and gift agreements. The foundation is typically not subject to public-records laws.
"It does raise a lot of red flags, mainly because we don't have a lot of answers," said Celeste Gonzalez de Bustamante, who is on the steering committee for the Coalition for Academic Justice and is an associate professor at the school of journalism.
In response to questions submitted by the Star, the university provided a one-page statement praising Cavalry's work for the UA, pointing to Robbins' interviews "across the political media spectrum" on CNN, Fox News, NBC and ABC and with hosts like Savannah Guthrie, Neil Cavuto and Wolf Blitzer.
"It worked because President Robbins is an expert medical professional who was fully transparent about how and why the university was serious about returning to campus," the statement said.
Knowing those in the know
The day before his afternoon appearance on MSNBC, Robbins was asked about the relationship with Cavalry during a meeting with the school's faculty senate.
In response to the first question, about how much the firm is being paid and the scope of its work, Robbins started his response by saying, "I don't know."
Questions regarding Cavalry continued. Faculty members expressed concern about the firm's involvement with hyperpartisan causes. They prodded Robbins about whether the work could instead be handled in-house. They asked if foundation money could be otherwise used to offset a projected $250 million in losses at the UA.
Robbins said the agreement was done with no public money and that Cavalry is "simply helping us get on these talk shows, on the news, in print media."
He said it's important to amplify the steps the UA took in the wake of the coronavirus. That's included swiftly moving to distance learning, launching a task force led by UA distinguished professor and former U.S. Surgeon General Richard Carmona to plan reentry back to campus, and a goal of testing 250,000 first responders and health-care workers for antibodies statewide, spearheaded by $3.5 million in state funding.
"The last three mornings I've been up at 4 o'clock doing East Coast shows," Robbins said, according to a publicly available recording of the meeting. "I don't think we can do that on our own. We can try, but these are people who have inside connections with all the major networks and the newspapers. I think it's important for us to tell the story that we're taking this very, very seriously."
He specifically addressed his interview with Guthrie, the co-anchor of NBC's "Today," a UA alum and Tucson native, and whether someone locally could have arranged that.
"I text with Savannah frequently. What she usually does is say, 'Talk to my producer.' I don't know her producer," Robbins said. "These people know her producer."
For many professors, those explanations haven't been enough.
Jessica Summers, the chair of the faculty senate, said many questions remain, including why the university picked Cavalry, the price tag, how long the agreement is set to last, and the purpose of the hiring.
"It would have been helpful for the executive leadership team or the senior leadership team to disclose this information before we started seeing the president in media outlets because not only did we not know the content of what he was going to share, we didn't know this was a strategic plan of his," said Summers, who is also an associate professor in the department of teaching, learning and sociocultural studies.
She noted that she understands the benefits of wanting to get a message out to prospective students who might be concerned about the university's future plans, but the lack of transparency has caused more issues than it's solved.
She said professors have found inconsistencies in the messages portrayed on a national audience and those shared with faculty and staff.
"In terms of how it's affected morale on campus, I think it's been damaging because he's not talking about these plans and these intentions and the message with shared governance beforehand. We wish that he would," Summers said.
More than a half-dozen professors reached by the Star said they either found out about the relationship from their colleagues, or didn't know about it. Bustamante and Summers each said they've heard concerns from roughly 20 professors.
Farid Matuk, an associate professor of English who found out about the agreement during a social and behavioral sciences webinar, said "faculty are not naïve about the financial crisis" and understand the media appearances. But he said the lack of transparency, as Robbins asked the faculty to buy in to sweeping pay cuts, shows he's not reciprocating a relationship.
"When you ask employees to take a pay cut, you increase our stake. ... There's been no reciprocal increase in shared governance and transparency in government," he said. "We fully see the value of having the president out on morning shows, but I think for me, the anxiety is what are the priorities and expectations and why work with such a partisan group. ... Why this one?"
In its statement, the UA said promoting what the school is doing in the face of COVID-19 was meant to "impact as many prospective students, their parents and supporters as possible to emphasize that we have a plan and the means to make it happen."
"Publicity through regional and national news media was the most effective and efficient manner to get the message out, and we weren't going to spend state or tuition money on it," the statement said.
"We make their fight our fight"
The "What We Do" section on Cavalry's website promotes the firm's work with Fortune 500 companies, trade associations, political and nonprofit clients that is done with a goal in mind: "We make their fight our fight."
The firm's three founding partners have close ties to McConnell, a Kentucky Republican, including prior and continuing campaign work. That includes Josh Holmes, his former campaign chief of staff and an Arizona State University graduate, whom McConnell said "pitched a perfect game" after a big win during the 2014 election cycle, according to Politico Magazine.
Public accounts show a majority of the firm's work is in politics. The firm received nearly $13 million as a vendor during the 2016, 2018 and 2020 elections, according to data tracked by OpenSecrets.org.
The firm's work earned it the No. 2 spot on Politico's 2017 Playbook Power List after having "the best election cycle of any shop in D.C." The article noted its efforts on GOP campaigns, the representation of Republican megadonor Sheldon Adelson, but most importantly the fact that McConnell consults the firm on his moves "and his moves matter, because they will help (U.S. President Donald) Trump succeed."
The firm has also been credited for coining the "Cocaine Mitch" epithet, a moniker initially meant to tie McConnell to a drug bust on a ship owned by the family of his wife, Transportation Secretary Elaine Chao, by a West Virginia Senate candidate. The firm later used the phrase as a fundraising effort for McConnell on things like T-shirts.
While the firm's political connections are clear, the remaining scope of its business remains unclear. In response to questions specifically about whether they advise any other universities, John Ashbrook, one of the founding partners, deferred comment to the UA Foundation.
Summers said Steve Moore, the UA's senior vice president and chief marketing and communications officer, told her during a meeting that Cavalry was vetted "and that they had a good reputation as far as he was concerned."
"That was really the only additional information that I've gotten about Cavalry in a meeting," she said.
The professors said that lack of information prompts their other concerns.
"The university is a Hispanic-serving institution. It's a university that sits on Native land. The optics really aren't good when you have the UA Foundation working in whatever form that is with a hyperpartisan organization called Cavalry coming in to strategize the UA's next PR move," Bustamante said.
"The anxiety by many of us is the donor or foundation ... is going to at some point expect a reciprocal change in policy that would reflect the priorities of conservative think tanks or legislators? Might there be an expectation of a deepening relationship between this donor or foundation?" said Matuk, the English professor, adding that he's wondering how it affects the Arizona Board of Regents' efforts to promote freedom of expression on campus.
In response to questions about whether the board has concerns about the relationship, foundation spokeswoman Sarah Harper said "the board does not review foundation contracts."
"The board understands that services of Cavalry LLC were engaged to help bolster national media exposure in the effort to inform the public about the University of Arizona's plan to welcome students to campus in the fall," she said in a prepared statement.
Spending money to make money
Like most institutions, universities spend millions to promote their brands, whether it's on campaigns to attract students or faculty, or to raise money. But experts said it's on the university to be transparent about how those dollars, a lot of which are spent on outside firms, move the school's goals forward.
Anthony D'Angelo, a professor of practice at Syracuse University's Newhouse School of Public Communications, said the UA Foundation's deal with Cavalry raises questions, specifically the fact that "there are lots and lots of public relations firms that don't take on that kind of political work."
He said UA leaders should have anticipated questions.
"If it's perceived that you're not being transparent in your motives or your mode of execution or how you're spending money or what you're going to get out of it, that gives the public, on whom your existence ultimately depends, an impression that may hinder you as an organization," said D'Angelo, who was previously the chair of the Public Relations Society of America.
At the UA, it's hard to quantify how much money is being spent to promote the school's brand.
An analysis of in-house expertise shows 15 professionals in the president's office and communications wings are paid more than $1.6 million. And many departments have their own communications professionals, some of whom make upward of $200,000.
The UA spent $4.5 million for both internal and outside work on the production and disbursement of its most recent marketing campaign, dubbed "Wonder Makes Us," according to figures provided by the school.
The UA Foundation has its own communications and marketing staff, but it's unknown how much it receives. Leaders spent $13.5 million on nonemployees during the 2018 fiscal year, according to the most recent federal filing. The nonprofit is required to list its five highest-paid consultants, which made $189,000 to $418,000 for services like software development, transportation, investment and auditing, but not communications and marketing.
D'Angelo said that breakdown mirrors what is seen at other universities.
"Not only in terms of public relations, but in terms of strategic planning, in terms of government relations, it becomes a question of how does an organization get the right kind of expertise to assist it in moving its main goals forward? It usually ends up being a combination of external consultants and internal staff," he said.
He acknowledged that branding has become more important as the economy has crashed due to the pandemic, with the financial ramifications of the coronavirus hitting universities hard with drops in donations, enrollments and revenues.
"I think all organizations right now are under incredible financial pressure, which is a whole other very significant concern, in addition to the public-health concerns that universities have," D'Angelo said. "It's a very, very intense organizational environment right now. All organizations get up every morning and study this all day. It's kind of this constant read and react as they try to apply evidence-based decision making for what they do next."
It's no different at the UA.
Robbins noted to the faculty in a late April email that the school has incurred losses of $58 million in fiscal year 2020 and projects $97 million in losses by June 30 due to decreases in enrollment, drops in resident housing applications and more. He added that auxiliary decreases included athletic revenue losses, as sports have been canceled, as well as an unspecified decrease in philanthropic gifts.
In his faculty senate comments, Robbins said the university was exploring all options to offset the financial crisis, including selling some of the school's art collection, selling buildings and reducing administrators. But dipping into the endowment, which topped $1 billion in 2018, is "usually the last step before insolvency and bankruptcy," he said.
Contact reporter Justin Sayers at jsayers1@tucson.com or 573-4192. Twitter: @_JustinSayers. Facebook: JustinSSayers.
Concerned about COVID-19?
Sign up now to get the most recent coronavirus headlines and other important local and national news sent to your email inbox daily.