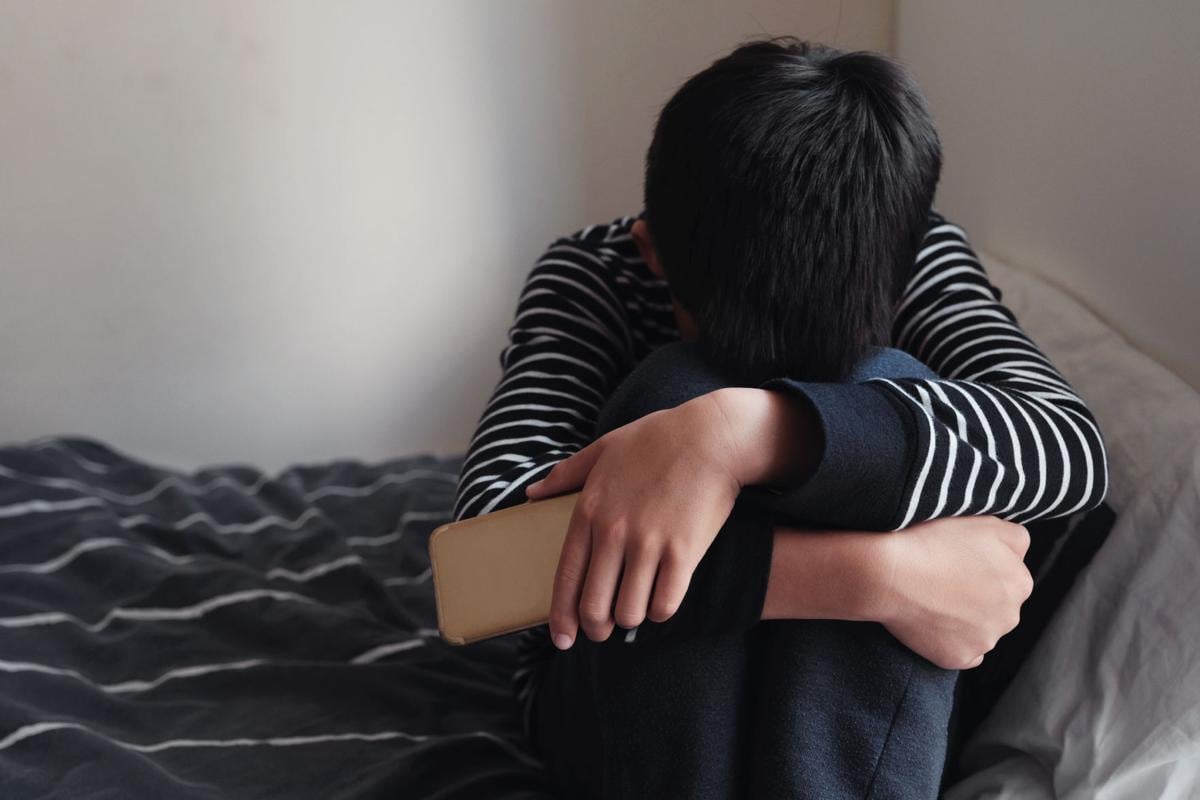 Editor's note: If you or someone you know is experiencing suicidal thoughts or a behavioral health crisis, contact the National Suicide Prevention Lifeline for support at 1-800-273-TALK (8255) or text "Hopeline" to the National Crisis Text Line at 741-741.
Thousands of Tucson children are preparing to begin a new semester of school online only despite concerns about students' mental health and educators' ability to identify those in need of help via virtual platforms.
Most Tucson-area school districts have opted to push pause on hybrid in-person learning, returning to remote instruction as COVID-19 continues its rapid spread in Pima County. The decision eliminates the limited face-to-face contact many students had become accustomed to in the fall.
Referrals to mental health agencies that treat children and teens are up, sometimes prolonging the time it takes to receive services. Teachers struggle to balance academics and prepare kids for standardized testing in the spring while still prioritizing their emotional needs. Some school counselors, stretched thin even before COVID, are being asked to cancel meetings and classes with students to substitute for staff who are out sick or in quarantine.
The death of an eighth-grade student by suicide in November shocked the Vail School District.
"This is the kid that would pop into his old teacher's classroom during passing period and just say hello and get a big hug," says Vail spokeswoman Darcy Mentone. "This was a kid that the principal knew super well and adored. You know those kids — the happy, friendly kids. This was one of those kids."
Vail Unified had two students die from suicide this year. The other was a high school student who died in September.
Pima County has seen a 67% increase in suicides this year among children ages 12 to 17, according to the Pima County Health Department. And across the state, 43 children had died by suicide by mid-November, compared to 38 for all of 2019, according to the Arizona Department of Health Services.
The eighth-grader in Vail, who had been a student in the district since kindergarten, had just begun attending in-person classes two days a week after doing remote learning since schools closed in March. His new teachers had only seen him a couple times. And because of COVID-19 precautions, he wasn't able to see his old teachers, who knew him well.
His teachers are all asking themselves: What if they had seen him? Would they have seen that something was wrong?
"We've done a lot of speculation on that," Mentone says. "When something like that happens, you look at everything that you're doing and then question everything you're doing and ask yourself if there's anything I could have done differently."
PRIORITIZING ACADEMICS OVER SOCIAL-EMOTIONAL WELL-BEING
In a classroom, it's easy to read a kid's body language or physical appearance to see if something is wrong; On Zoom that's much more difficult, says Tucson Education Association President Margaret Chaney.
And it's not just the lack of traditional schooling and corresponding social supports that's affecting children's well-being. The pandemic also has caused serious issues such as parents being laid off, pending evictions and homelessness, and relatives getting sick with coronavirus and even dying.
Public school classrooms in Arizona also have one of the highest student-teacher ratios in the country, according to data from the National Center for Education Statistics. And the state's counselor-to-student ratio is the worst in the nation.
School counselors have multiple responsibilities, including helping students with academics and now, in some cases, monitoring students using on-site learning spaces for vulnerable kids.
"There are so many issues, and counselors in particular, their caseloads range between 250 to 500 or 800 kids a piece," Chaney said. "How do you address all of their needs at any one time? It just seems impossible to me. This country has the means to address it; this country simply hasn't addressed it."
At the beginning of the school year, Chaney pushed for the Tucson Unified governing board to put the academic curriculum aside for the first five weeks so teachers could spend time checking on students' emotional stability, looping in counselors and social workers as needed.
Chaney says one of the reasons that didn't happen is because preparing students for the upcoming AzMERIT and other state standardized tests has made prioritizing social-emotional wellbeing over academics difficult.
AzMERIT test scores have broad impacts, including the A-F School Accountability System, both state and federal funding and teachers' performance-based compensation.
In an informal teacher survey recently conducted by the Star, many of the 84 teachers who responded said state testing should be canceled so teachers can focus on students' emotional health.
"We're stuck with this crash-course trajectory of state testing and grades and so forth and no way to mitigate all of the other issues that are so clear to the average person that really need to be addressed … whether or not you eat, whether or not you're sleeping. Do you have a place to live? Are you about to be evicted?" Chaney said.
In a normal year, when Andrea Rickard, a fourth-grade teacher at Myers Ganoung Elementary, prepares her students for the standardized tests, she encourages them to meet or exceed the district average. But this year, she's not even bringing up AzMERIT.
With kids learning from home, "no standardized test is standardized," Rickard says. There are great disparities in students' situations while learning from home, from kids who have no parental support and are caring for younger siblings to those who have two parents both available to help.
"We're living through a time that is historically unsettling and dangerous, and to carry on business-as-usual with testing, it feels ludicrous to me," Rickard says.
She hopes standardized tests will be canceled, but regardless, she has already prioritized her students' emotional well-being. She has kids go into breakout rooms on Zoom so they can just hang out together. She also lets them interact with each other by typing in the chat while she's teaching — the remote equivalent of passing notes in class.
"Some of these kids never see anybody, and so I just feel like they need to socialize and interact with one another," she says.
Renee Quihuis, a third-grade teacher in the Sunnyside School District, is worried about her students falling behind academically but says, "If we only focus on curriculum, then we've already lost them." Her students are behind where they would be in a normal year, but making time for them to have fun has improved morale.
"Connections are more important than the curriculum right now with everything that's going on," she said. "The standardized tests might not look very pretty, but at least they're learning something. If I stopped the games, if I stopped that time when they get to talk to each other, I think they would be checked out completely."
SCHOOL COUNSELORS' 24/7 WORKLOAD
Access to school counselors varies by school and by district.
Since COVID-19, counselors are even more overloaded with students in need. And in TUSD, some are being called away from those duties, being asked to monitor vulnerable kids using in-person learning spaces when staff are out sick or have to quarantine,.
When Nicole Walsh, an elementary school counselor in TUSD, was told she had to leave her regular duties to fill in for a monitor, she refused. Filling in would have meant canceling counseling lessons and individual sessions with students.
"I just feel ethically I can't do that," she said. "If I start being inconsistent and not showing up, they're not going to show up either."
COVID-19 has doubled Walsh's job. With a caseload of about 500 kids, she often works from 8 a.m. until she crashes at midnight. She works weekends, and she expects to hear from families and students over the winter break.
Walsh does weekly 30-minute classes on social-emotional skills for every grade level, as well as groups, individual sessions with students, and a lot of communication with teachers and parents.
She saw depression really set in with some of her third- through fifth-grade students in the last month, since the district announced schools would stay closed indefinitely as COVID-19 spikes in the broader community.
"They're not this resilient bunch of kids that this is going to have no impact on them," she said. "It's gonna have a big impact on several kids and a so-so impact on others. … This is like your parents getting divorced, if not worse. You've basically been divorced from your friends for a year."
Walsh has referred many students to mental-health agencies, but said due to increased need, there is a longer wait for services.
La Frontera, one of the region's major providers of mental health services, has seen an exponential increase in the need for therapy services, and the requests for in-person therapy is sky high, says Adrienne Trees, director of children's integrated care and therapy services.
Trees says the agency is hiring more mental health professionals to accommodate the influx.
Mental health service provider Intermountain Centers has seen a 25% increase in referrals of children and teens since COVID-19, says spokesman Paul O'Rourke.
Ann Conway, a TUSD high school counselor with a caseload of about 450 students, is seeing a huge increase in symptoms of depression and anxiety in the students she works with.
"We've also heard a lot from parents that they're trying to get their kid into a counseling therapy, but there's nobody accepting new patients or the waiting lists of different places are several months out."
Conway is trying to help kids and parents access limited community resources while also giving them tips and techniques to manage their emotional and academic needs.
If kids are suicidal or in immediate crisis, she refers them to the Crisis Response Center or Palo Verde Behavioral Health's Intensive Outpatient Program. Conway estimates she's making double or triple the amount of these referrals as before COVID-19.
MAXIMIZING LIMITED MENTAL HEALTH SERVICES
School districts are doing what they can to reinforce mental health services for students and make them more robust.
Apart from the regular counseling services, Sunnyside is giving classes on social-emotional skills and providing students with coping strategies. The district is also in the third year of a three-year grant facilitating support groups, where all the high school students were invited, and those who were interested could join.
The district also offered suicide prevention training to all high school freshman and reached about 275 students. In TUSD, apart from the work the counselors are doing with students and referrals to community resources, schools offer a food pantry, clothing bank, hygiene pantry, online support groups, and online classes/workshops for parents, says spokeswoman Leslie Lenhart.
Marana Unified has a certified school counselor at every campus and a crisis response team.
In response to COVID-19, the district sent a "family needs assessment" to all families at the beginning of the pandemic. It asked about children's mental, social and emotional health, as well as any other needs the family had. The district followed up with those who needed assistance.
Through a pilot program in Vail schools, Empire High students answered a questionnaire, developed in conjunction with university researchers, meant to gauge emotional well-being and available support systems.
From the data collected on that survey, Empire staff did three suicide interventions, says Vail spokeswoman Mentone. While schools are essentially closed, staff will also be calling and checking in on students.
Vail is also referring students to counseling services with faith leaders and giving families a list of local places where they can easily access mental health services.