Low-cost carrier Frontier Airlines is launching new nonstop service from Tucson International Airport to Denver International Airport starting in November.
The new, initially winter seasonal service will start on Wednesday, Nov. 7, and fly Mondays, Wednesdays Fridays and Saturdays through mid-February, the Denver-based airline announced Tuesday.
The flight to Tucson departs Denver at 3:15 p.m. and the flight to Denver takes off at 6:10 p.m., though that time schedule is expected to change over the holidays.
Frontier is offering a special introductory, one-way fare of $29, for Monday through Wednesday flights booked on flyfrontier.com through Thursday, Aug. 9. Holiday blackout dates apply.
The regular base fare for the Tucson-Denver flights is $49. Seating choices, baggage and other options cost extra.
Though planes bearing the Frontier Airlines name have flown from Denver for decades, this is not your grandaddy's, or even your daddy's, Frontier.
The current Frontier Airlines was founded in 1994 to serve Western markets and by 1999 was flying coast to coast. The parent of Republic Airlines bought Frontier's assets out of Chapter 11 bankruptcy in 2009.
(The original Frontier Airlines was formed in Denver in 1950 with a merger of smaller carriers and operated across the West until it went bankrupt in 1986.)
Frontier flew its last flight from Tucson in 2012, and in 2013, an affiliate of Phoenix-based Indigo Partners acquired Frontier and began transforming it into an "ultra-low-cost" carrier a year later.
Like others in its class, Frontier now offers low base fares and charges extra for everything else, including an online booking fee, seat selection and carry-on and checked baggage fees.
"We've been here before, and now we're back, and it really is a very different Frontier Airlines," Josh Flyr, vice president of network planning and revenue for Frontier, said Tuesday during a ceremony at TIA announcing the airline's arrival.
"It's a simple recipe: We give people the option of unimaginably low fares, and any extras they want to build on that is their choice," Flyr said, adding later that even with some added fees like a checked bag, the cost on Frontier can beat fares charged by full-service airlines.
United Airlines and Southwest Airlines currently fly nonstop from Tucson to Denver, with one-way fares starting at about $140.
"In Tucson, frankly a large number of potential travelers are simply being priced out of the market," Flyr said, adding that the new flights will be flown on Airbus A320 narrow-body jetliners seating about 180 passengers.
Though the Denver flights are planned as seasonal, Frontier will consider making them year-round if demand is strong, Flyr said.
The new nonstops to Denver are great news for TIA, which like other medium-sized airports is still trying to recover routes and seating capacity lost in the wake of the Great Recession.
"I think it's going to change the game a little bit," said Joe Snell, president and CEO of the local economic-development agency Sun Corridor Inc.
"Connecting into Denver, which is a market that is absolutely exploding, is very good."
Snell, a former Denver resident who still travels there frequently, noted that Frontier has about 80 connections through its Denver hub, opening a range of new one-hop, cross-country options.
Though the Tucson Airport Authority has an incentive program to lure new nonstop flights to TIA, Frontier was not eligible because the incentives apply only to flights on previously unserved routes, said Bonnie Allin, president and CEO of the Tucson Airport Authority.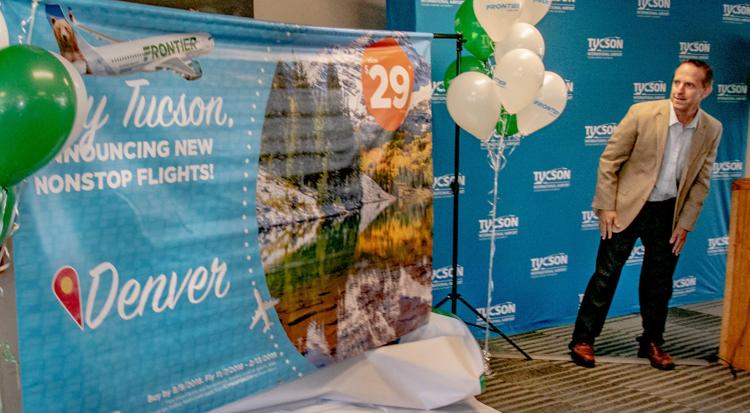 "They're coming in on the strength of the market, and our fares to Denver right now are pretty high, so there's competition," she said.
The Tucson airport, which now offers nonstops to 20 destinations flown by eight carriers, saw a 4.5 percent increase in passengers last year as airlines restored some seat capacity and added new nonstop flights.
Alaska Airlines added nonstop service to San Jose in August 2017, and Sun Country Airlines' seasonal service from Minneapolis returned in December.
This year, Via Air started nonstop service to Austin, Texas, in January, and American Airlines added a new nonstop to Charlotte, North Carolina, in February.
Allin said the airport is still working to land new nonstops to destinations including New York City and Washington, D.C.
American Airlines started nonstop service from Tucson to New York's John F. Kennedy International Airport in October 2016 but suspended the flights in May and later canceled them because of low demand.
That prompted payment of $3 million in revenue guarantees to American from funds pledged by contributors including major businesses, Pima County and the city of Tucson.