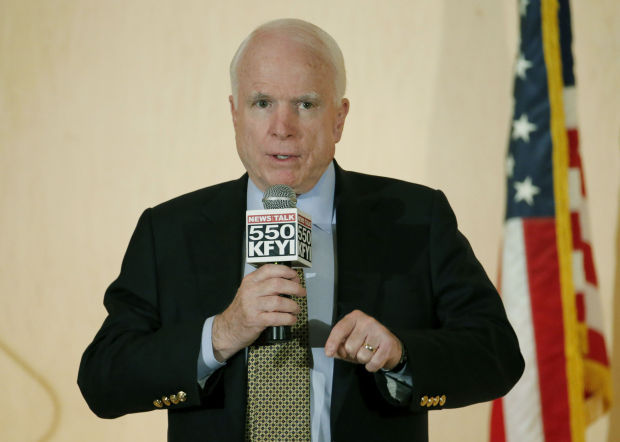 This spring, as tragic reports surfaced of veterans dying while waiting for care at the Phoenix VA, I hosted a town-hall forum at Burton Barr Central Library where the families of four veterans who passed away stood before a packed room to tell their stories. With tears in their eyes – and anger and frustration palpable throughout the room – they recalled countless unanswered phone calls and ignored messages, endless wait times, and mountains of bureaucratic red tape at the VA while their loved ones suffered debilitating and ultimately fatal conditions.
Since then, we have learned that hundreds, if not thousands, of veterans have been made to suffer as a result of gross mismanagement and fraud at the VA. I have battled with the VA's bureaucracy on behalf of Arizona's veterans for decades, my office handling more than 2,500 veterans' cases since January 2013. For years I've pushed for veterans to be able to choose when and where they receive their health care.
But this scandal goes far beyond what any of us knew. The VA inspector general is now conducting investigations at over 720 VA facilities across America and every week we hear new stories of falsified data, employee misconduct, whistleblower retaliation and a broken culture at the VA that isn't worthy of the wounded warriors it is charged with serving.
I was proud to work with colleagues from both sides of the aisle on compromise legislation, signed by the president this week, to address the most pressing issues raised by this scandal. Although this bill is the beginning – not an end – of our efforts to address this crisis, it includes some of the most significant reforms to the VA in decades.
For the first time in history, veterans will receive a Choice Card. If a veteran can't make an appointment in a reasonable time frame or lives far from a VA medical facility, he or she will be able to go to the doctor of their choice. This reform quickly and effectively addresses the most common issue I hear from veterans – the seemingly never-ending wait times for appointments at VA facilities. I first proposed this kind of program when I ran for president in 2008, and I am gratified that we are finally providing our veterans with flexibility and choice in health care.
This legislation also brings badly needed accountability to VA operations to help change the corrupt culture that numerous reports have so clearly identified. It includes provisions that empower VA administrators to immediately fire poor-performing employees with no pay while they appeal their cases. It also extends the Assisted Living Pilot Program for Veterans with Traumatic Brain Injury for three more years – providing vital 24-hour care to veterans with traumatic brain injuries.
While there is much more to do to address this crisis, this legislation represents a significant step forward in fulfilling our responsibilities to the military families we heard from in Phoenix earlier this year, and the millions of veterans who have sacrificed on our behalf.
John McCain, a Republican, is the senior senator from Arizona.