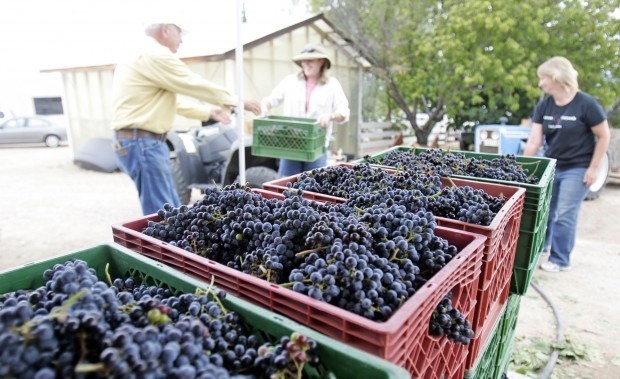 VAIL - While reading about a winery for sale in - where else? - a wine bar, Milton and Susan Craig jumped at the chance to pursue their dream.
"We were sitting in a wine bar - WineStyles - in Phoenix," said Milton Craig, who was working in a hospital IT department at the time.
Within months, the Craigs were immersed in the wine trade, first by apprenticing at Charron Vineyards and then by eventually buying Charron and moving there in January.
Pima County's only winery is located on Arizona 83 between Vail and Sonoita. The next closest is Dos Cabezas Winery and Vineyard, about 19 miles away in Santa Cruz County.
Depending on when the road was last graded, it could be a slightly bumpy or a very teeth-clacking drive up to Charron to taste the wine for yourself.
The small, comfortable tasting room is on the enclosed patio in the back of the Craigs' house, one of five buildings that sit on the 10-acre property. There's also the winery, a greenhouse and a place for shipping.
A golden retriever named Rusty, a cat named Kitty and two geese make the vineyard their home, too.
"Milton's always made wines, and we thought (Vail) was a nice area to move to," said Susan Craig, whose English accent reveals her Plymouth and Devon roots.
The couple bought the winery from Leo Cox, who started it in 1987 and put it on the market in 2009 for $465,000.
Cox, who is in his 80s, now lives in Carrollton, Texas, but he and the Craigs regularly talk.
The Craigs took a University of California-Davis extension course in winemaking and worked at the winery under Cox last year.
"The opportunity came up and we just took it," said Susan Craig, whose previous career was also in IT - with DHL for 20 years.
Their marketing strategy is old-school but effective, like the recent trip to Bisbee with eight cases of wine. Most of it sold.
The couple sometimes drives to Tucson for the same reason, and people are beginning to notice.
Brandy Ciaccio, staff sommelier at Plaza Liquors, said people have asked about Charron Vineyards.
"It's a sweeter style," she said of the white merlot. "Anyone who likes white zinfandel will like it."
Jay Bileti, an international wine master and an engineer for Petra Solar, created an annual wine competition with a couple of Southern Arizona wineries in 2000.
For eight years, the 54-year-old Sonoita resident recruited four judges and held the Arizona Governor's Cup at his house.
The first year, Charron Vineyards' white merlot was named the best dessert wine while under the direction of Cox.
"It was very, very sweet, and very, very white," Bileti said.
Kathleen Carter, a wine associate at Total Wine and More, was a judge for the 2007 Governor's Cup.
The certified specialist of wine from the Society of Wine Educators loved the white merlot.
"I thought it was delicious - it had a lot of flavor to it," she said.
"It wasn't a simple wine. It had a lot of really terrific fruit flavor and nice balance," she added. "I thought it would be a wine that people would like to go back and buy another bottle."
This year's harvest yielded 6 tons of grapes, the best yet. The previous most productive harvest was a little more than 3 tons.
Last year, they harvested only 1 or 1 1/2 tons, because the grapes were "eaten alive by deer," Milton said.
Netting was spread over the four acres of grapes to prevent birds from having easy access. To keep out deer, a 10-foot fence now surrounds the grapevines.
The hot weather isn't much of a problem, and the area received a lot of rain this year.
"We're pretty temperate, so we're OK," he said. "Leaf coverage prevents the grapes from getting sunburned."
The week before the Aug. 7 harvest, they worked up to 14 hours a day.
"That's manual labor," Susan Craig said, chuckling.
Milton Craig added, "That's the fun of it, though.
The couple had some help on harvest day.
On "Grape Day," about 40 volunteers helped pick grapes.
After munching on sandwiches and chips, the group enjoyed wine and beer after the pick.
Milton Craig said the white merlot will remain in the stainless-steel tanks until it's bottled the first weekend of November.
With this harvest, the Craigs have created their first red merlot, which won't be released until December 2011 or later, depending on how it ages.
"When you're self-employed you're really supposed to take a whole day off, but we can't really do that," he said. "I'll wake up at 3 in the morning and do something.
"Even if we go into Tucson for lunch, we go into Home Depot."
But, he noted, "I only have one boss."
"We still have deadlines to meet, but it's not some corporate dictate," she said. "You have certain freedom to do what you want.
"We get to see the fruits of our labor," which will produce 350 to 400 cases of the white merlot and about 50 of some red this year.
Because Spanish varietals do well in this climate, they hope to plant tempranillo grapes next year.
Their biggest challenge so far?
"Keeping on top of everything," Milton Craig said. "The vines need constant attention."
"And the weeding," Susan Craig added.
Yvonne Foucher, owner of CataVinos, sells Charron's wines and can relate to the Craigs' career switch: She opened her wine store three years ago, after leaving her career as an architect.
"I think it's wonderful they decided to do something of their choosing that they'll have a blast at.
"It will be hard work, but they're up to the task."
The Craigs have noticed other winery owners with different pasts.
"A lot of the people in the winery business had completely different careers," said Susan Craig, noting that a former pilot and a psychiatrist are other area winery owners.
Laura Williamson, master sommelier and certified wine educator in Tucson, admires people who make a winery work.
"Even though winemaking appears a simple measure to the innocent bystander, it is one of the most tedious, unforgiving passions that can either fulfill or exhaust one's desires," she said. "I do feel Arizona is an undiscovered gem, and anyone willing to take a stab at creating their heaven deserves miraculous praise and support."
In five years, Susan Craig said, they'll have at least another five acres of grapes. At some point, they may hire temporary employees.
"I see us growing, but we don't want to get to be Mondavi - we want to keep doing it ourselves," Milton Craig said. "I would like to work on growing some grapes in Willcox."
They also own 35 acres in Cochise County in an agricultural area.
So, what was the best advice the couple has received?
"Listen to everybody's advice and then make your own decision," he said.