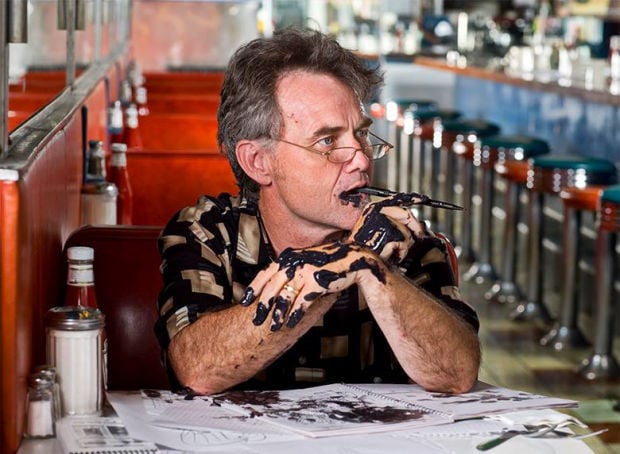 On Thursday morning my friend, the internationally syndicated cartoonist Rob Rogers, sent out this tweet: "Sad to report this update: Today, after 25 years as the editorial cartoonist for the Pittsburgh Post-Gazette, I was fired."
By the time I bounced to Rob's Facebook page to offer condolences, his post already had a gazillion shares and hundreds of comments. Many were from fans who had canceled their subscriptions to the Post-Gazette in response to the firing of their favorite editorial cartoonist: "Last Post Gazette for me. So long PG. Hello New York Times," said one.
According to the Columbia Journalism Review, "Since March, the Post-Gazette has nixed 19 ideas for or drafts of cartoons by Rogers, and has withheld six of his cartoons from publication since Memorial Day. The first of those six, drawn for Memorial Day, depicts President Trump laying a wreath before a burial marker that reads 'Truth, Honor, Rule of Law'. "
Like most of his work, it's an incisive, profound and beautiful cartoon.
Rob's nightmare began when Block Communications, the owner of the Post-Gazette, promoted a Trump disciple, Keith Burris, to the position of communications vice president, editor, editorial director.
"MAGA propaganda minister" would be a more precise title.
The first clue the Post-Gazette was radically shifting appeared in January when Burris penned a bizarre editorial, "Reason as Racism." It was panned by readers as the intellectually disingenuous work of a Trump apologist. The Newspaper Guild of Pittsburgh called the piece "extraordinary in its mindless, sycophantic embrace of racist values and outright bigotry espoused by this country's president."
Then Burris began pulling Roger's powerful anti-Trump cartoons. A tsunami of complaints flooded the newsroom, and protesters appeared outside the building. Indifferent to the rabble, Burris bore down on transforming a once-great American newspaper's editorial pages into a propaganda sheet for the president, the petulant boy king who just this week called the press "America's greatest enemy."
In the CJR piece I cited earlier, Rob says, "A political cartoonist is meant to be provocative, and is meant to cover people in power and keep those people accountable. When I was hired by the Post-Gazette 25 years ago, it was to come up with my own ideas and draw those ideas, not to be an illustrator of someone else's ideas."
Burris wanted a hand puppet who would support the president.
Rob answered this demand, in a Pittsburgh City Paper interview: "Trump is the leader of the free world, and to ask a political cartoonist to either not cover him or go soft on him is incredible. ... I love my job. I love going to the drawing table and seeing what I can draw. And I love the readership. And I all want to do is keep doing my job. So let me do my job."
The mayor of Pittsburgh, Bill Peduto, who was often skewered by Rogers, weighed in on Twitter: "He takes digs at me. He makes fun of my weight & chin(s). He is critical when he believes I can do better. He is a master of his craft & Pittsburgh is lucky to have a talent like @Rob_Rogers as a political satirist. Will Rogers would be proud."
At the turn of the last century, America's press employed thousands of political cartoonists. Today, as our nation slides into the grip of an authoritarian nationalist who despises the press, there are fewer than 40 of us inking truth to power. And as newspapers perish, and news deserts form and well-funded partisan propagandists fill the void, the old school ink slingers, muckrakers and watchdogs continue to shrink in number.
These are perilous times for voices like Rob Rogers; times that moved the American Association of Editorial Cartoonists to issue this statement: "We take this opportunity to remind all editorial page editors that their responsibility is to the readers (among whom in Pittsburgh, Rogers cartoons are wildly popular) and to the open and ongoing search for truth in contending opinions. The editorial pages are a public forum, not a members-only private resort in Florida."
As the president's ratings creep up, the lickspittles in Congress line up to kiss Trump's ring, the right-wing media machine beats its mighty chest and the president's satirical critics are hammered, I wish the talented Mr. Rogers continued success in spite of the terrible challenges ahead. The same goes for our democratic republic.
Catch the latest in Opinion
Get opinion pieces, letters and editorials sent directly to your inbox weekly!