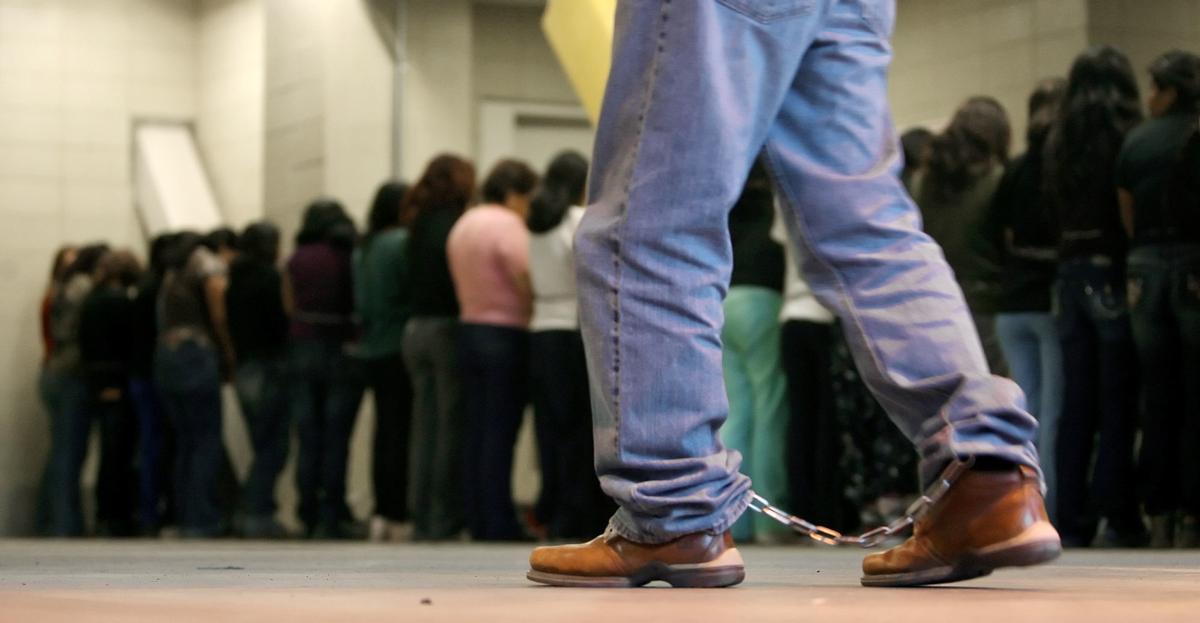 What goes through the minds of federal judges, prosecutors and public defenders as they participate in and become more efficient at processing large numbers of defendants in the en masse judicial proceedings referred to as Operation Streamline? Are they proud of how efficient the process has become? Are they disturbed by what they are doing and how it may be affecting them personally? Or have they become numb to it all?
These mass plea hearings have been authorized by the federal courts in border districts in order to accommodate the U.S. Department of Justice zero-tolerance immigration policy. This policy requires the arrest, criminal prosecution and imprisonment of all persons, typically from Mexico, who illegally enter our country and who do not claim political asylum. In order to handle the resulting enormous number of these mostly misdemeanor prosecutions (more than 10,000 each year), the federal court has adopted the Operation Streamline process.
The process provides for a combined hearing, conducted in one afternoon court session, in which 50 to 70 or more illegal entrants, taken in smaller groups of five to seven for at least part of the hearing, are: 1) advised of their constitutional rights, 2) waive their rights, 3) plead guilty and 4) are sentenced, often to time served. Soon thereafter, the defendants are involuntarily deported. The 9th U.S. Circuit Court of Appeals , after judicial fine-tuning, approved this mass plea process, proclaiming that it complied with the rudiments of due process and applicable federal rules of criminal procedure.
It is clear that the DOJ's zero-tolerance immigration policy and the federal court's involvement in Operation Streamline do virtually nothing to deter future illegal immigration or more harshly punish those who enter our country illegally.
The usual time-served sentence imposed on the same day the plea of guilty is entered in court is the functional equivalent of the Border Patrol's previous policy to arrest and summarily deport those who were caught crossing the border illegally.
The zero-tolerance policy and Operation Streamline are not the product of rational legislative decision-making. Instead, they are the result of the purely political and ill-advised efforts of the DOJ, with assistance from the court, to fill the void created by the chaotic divisiveness that has paralyzed Congress, rendering it unable to enact comprehensive immigration reform.
All of the judges and lawyers involved in the Operation Streamline system were trained in law school to understand and respect due process of law and individual rights afforded under the U.S. Constitution to anyone charged in court with committing a crime, including those who do not have U.S. citizenship.
Our federal judges must know and should feel that the mass incarceration and prosecution of people, no matter the apparent exigencies, degrades the dignity of the piteous human beings who are herded into their courtrooms each day. They should also know and feel that the Operation Streamline process is insulting to the Constitution.
Don't the judges also feel misused and degraded by their participation in this disgraceful and unseemly collaboration between the federal courts and the DOJ? Jeff Sessions, the U.S. Attorney General responsible for the continuation of the DOJ's zero tolerance immigration policy, was recently summoned to appear before his church's elders to be questioned, counseled and possibly sanctioned by them because of his unchristian immigration law enforcement policies concerning the separation of children and their parents at the border.
When our careers as judicial officers have concluded, I believe it is important for all of us to be able to say with certainty that we did everything possible to afford respect and dignity to the human beings who appeared in our criminal courtrooms each day.
It is also important for us to be able to say that our conduct inspired public confidence in the quality of justice we provided to everyone, including the least among us.
The federal court's participation in this un-American mass plea system is wrong and it should end, no matter the docket-clogging consequences of a less efficient system. The court should stop enabling the DOJ and our government from continuing to inflict its mindless and dehumanizing zero-tolerance policy on frightened and confused people.
Federal courts on the border should reinstate individual plea hearing proceedings to all criminal defendants. The court will then be able to announce with certainty that its moral compass has corrected itself and has headed the court in the right direction again.
Charles S. Sabalos is a retired Pima County Superior Court judge, and has also served as a federal prosecutor and a criminal defense attorney.