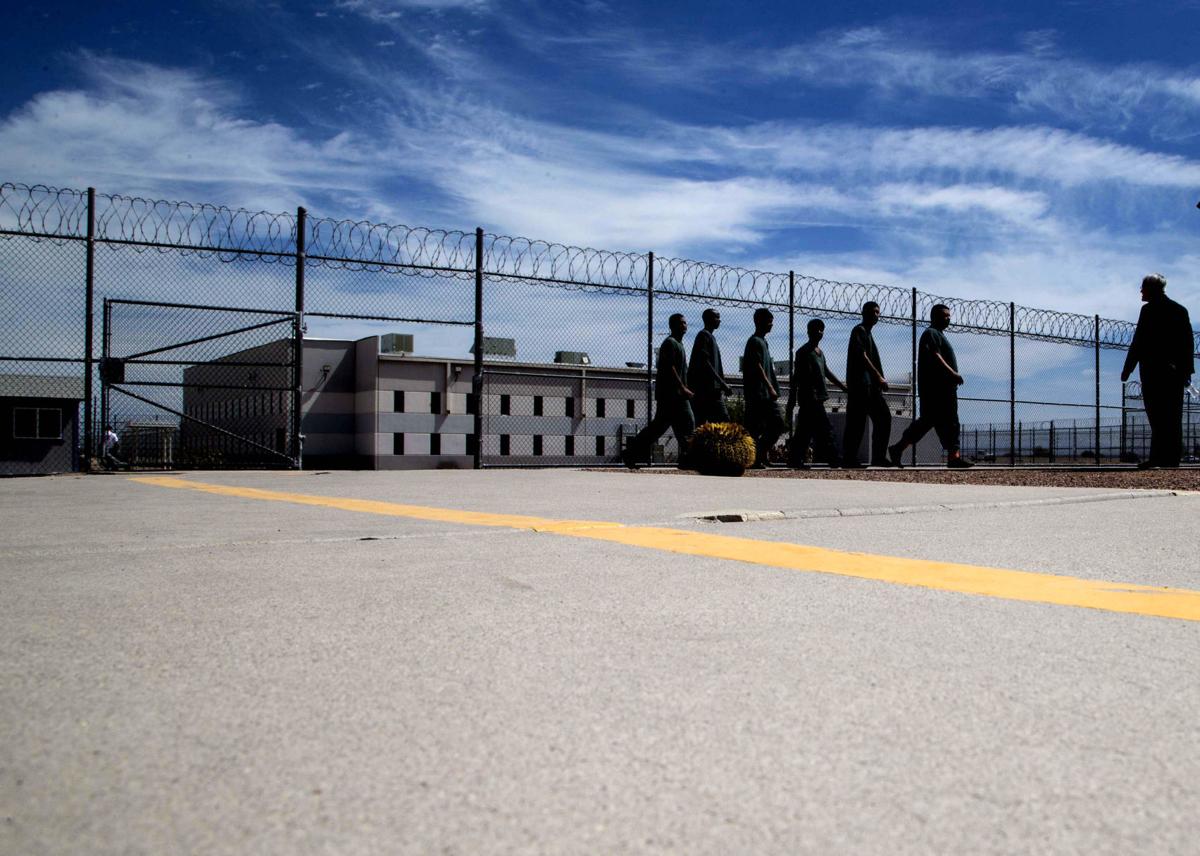 The following is the opinion and analysis of the writers:
"To whom this letter may concern, I am directing this letter to you because we need your help. The situation here in the Eloy Detention Center is very out of control. Every day it's been getting worse here. The staff has been shorter and shorter every day. The number of infected people is greater every day. "
So begins a letter written on June 22 from a woman imprisoned in the Eloy Detention Center.
Many of us who visited the center before the pandemic shut down in-person visitation, have been receiving similar desperate cries for help by mail and by phone calls.
All of us have seen the horrendous and frightening data. There is an explosion of COVID-19 occurring in many detention centers in the United States. According to the Detention Watch Network, more people have died in ICE custody through May, 2020 than in all of 2019.
Since then, things have become exponentially worse. At the top of the list is the Eloy Detention Center. In the last three weeks, there has been a tenfold increase in positive tests. That's 200 people, and those are only the ones being reported.
These numbers are bone chilling. But as church leaders involved in working for the rights of immigrants, we have been exposed to more than the raw data. We have read the desperate pleas of innocent people being held in the Eloy facility, describing conditions too horrid to imagine, too awful to speak about publicly.
As COVID spreads through the crowded squalor and inhumane conditions in Eloy, a cry we have become all too familiar with as a nation is coming from the cells: "I can't breathe."
The letter continues: "For the last month we have been locked up for the whole day — with the exception of 15 minutes to use the phone, shower, and cook something. The facility has only been providing three sandwiches a day — breakfast, lunch and dinner — only a saturated fat bologna and a piece of bread with a pack of cookies. This is not humane. … The staff say all the kitchen workers are sick. They have not provided hot food for over a month. The cleaning supplies are very scarce; the pods rarely get cleaned. The showers, microwaves and phones are always being shared but we are not allowed to clean them. No one has answers to our questions."
Attorneys around the U.S. who are representing and advocating for persons in immigration prisons are bringing the legal case to judges that the conditions and risk of infection of COVID are unconstitutional, and a violation of due process for those being held in these facilities. Yet even few medically vulnerable people have been released so far.
We need to raise our voices as a community and call for the release of these mothers, fathers, daughters and sons who are being held only for the purpose of showing up for their next immigration court hearing.
Studies show that migrants who are released have a high percentage rate of showing up for the hearings. We know many people being held in Eloy. They are just looking for a way to survive and be with their families.
They are a threat to absolutely no one.
The only ethical thing for us to do as a people is to release all of them immediately. NOW. Enough is enough.
"Everyone here is at their last point of anxiety. It is very frustrating and stressful. I am sure the situation is getting worse every day. We are desperate for some help."
The immigrant support community in Tucson and beyond is fully prepared to care for persons who are released on humanitarian parole or by bond. We have the social distancing space and we are prepared to assist each of them to get home to their families, where all of them should be right now.
Make your voice heard by the mayor of Eloy and all those who have the power to withdraw ICE contracts. Contact Gov. Doug Ducey, Sens. Martha McSally and Kyrsten Sinema and your U.S. representative. Let us keep up the pressure until every detainee is freed.
We truly believe we are at a transitional moment in our nation's history. Millions are standing up now for the ideals of justice and dignity for all.
This is our opportunity to do the same.
Signed by Rev. Tina Schlabach and Rev. Carol Rose Co-Pastors of Shalom Mennonite Fellowship, Tucson; The Rev. David Ulloa Chavez, missioner for Border Ministries, Episcopal Diocese of Arizona; The Rev. Ailsa Guardiola González, First Christian Church Disciples of Christ; The Rev. Michael Lonergan, pastor, Church of the Painted Hills, UCC; The Rev. Pedro Ramos-Goycolea, pastor, Comunidad Limen Christian Church; The Reverend Alison Harrington, pastor, Southside Presbyterian Church; Taylor Burgoyne, Pastor of Eastside Covenant Church; The Rev. Bart Smith, St. Mark's Presbyterian Church; The Rev. Owen R. Chandler, Senior Minister, Saguaro Christian Church; The Rev. Kelley Dick, Associate Minister Saguaro Christian Church (Disciples of Christ); The Rev. Jay Deskins, Regional Youth and Children's Minister Christian Church (Disciples of Christ) Arizona; The Revs. Nancy Meister and Chris Ledyard, deacons, Grace St. Paul's Episcopal Church; The Rev. Richard Mallory, associate rector, Grace St. Paul's Episcopal Church; The Rev. Steve Keplinger, rector, Grace St. Paul's Episcopal Church