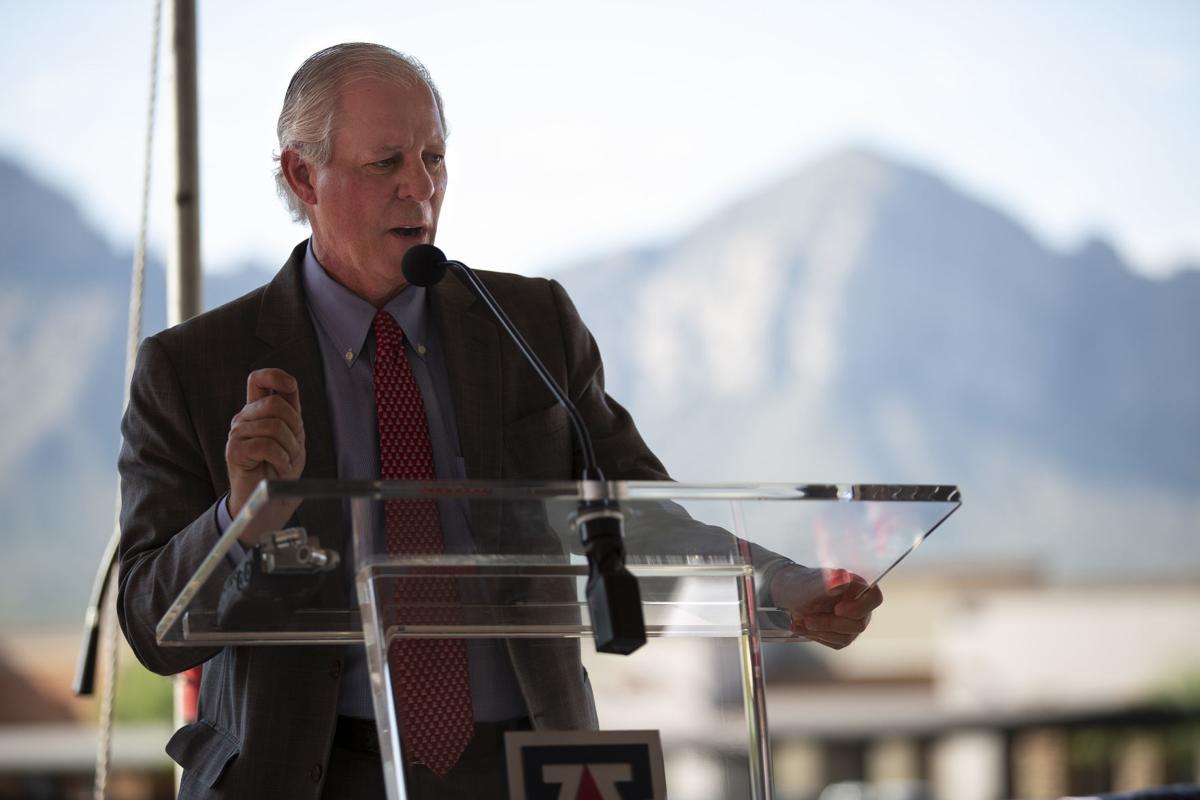 The following is the opinion and analysis of the writer:
It is hard to believe that it has been just three weeks since the University of Arizona asked 45,000 students not to return to campus, moving almost all our teaching and learning from the classroom to the computer screen and positioning employees to work from home for an indefinite period.
Upending our daily lives practically overnight, the COVID-19 pandemic has forced radical response and adaptation across our entire landscape — in our households, our schools, our businesses, our medical facilities and our neighborhoods. At times, it can seem that there is no end in sight, with an increasing number of cases, continuing challenges for health-care providers due to shortages of equipment, and – most importantly – the tragic suffering and loss of friends and loved ones.
In this uncertain time, the University of Arizona has a unique role to play in our community, and we are committed to helping the entire state weather this storm and its consequences. This will not be the last time we encounter a novel virus or some other potentially lethal contagion, or perhaps even the last time we will have to deal with COVID-19.
Public universities must conduct research that contributes to solutions to the challenges posed by a pandemic and educate new health-care professionals, engineers and other experts who can anticipate, combat and work together to turn the tide against such public health threats.
We are fortunate to have a wealth of talent and experience here that will inform our efforts going forward to provide a safe and immersive academic experience.
Dr. Michael Abecassis has recently joined the team here to lead the College of Medicine, Tucson. He is an accomplished transplant surgeon who has led the process of developing an integrated internal process for producing test kits that will ensure we can test our campus community and provide access to our partners like Banner and, most recently, the Navajo Nation.
As a heart and lung transplant surgeon, I have vast experience in the field of immunology and am in conversation with national experts on developing a serological test for our campus community to do actual blood tests to measure immunity from COVID-19. This breakthrough could allow a prerequisite for returning to school or work until there is a vaccine, helping to ensure a safe and healthy workplace and learning environment at the university and elsewhere moving forward. This screening could also be incredibly valuable for protecting health workers, allowing hospitals and other facilities to prioritize use of personal protective equipment, like masks for those who do not show the presence of antibodies from a previous immune response.
Many other examples of UA students, faculty and staff putting their ingenuity and compassion to work over the last several weeks have also given me hope. Our faculty and students have created specimen-collection kits for distribution to locations across the state. They have manufactured N95 masks and plastic shields and are working to make ventilators and respirators.
Researchers are working to better understand antigens in order to fight and treat COVID-19 in the future, while others are modeling the spread of the disease. Students are tracking positive cases and faculty and students are triaging calls at the University of Arizona Poison and Drug Information Center, lightening call volume for the Arizona Department of Health Services.
There are other possibilities on the horizon as well. Nearly 200 of our fourth-year students from our two medical schools in Phoenix and Tucson are eligible to apply for early graduation so that they can join the front-line battle as health-care workers. The medical students had already organized on their own a process to provide services to health-care workers, including picking up their groceries, walking their pets and babysitting their children. We also can explore things like collaborations between our health sciences colleges and the College of Optical Sciences researching the use of ultraviolet light, particularly UVC light, to "treat" products, scanning purchased products to kill the virus prior to delivery, or even earlier in the supply chain to protect workers. Such methods can work on other contagions, and determining their efficacy and practicality on this virus could be incredibly helpful.
Each of us has a role to play, even if we are not a front-line health-care worker or first responder. Research tells us that social distancing and sheltering-in-place — and many other now-familiar practices — help to slow the spread of the virus. The key steps remain the same: stay home whenever possible; stay at least 6 feet apart if you do go out for necessities, health care or childcare; wash your hands frequently as the best and first line of defense against spreading the virus; and use an alcohol-based hand sanitizer if soap and running water are not available.
As I wrote to our university students, faculty and staff recently, getting through this difficult period in our nation's history will be a marathon, not a sprint. The more seriously we take this crisis, the less severe it will be. Equally important, we will also learn from this challenge and emerge better prepared to take on the next.
Robert C. Robbins is president of University of Arizona.
Concerned about COVID-19?
Sign up now to get the most recent coronavirus headlines and other important local and national news sent to your email inbox daily.