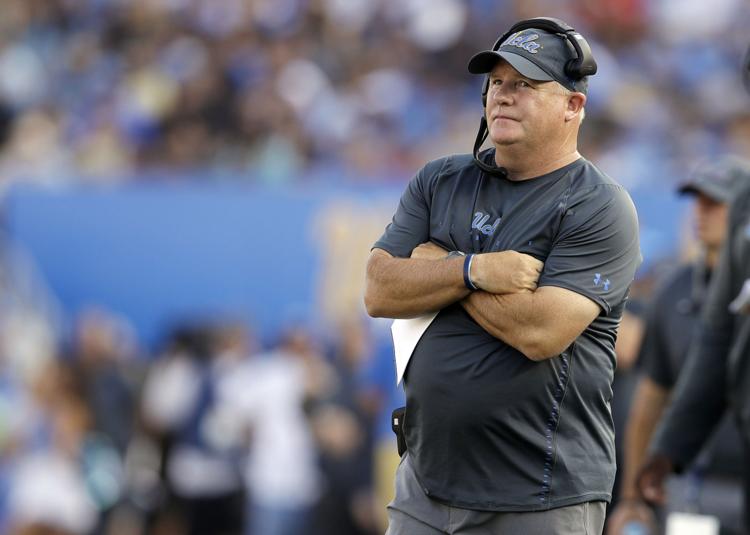 Until last weekend, Salpointe Catholic senior-to-be Bruno Fina, a 6-foot-4 inch, 240-pound lineman, had been on a single recruiting visit — to the NAIA's Abilene Christian.
But in the span of 24 hours, Fina visited USC and UCLA and was offered scholarships by head coaches Chip Kelly and Clay Helton.
"It was like walking through a fog," said Bruno's father, John Fina, a former All-Pac-10 tackle at Arizona who played 11 seasons in the NFL. "It was like a dream."
What the Trojans and Bruins discovered was not only does Bruno have a pedigree like few other recruits, he has the measurables and intelligence to be a difference-maker.
He has a 1,310 SAT score, which would qualify him for any Ivy League school. And when USC and UCLA grasped his growth potential, both were quick to invite him to be part of their football team.
When Arizona coach Dick Tomey discovered the undersized John Fina 30 years ago in a Salpointe-Sabino basketball game, Fina was built like a basketball player: about 6-3 and 190 pounds. Bruno is already 50 pounds heavier than his father was as a Salpointe senior.
Tomey, who made a living identifying under-the-radar recruits like John Fina, passed on those skills to then-Arizona assistant coach John Baxter, now an assistant coach at USC. It was Baxter who attended the 2018 Salpointe state championship game to scout Fina, as well as running back Bijan Robinson and defensive back Lathan Ransom.
And it was Baxter who encouraged the Finas to make an unofficial visit to USC last week.
"When they offered Bruno, I was like a block of ice, I couldn't breathe," John Fina said.
"I was crying. It was incredible."
This is just the beginning of the recruiting chase for Fina. He is scheduled to attend the Stanford football camp this summer, where former Arizona assistant coaches Duane Akina and Pete Alamar and former UA player Peter Hansen are aware of his legacy and football genes. Bruno and his father also attended an Arizona spring practice last week.
"One thing that hasn't changed since I was recruited 30 years ago is that the coaches want to look you in the eye, assess your character and get to know you before offering you a scholarship," John Fina said. "I'm so proud of Bruno. It was a weekend I'll never forget."