'It was the most pain I've ever been in'
After being hit by ambulance, Arizona Wildcats swimmer ready to dive back in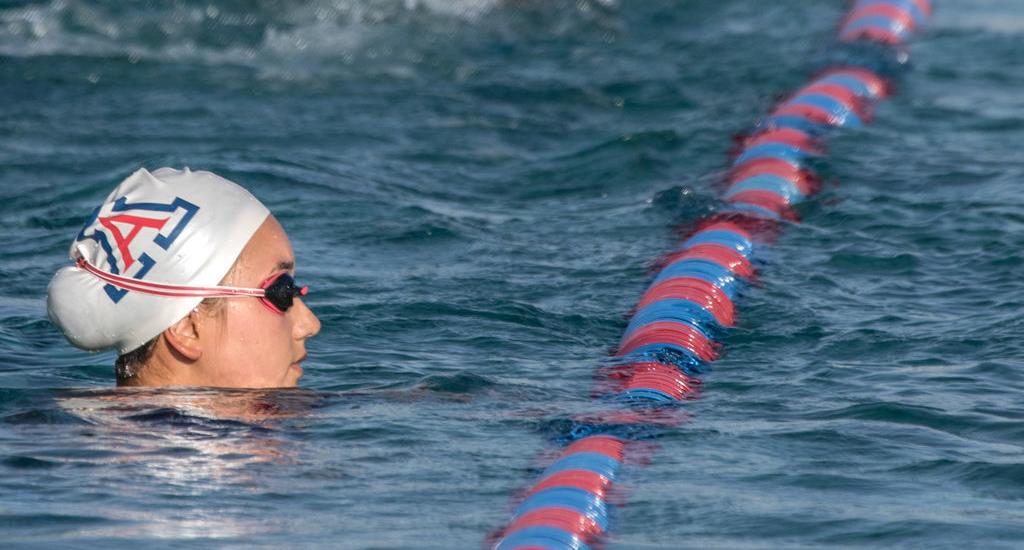 Sarah Shimomura still can't ride her new bike for more than a few blocks without feeling anxious. Every time she goes past the intersection of Speedway Boulevard and Plumer Avenue, she has flashbacks.
Last August, the Arizona Wildcats swimmer was struck by an ambulance as she rode her bike home from class. The accident shattered Shimomura's pelvis and broke her right femur. She was put in traction for 12 hours.
Walking was hard. Swimming? Nearly impossible.
On Friday, Shimomura will climb back in the pool. She will compete in the TYR Pro Swim Series in Santa Clara, California. Her coaches are impressed with her recovery, but not necessarily surprised.
"Sarah is special," assistant coach Cory Chitwood said, "and very tough."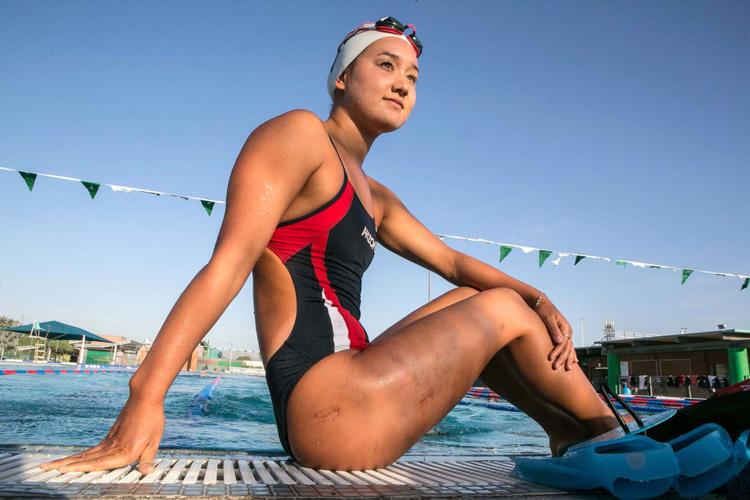 The accident
Shimomura was asked to recall the moment that changed her life and swimming career. She remembers everything.
Shimomura had walked her bike to a median along Speedway. She was waiting for the light to turn green when she noticed an ambulance 50 yards away. Traffic stopped and the light turned green to give her the right to cross.
"I assumed that the ambulance was going to stop because it was so far back," she said. "It didn't have its lights or siren on, so it wasn't an emergency.
"I looked down to steady myself on my bike and lift my foot up off the ground. I took one pedal and I saw it out of the corner of my eye, then I just remember going through the air and landing on the pavement. I remember hearing the sound of my bone cracking. I distinctly remember that — and feeling the heat from the pavement because it was 4 o'clock in the afternoon. I remember laying on the ground and feeling the heat burning. I had burns on my legs and my arms.
"Then, everything went numb from my neck down and I couldn't lift my neck."
"I thought it was paralyzed."
Shimomura was taken to Banner University Medical Center, where doctors took X-rays and gave her medication to easy the pain. A brace steadied her neck until doctors determined she would regain feeling in her arms and legs.
Shimomura's teammates and new coaches — Augie Busch and his staff started that summer — met her at the hospital.
"I will never forget seeing her X-ray. It is imprinted on my brain," Busch said. "Yet, typical Shim, even in those moments, she was showing her unselfish nature. She was apologizing to me about missing practice. This puts adversity into perspective."
The team's presence meant everything to Shimomura. She was especially grateful for assistant Beth Botsford, who cared for Shimomura while the swimmer's mother arranged for a flight from California.
"It was scary not to have any family members there, but my second family was there," Shimomura said. "Beth — I had just met her once before. She was able to jump in with a motherly role, tell the nurses I need water, tell them I need more pain medication, or to get me food.
"That first night was so hard — it was the most pain I've ever been in. And for her to stay there the whole night (and) not even question leaving — I was really appreciative she was there for me. I guess that was a different type of first impression, but I am very grateful for that."
The following day, doctors inserted a metal rod from the top of Shimomura's knee to her hip.
Shimomura would not say whether she plans to pursue legal action.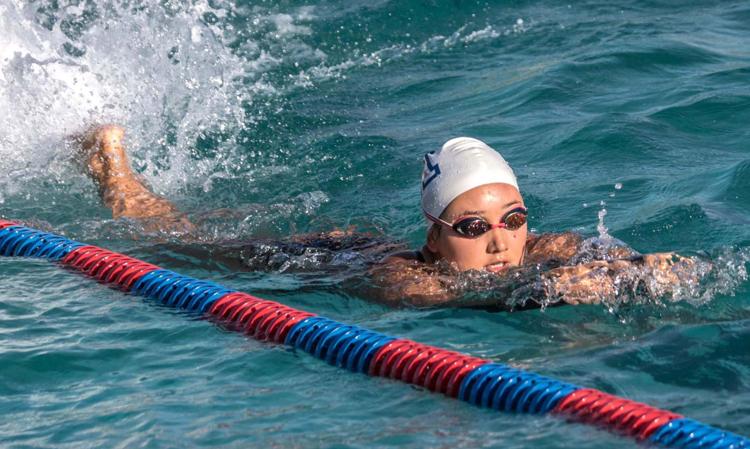 The recovery
Physical therapy was frustrating for an athlete like Shimomura. She was used to swimming at a high level. Then, she could barely get out of bed.
Shimomura worked to regain mobility in her knee, range of motion in her hip, and strength in her quadriceps. While she recovered, doctors discovered that she suffered from femoral nonunion, a rare condition that keeps a leg from growing properly.
Shimomura underwent surgery to fix it, but her right leg is still shorter than her left. Shimomura now wears a shoe insert for balance.
While Shimomura worked to walk, she focused her thoughts on swimming.
For her first time back in the water, she used a pull buoy and paddles and floated back and forth. Four months later, she felt stronger and could push off the wall. Her long distance coach, Chitwood, helped her get in and out of the pool.
What has kept her going during the recovery? It was a combination of her parents, her coaches, and something else.
"My love for swimming and competing," she said. "Knowing things would be OK; there would be a light at the end of the tunnel. And, being an athlete, I was really driven to get back in the pool and swimming again."
The TYR event will be Shimomura's first since the accident. She'll feel at home for more reasons than one.
Shimomura began swimming at Santa Clara's pool as a girl, before she starred at Archbishop Mitty High School in nearby San Jose.
Shimomura will compete in one race each day at the event this weekend, starting with the 200-meter freestyle on Friday.
"I'm excited," she said. "Being able to know I can do it again, to finish a race will be really exciting. I am not going to put too much pressure on myself — I'm back and ready to have fun."
And her coaches are excited to watch.
"I think she'll get back to herself and then some," Busch said. "I won't be surprised if she does really well.
"This tragic, yet fortunate circumstance, was a great lesson for the team. Swimmers put so much emphasis on results and it's not always a healthy mindset. It also illustrates what adversity really is, and how she reacted to it really defines her. I never saw any negative energy. She never felt sorry for herself. It is really inspirational how she reacted to everything. I am extremely proud of her."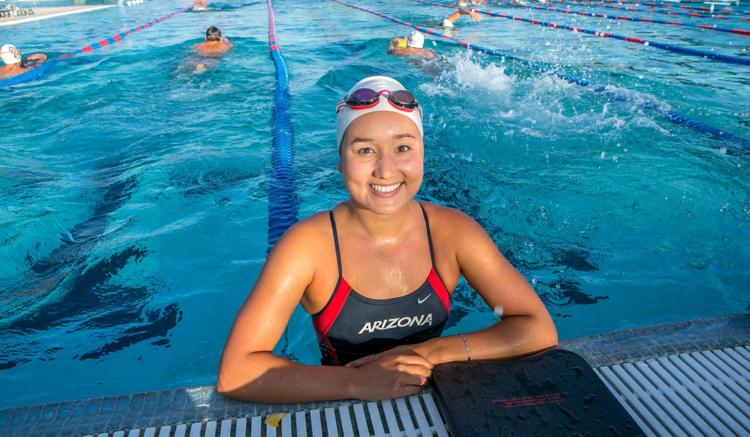 The recognition
Shimomura had long dreamed of winning a Pac-12 championship. Last month, the conference honored her in a different way.
The Pac-12's Student-Athlete Advisory Committee gave her the Sportsmanship Award for "displaying exemplary sportsmanship and teamwork in the face of adversity."
Shimomura was an exemplary teammate, coaches say, even when she needed a walker, crutches or a cane to navigate the pool deck. She traveled with the team to the Texas Invitational and Pac-12 Championships, even though she knew she wouldn't — she couldn't — compete.
"I don't know if that would happen with anyone else," Chitwood said. "Her wanting to travel, support and be there for her teammates is what we want everyone on this team to be like. It's what we are trying to build here.
"Even though she wasn't racing, she may have had a bigger impact than she's had in the two years she has raced. I am happy to see her smiling now. It brightens the pool deck."