When Matthew Dyer decided to return to Arizona for another season, forgoing an opportunity to turn pro, the versatile Wildcat and his coach hatched an idea:
Dyer — who played catcher, first base, left field and right field last season — would train to play every defensive position. If that training went well, he would become a super-utility weapon for the 2020 Cats.
"We don't have it quite pieced together just yet, whether that's more time in the infield or the outfield, but he's fully capable of really doing anything we ask him to do," said UA coach Jay Johnson, whose team is scheduled to face Cal Poly Pomona in an exhibition game Saturday at Hi Corbett Field.
"He's a really good athlete. He's an elite runner. And on top of that athleticism, he has really high-level baseball instincts.
"Literally everything that we've thrown at him this fall — which has been a lot in regards to that — he's handled with ease."
The notion of Dyer playing all eight defensive positions isn't one that Johnson takes lightly. He wouldn't entertain it if (a) he didn't think it would help the team and (b) he didn't think Dyer could handle it.
Dyer primarily played catcher in his first season at Arizona, starting 24 of 42 games behind the plate. He split his other 18 starts between first base and the corner-outfield positions. On a team that often struggled defensively, Dyer was charged with only three errors and had a .989 fielding percentage.
Dyer mainly played right field at Oregon, where he started his college career, in 2017. He sat out the 2018 season as a transfer.
Recruited as a catcher out of Mountain Ridge High School in Glendale, Dyer grew up playing every position on the diamond. That's the way his father, Mike, coached him when Matthew was a youth.
"When a coach asks you, 'Where do you play?' " Dyer said, "you don't just say, 'Oh, I play shortstop' or 'I catch.' You say, 'I play anywhere.'
"I love to hit more than anything. So for me, if someone comes up and asks, 'Hey, you're gonna be in the lineup, but what position are you?' It's like, 'Wherever you need me. Just put me out there.' "
Dyer proved he could hit last season, batting .393 despite a lingering injury to his left hand, and he displayed his speed and arm manning the vast outfield corners of Hi Corbett.
But is it realistic to think he could be effective in center field? Or at the middle-infield spots, where it isn't unheard-of for a 6-foot-4 player to thrive but isn't commonplace either?
Consider Johnson a believer. He said Dyer would be the best defensive player on the team "at eight of the nine positions" if he played any of them full time.
Specifically regarding Dyer's work as an infielder, Johnson said: "It's very natural for him to come get the ball. What he does really well, especially for being as tall as he is, he plays very low to the ground. And you're not going to find a better throwing arm on a catcher in the country. So that obviously translates."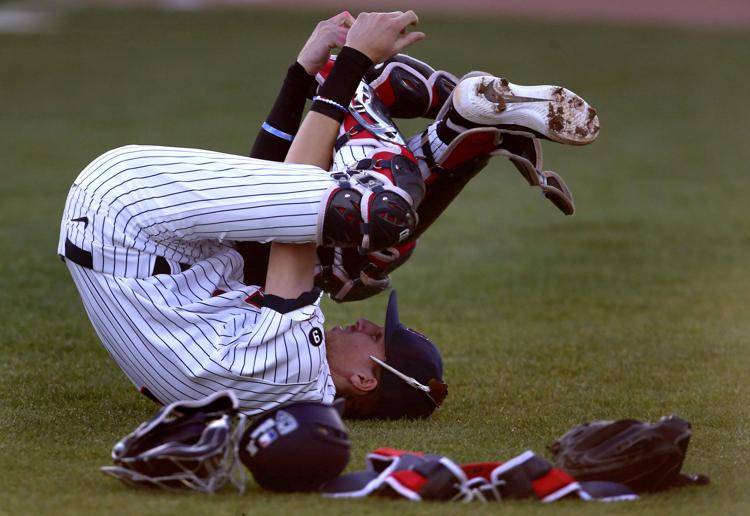 Dyer has played catcher, second base, shortstop, third base and center field during fall scrimmages and exhibitions. Carving out time to practice at all those positions is challenging but not impossible.
Even when he isn't on the clock, Dyer works on his craft. The redshirt junior will bounce a ball off a wall or toss one up to himself while lying in bed.
In addition to enhancing his own résumé for next year's MLB draft, Dyer believes his versatility can be an asset to his current team by "just kind of filling in the spaces that need to be filled in."
Johnson values him much more than that. Dyer and fellow catcher Austin Wells are the pillars of an offensive attack that led the Pac-12 in just about every meaningful category last season. Johnson said he was "extremely grateful" that Dyer elected to return to Arizona.
"I think that says a lot about him as a teammate," Johnson said. "I think it also says a lot about him and his confidence in his ability."
Dyer and his family went into this year's draft seeking a specific signing bonus. If no team was willing to meet it, he would come back to the UA with two more years of eligibility.
Dyer put up numbers worthy of a high draft pick. In addition to his .393 average, he posted a .480 on-base percentage and had 10 doubles, four triples and four home runs in 168 at-bats.
Dyer knew he could get better, though, especially when it came to his body. He played last season at between 165 and 170 pounds.
"I was known as the tall, skinny kid," Dyer said.
He spent the bulk of the summer at home working out under his father's guidance and eating as much as humanly possible. Dyer would consume between 6,000 and 10,000 calories daily. The recommended intake for a male Dyer's age is about 3,000 calories.
"My dad, sometimes he would hand me a $20 bill and be like, 'Go spend it all at In-N-Out,' " Dyer said. "I'd get like two cheeseburgers and a milkshake and come back home and eat everything."
It wasn't as fun as it sounds.
"It's the worst," Dyer said. "It's terrible."
But he was motivated, and his summer regimen — which included waking up at 6 a.m. every day to commence meals and workouts — has paid off. Dyer has bulked up to 197 pounds without sacrificing speed or agility.
"There's guys sleeping in over summer. I would get up and do what I had to do," Dyer said. "It's just one of those things where if you want something … you're going to put the work in and make sure it happens."
Inside pitch
Dyer plans to wear an EvoShield hand guard after getting hit by a pitch last season and missing the final 12 games. "I don't want to go through that pain again," Dyer said. "It was not fun."
Mac Bingham was the lone newcomer to start in Arizona's recent exhibition game against Team USA. He went 3 for 3 with three doubles. "If he continues to develop," Johnson said, "he's got the makeup and athletic ability to make a contribution this year."
Several new pitchers have stood out during fall workouts, including left-hander Garrett Irvin
Hunter Cope. Cope is a 6-11 freshman from Newport Beach, California, who has touched 96 mph and "throws a heavy ball," Dyer said.
Outfielder Donta Williams
(bruised shoulder) and right-hander
Vince Vannelle (toe) have missed time because of minor injuries.
Arizona is scheduled to play two more exhibitions — against NC Dinos at Hi Corbett next Friday and vs. the University of San Diego in Phoenix a week from Sunday. The annual Cat vs. Wild World Series is slated for Nov. 22-24.