Aari McDonald missed a foul shot with 20 seconds remaining Friday night against Cal and the crowd at McKale Center collectively responded with a low, groaning noise, almost one of disbelief.
It's like they looked at one another and said "did we really see that. … She missed?"
McDonald has been so good so fast in her first two months in an Arizona uniform that even her coach, Adia Barnes, doesn't know what to make of it.
"Did I know she'd lead the country in scoring? No," Barnes said after the Wildcats played perfectly in the final minute to beat the No. 24 Golden Bears 60-55. "She has quickness and athleticism, and she's dynamic and so instinctive. She's a gamer, but there are still a lot of areas she needs to work on."
McDonald outscored the Bears 7-2 in the final 59 seconds Friday. In a bigger perspective, she scored 22 of Arizona's 27 points in the second half in which, incredibly, the Wildcats shot 17 percent and still won.
This stuff is getting hard to believe.
Arizona has chopped down Top 25 teams in two consecutive home games. Before that, stretching 10 seasons, Arizona had gone 2-25 at McKale against Top 25 teams.
Such is the progress made in Barnes' third season at Arizona. And there isn't even a day to celebrate: Arizona's next three games are against No. 6 Stanford, No. 8 Oregon and No. 10 Oregon State.
It's like a men's team in the ACC playing Duke, Virginia and North Carolina back-to-back-to-back.
"This stretch will show me where we're at and what we're made of," said Barnes, who then paused briefly to reflect on how far the 13-2 Wildcats have come in 15 games.
"In the past decade, Arizona has always been a team you wanted to play twice," she said. "I'm here to bring this program to where it used to be. I'm not here to finish 10th or 11th. I hated it when I was at Washington and people would say 'Oh, we play Arizona,' and it always kind of offended me.
"We're putting the right pieces together, bringing excitement back here. Winning cures all."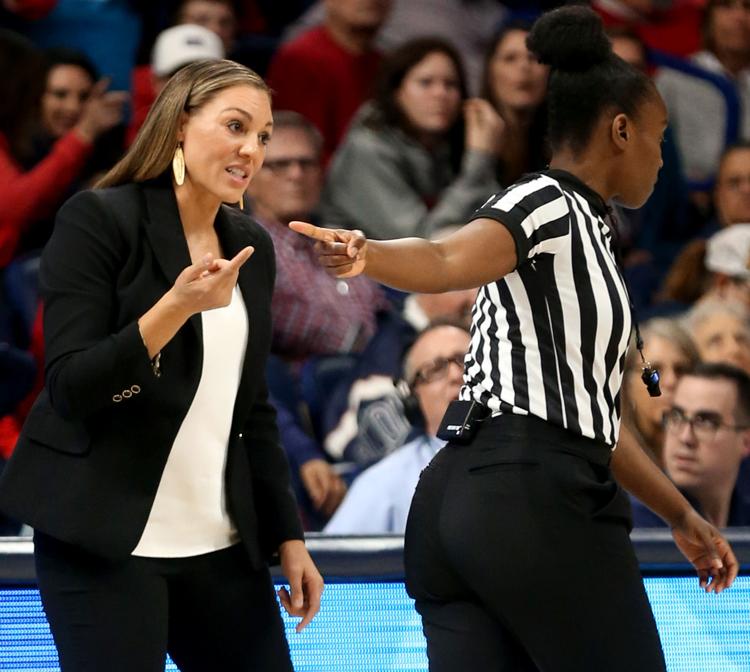 Even though McDonald seems to be averaging 35 points a game — it's "only" 27 — and even though the Wildcats drew 2,557 last night, giving them 7,563 in those upsets over ASU and Cal, Arizona is just getting started.
The Zona Zoo was occupied by exactly six students Friday night. Sometimes the pep band helped them make some noise, but so far, those who occupy McKale Center to watch the Barnes Brigade become relevant for the first time in 14 years are people who remember what it was to be alive when the Beatles were discovered.
You'll know the UA's women's hoops program has arrived when President Robert C. Robbins takes a seat in the front row, as he does in virtually every Sean Miller-coached game.
And you'll know they've arrived when they are able to go through a season against the Pac-12 powerhouses, break .500 and get a bid to the NCAA Tournament for the first time in forever.
This building a program business is not for the impatient. Nor is it always fair.
Pac-12 women's basketball is the opposite of Pac-12 men's basketball. According to the NCAA's RPI, Arizona is the No. 55 team overall — and that's ninth among Pac-12 teams. Amazing.
On Friday, McDonald, the jet-fueled point guard from Fresno, California, did everything she could to get her team involved. But as Cal rallied to tie the game at 53, it was no time for McDonald to show how well she can pass.
"I kept noticing Coach Barnes pointing to me," McDonald said, modestly. "I went, ah … OK."
It was go time, and Cal had no way to get the ball out of McDonald's hands.
She is like a female Pete Rose, impacting everything, in the middle of the action. She is tireless, fearless. She loves the pressure and although there is no dirt on a basketball court, she loves to get her uniform dirty.
More help is on the way; Barnes' recruiting class of 2019 includes two 6-foot-4-inch players — one from Iceland, the other from Turkey. Arizona desperately needs more size so that McDonald doesn't have to carry so much of a load.
On Friday, Barnes' collapsing, double-and-triple-teaming defense did a relatively effective job "limiting" Cal's 6-4 Kristine Anigwe to 19 points and 20 rebounds. Arizona has nobody remotely as big and skilled as Anigwe, a senior who is apt to be one of the top three picks in the WNBA draft this summer.
Yet the collective defense played by Dominique McBryde, Cate Reese and even McDonald did not allow Anigwe to dominate.
"It's funny, I look at the stat sheet and Anigwe had 19 points and 20 rebounds and I thought we did a great job against her," said Barnes. "That's how good she is."
Anigwe is from Phoenix. She was the Arizona high school player of the year in 2015 and the UA had no chance to successfully recruit her. Over the last 23 years, Arizona has been able to recruit just one Arizona player of the year — star guard Davellyn Whyte in 2009. That's not good.
The rest of those POYs wound up at places like ASU, Tennessee, Oregon and BYU. It is up to Barnes to make sure the next Anigwe isn't playing against the Wildcats.
But for now, Arizona has risen from the ashes. Barnes has made an impact and even though the rest of the Pac-12 season is going to challenge the UA just to finish 9-9, the best seems yet to come.
Barnes was saying that, given more time to recruit and surround McDonald with size and depth, "you'll see a different Aari as a junior and a senior."
For now, Aari McDonald the sophomore is working out just fine.