Four-star forward Zeke Nnaji made it official Wednesday, signing a letter of intent to play for Arizona next season, according to Minnesota's KSTP.
"I think I chose this place because the coaches really made me feel at home," Nnaji said at a Hopkins High School announcement that included other signings. "It just checked off the most boxes and I can study finance there which I'm looking to major in. Thank you to my friends and family and most importantly the most high for everything that he's done for me."
Five-star guards Nico Mannion and Josh Green, four-star forward Terry Armstrong and three-star center Christian Koloko all signed LOIs during the fall signing period. Nnaji committed two days after the fall period had ended so he had to wait until this week.
After the announcement, Nnaji told KSTP that he felt great.
"Feels like a big weight lifted off my chest," he said. "I know I've already been committed for a little bit but just to finally be officially be a part of the school and the team is great."
Nnaji said he will play in the Iverson Classic next week in Pennsylvania and  with USA Basketball in June. U19 invites have not yet been announced.
---
UC Irvine grad transfer Max Hazzard is scheduled to take a recruiting visit to Arizona on Thursday. He is also considering Gonzaga, Nevada, Xavier, Pitt, Oregon State and several other schools.
Hazzard's older brother, Jacob, was a UA walk-on guard from 2013-16.
"I'm pretty comfortable with Arizona because I have a brother who played there and he likes the program a lot," Hazzard told 247 Sports. "He thinks I would like it but he's not going to push me at all in any direction. He knows it is my decision and he's to support me either way."
The Wildcats will have at least one open scholarship for 2019-20 if Brandon Randolph decides to play professionally. He declared for the pros last week, but could still return to school.
---
Several other grad transfers that UA has expressed interest have narrowed down their lists.
• Arkansas-Little Rock guard Rayjon Tucker declared for the draft but told 247 he's also considering a grad transfer to West Virginia, Auburn, North Carolina, Memphis, South Carolina, Iowa State, Kansas and Arkansas. Stanford's Reid Travis declared for the draft last spring and then opted instead to grad transfer to Kentucky.
• Utah Valley guard Jake Toolson is down to Stanford, Utah State, Arizona State, Duke, Virginia or returning to UVU, according to travel-ball club Powerhouse Hoops.
Utah Valley Grad Transfer Jake Toolson is Looking at Stanford, Utah State, Arizona State, Duke, Virginia and Possibly Returning to UVU.The WAC Player of the Year Shot 46% From 3 This Season & Averaged 16ppg 5rpg 3apg pic.twitter.com/fXZfTwSJj6

— POWERHOUSE HOOPS (@PowerhouseHoops) April 16, 2019
---
Is Chase Jeter returning to the Arizona Wildcats next season? He posted this to Instagram today (and check out the first comment):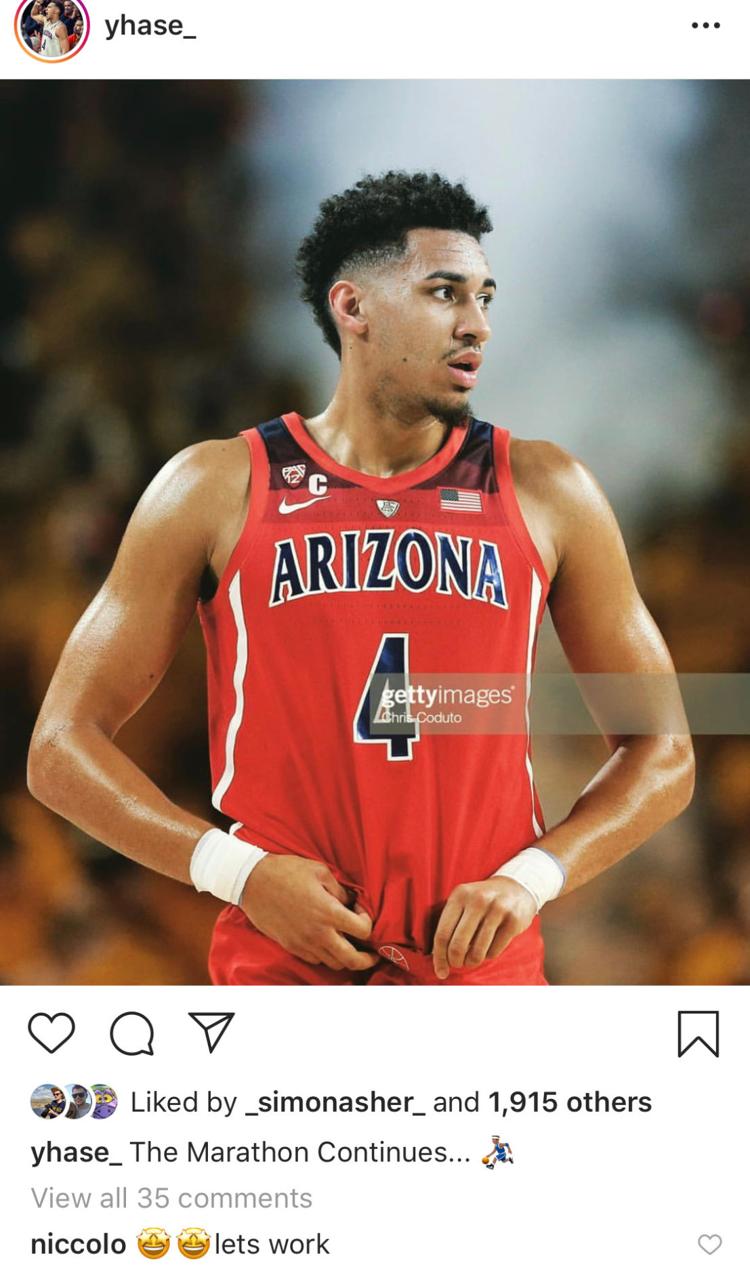 ---
A pretrial conference scheduled for Friday could determine whether UA coach Sean Miller will be called to testify in the upcoming college basketball bribery trial.
Prosecutors and defense attorneys have filed three competing motions each on whether uncharged coaches should be allowed to testify, with prosecutors arguing it is irrelevant and an attempt to garner sympathy from the jury while the defense states it is necessary to give context to Christian Dawkins' actions.