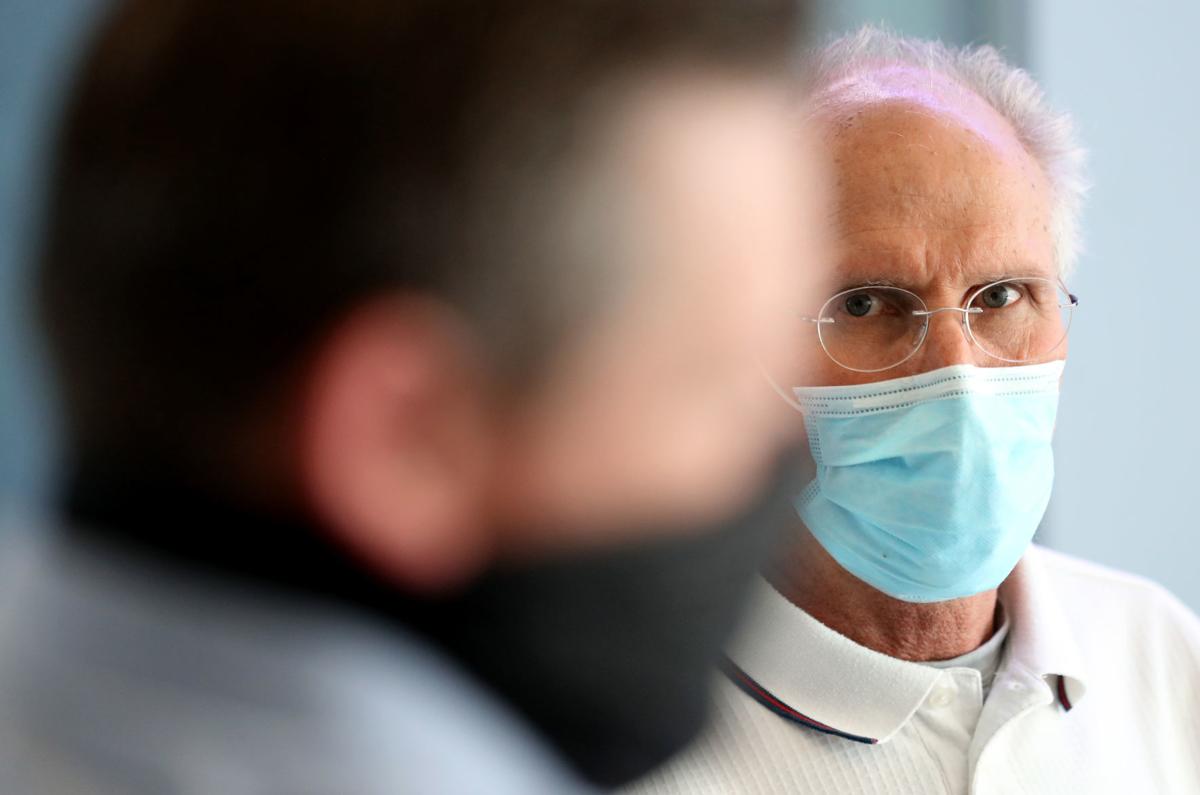 Every time Dr. Stephen Paul has been called on, he's jumped in with no hesitation.
His latest pivot, as he likes to call it, heading up the UA reentry team for student-athletes' return to campus during the coronavirus pandemic, may have the furthest-reaching impact.
And may seem like the hardest one of all.
"It's more in your face because the consequences are worse," Paul said. "If I made a mistake in coaching, we'd lose, but here, it's way worse. There's a lot of pressure to try to get it right."
Yet, Paul, 64, has changed the trajectory of many lives in three major accomplishments — as a pioneer coaching women's soccer, developing a sports medicine fellowship at Arizona and creating the first national training exam for Sports Medicine Fellows.
For the UA Campus Health doctor and assistant team physician, the approach is always the same. He sees a need and fills it.
Paul relies on the fundamentals he learned a long time ago in his first challenge — the one it always comes back to — coaching soccer.
"Everything I did with soccer gave me the tools to network, persevere and do it here. I think what we did with women's soccer is the same thing. Nobody had done it before," Paul said. "It's like, 'how do you do it? I don't know. I compared it to what we did as a men's team but what works better for the women? You just do that.' Same thing with creating a fellowship. I called friends. 'Hi, what are you doing with this? What are you doing with this? Well, that won't work here.'
"I think it's just the ability to have your vision. I mean you want the best fellowship, right? And you want these men and women that come in to do it to have the best education and be proud of Arizona. Same thing. That's your mission. And here, it's the health and safety and trying to show that we can get people back to the university, maybe can open up and people can safely resume a facet of their life."
This time around in what may be his "last big challenge," Paul heads up a team that includes doctors from Campus Health — Dr. Donald Porter, Dr. Bruce Helming, Dr. Michael Stilson, Dr. Dave Millward — and Randy Cohen, the UA's associate athletic director for medical services.
In addition to planning the reentry for Arizona Athletics, he is also working on the return of UA Dance/Performing Arts and ROTC.
One of the first things you notice about Paul is that he's down to earth.
He is such a regular guy that his teammate, Cohen, said when you call him doctor, he immediately tells you to call him Stephen.
"It's never about ego," Cohen said. "His mentality is that he's no different. It's more of 'you can teach me as much as I can teach you.' It's always a team approach, 'what can we do that is best for the UA and the students? How can we give the athletes the best possible care?' That mentality has carried over on this (reentry plan). Now it's 'can we allow them to compete and keep them safe?' "
The first time Paul stepped up was as a freshman at Colorado College in 1975. He was asked to coach the women's club soccer team. Even though he was still in school, it didn't seem daunting to him. He went on to coach eight seasons and collect a 110-46-7 record.
Along the way, a few big wins for Paul included women's soccer becoming a Division I sport at Colorado College, co-founding the Rocky Mountain Women's Intercollegiate Soccer League and winning the title twice, and helping to develop and host the first women's national championship — before women's sports joined the NCAA.
"I was lucky because the women (such as Laura Golden) that I was associated with back then were very passionate. And we all just got really passionate — this is our future, we can really do something," Paul said. "It was a drive to just do it. I don't know, it was just right. I was around the right people. It was the right cause and everything else.
"But no, I never really thought of it as I went along. It was more like a challenge. Meet the next challenge. Why can't we be a club? Why can't we get funding? Why can't we be a varsity? Why can't we be like the men? It was always taking on the next challenge of that."
When the U.S. women's soccer team won its first of four World Cup titles in 1999 at the Rose Bowl, Paul was there with former UA soccer coach Lisa Frazier and other former players from the early going. They cried at the victory.
"To see us win the first ever Women's World Cup was pretty astounding," he said. "(Now) I am happy they have the opportunity. And happy they they almost have the equal opportunity. This current group would say they're not there, and I would probably agree. It's complicated, different contracts and stuff like that, but it's not the same. We're still climbing.
"I think it's really ridiculous. Who gets the publicity? It's the men's sport, who are the better athletes? It's the women. Even in terms of coverage and everything else, it's like, 'oh, yeah, you guys are good, but let's watch the men's team.' They've never done anything. And then women have won it four times. To me that's in your face. Still, we have a way to go."
When Paul went to college, he thought about following in his father's footsteps and becoming a doctor, but that was put on hold while he was coaching.
It wasn't until he had a conversation with an interim AD and chemistry professor that he realized this was his next step. He was asked if he knew the difference between a vocation and an avocation. He realized that soccer was the hobby and medicine was the job.
A primary-care physician, Paul specializes in sports medicine and has stayed involved in soccer. He coached for many years at Tucson Soccer Academy and Foothills Soccer Club.
In 2015 while on sabbatical in Chile he was supposed to be a medical adviser for FIFA and the U18 World Cup. When they needed assistance, he stepped up and was hands-on. For Paul it was a "dream come true."
"Just going to Chile was an incredible experience — and for my family to pause a year it was life-altering," Paul said.
One of the lessons Paul learned in Chile was slowing down and taking moments as they come. That's not so easy in Tucson, especially now that he's leading the effort to bring student-athletes back to campus. The importance of this moment isn't lost on him.
"If everybody really took seriously putting on a mask, and trying to physically distance, there wouldn't be spikes. There wouldn't be, and that's exactly why we're seeing them. And we'll continue to see him until there's a vaccine," Paul said.
"There's something that goes on that triggers this to be more dangerous than the cold virus — we'll probably figure that out years from now. But it's just sad we have to lose people because of the inability to put everybody else first.
"That's why what we're doing here is so important because if we can do that — first with football and then soccer, volleyball — think of the statement it says to the college community. Think of what it says to the community of Tucson, et cetera. Here's the model. Here's how you can do it safely."
Be the first to know
Get local news delivered to your inbox!