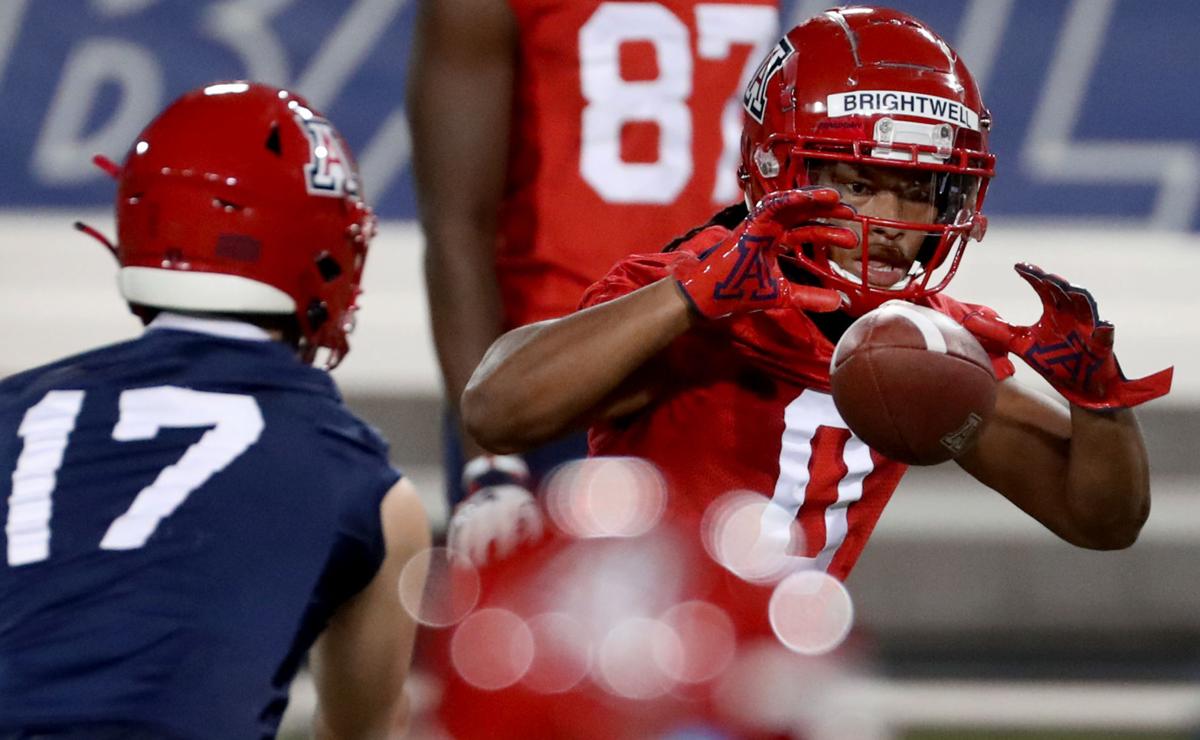 Gary Brightwell didn't change from No. 23 to No. 0 because it made him look cool. That's not his style.
The Arizona senior running back wanted the world to know where he comes from and what he represents.
Brightwell explained the switch during a Zoom interview with reporters Friday night. There were two main sources of inspiration:
1. Brightwell grew up without his biological father. His dad was murdered when Brightwell was a baby.
Brightwell has emerged from that darkness to become the leader of the Wildcats' tailback corps, which might be the deepest, most talented position group on the team.
"That zero, it represents everything that I stand for," Brightwell said. "I'm the last of a dying breed. There's nobody that can compare to me. So I just had to make that change."
Brightwell has endured the deaths of many people close to him, including an older sister who died in a car crash. He recently attended the funeral of a godbrother who was murdered.
Brightwell sees himself as a positive example. Many at the funeral smiled when they saw him, knowing what he has overcome.
"There's not really much they're doing with their life, but to see me, it brought them joy," Brightwell said. "It made them want to go out and get that."
Brightwell wants to be a role model for young people, the way his mother was for him. He's doing that by succeeding in the classroom and on the field, where he rushed for 915 yards over the past two seasons as J.J. Taylor's primary backup. Taylor is now with the New England Patriots.
Said Brightwell: "I want to reach the youth. I want them to understand that it's OK to have a soft side; it's OK not to be a thug. Growing up in that situation, you never want to go back. I need to let them know there's more to life than just the streets."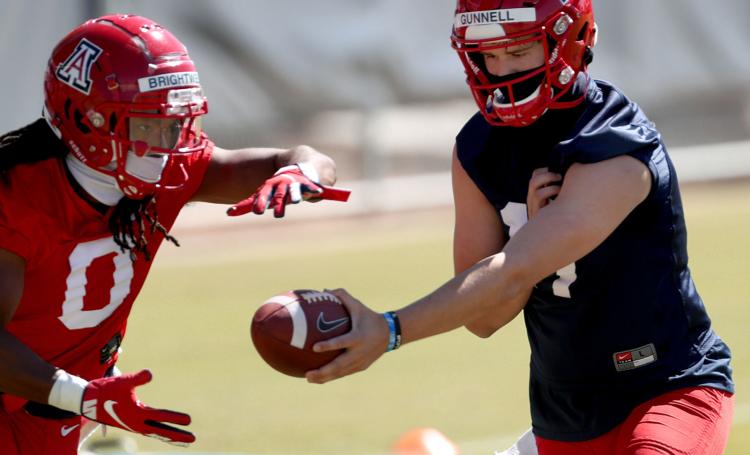 1. Get rid of toxic people.
2. Stay committed even when things get tough.
3. Learn from your mistakes.
4. Keep building your skill set.
5. Hustle in silence and let success make the noise.
Again, it isn't just for show.
"I have a lot to say," Brightwell said. "And I feel like it's selfish if I keep it all to myself."
First-year running backs coach AJ Steward said people learn more from Brightwell when they speak to him than the other way around. Brightwell "just sees life a little bit differently than most people his age," Steward said.
Brightwell practices what he preaches too. UA coach Kevin Sumlin said Brightwell looked like "a complete player" during the team's scrimmage Saturday, adding: "If it continues, he could have a big year."
Will it be Brightwell's last year at Arizona? Even if he appears in all seven games, he can come back in 2021 if he wants to thanks to the NCAA's recent eligibility ruling.
"That's up in the air right now," Brightwell said.
But he has made no secret of his desire to become an NFL player and take care of his family. And he conveyed a heightened sense of urgency about the 2020 season with Taylor no longer around to be the lead back.
"Honestly, I feel as though I have the same role. It's just, it's go time for me now," Brightwell said. "There's no more chances – no more second chances. It's like when he was here, I was learning. I would learn from my mistakes. I don't really got no time for mistakes right now."
QB update
Saturday's scrimmage marked the unofficial end of training camp. The Wildcats will begin two weeks of game prep Monday for the Nov. 7 opener at Utah.
In the meantime, Sumlin and his staff will figure out what the depth chart looks like. The positions in question include quarterback, where sophomore Grant Gunnell is the established starter but the backup job remains up for grabs.
The candidates are redshirt junior Rhett Rodriguez, redshirt sophomore Kevin Doyle and freshman Will Plummer. Sumlin wouldn't say if anyone had moved ahead of the others, but he did reveal what he and offensive coordinator Noel Mazzone are looking for.
"Accuracy, leadership. All those things," Sumlin said. "How does the guy operate? That's why we played situational football these last couple scrimmages. How he operates in those situations and moves the football, or how he handles the clock."
The situations the Wildcats practiced Saturday included the two-minute drill and the four-minute offense (running out the clock).
Sumlin added that the quarterbacks as a group "have come on the last two weeks."
Extra points
Sumlin said the running backs and defensive linemen stood out the most in the 110-plus-play scrimmage at Arizona Stadium. He singled out Brightwell and graduate-transfer linemen Aaron Blackwell and Roy Lopez.
UA football released a short highlight video of the scrimmage. Notable plays included sophomore safety Jaxen Turner intercepting Gunnell; receiver Tre Adams snagging a pair of passes; and tailback Nathan Tilford scoring a touchdown.
Brightwell on freshman tailbacks Frank Brown Jr. and Jalen John: "I'm amazed. I feel as though both of those guys are gonna do big things. … If I was to go down, I feel like anybody in this room could step up and make plays."