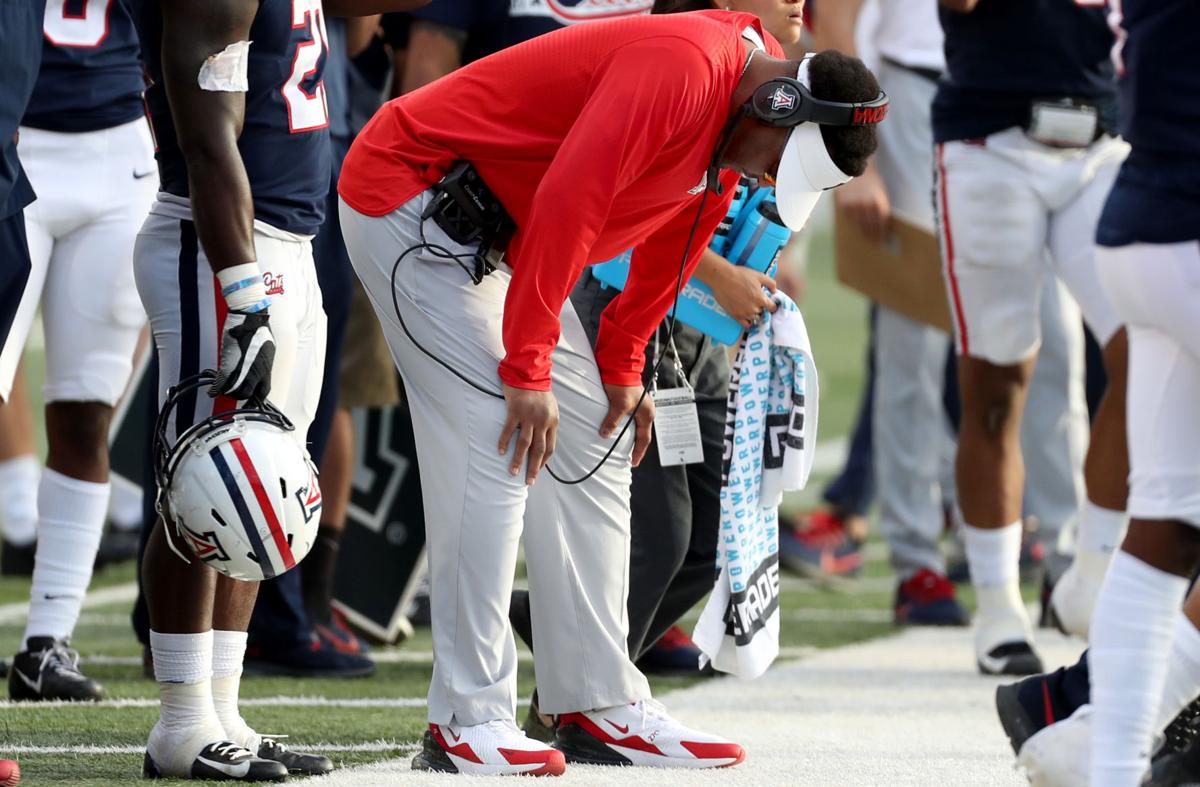 Six days after scoring 56 points and gaining 572 yards against Arizona, Oregon State played a 5-4 Washington team that has been nothing special.
The Beavers were mashed, 31-7, gaining a mere 119 yards.
It should tell you exactly how dysfunctional Arizona's defense is and what its chances are to hang tight with College Football Playoff contenders Oregon and Utah the next two weeks.
UA coaches spent the week on the road, recruiting. Maybe they should appeal to the NCAA to cancel upcoming games against the Utes and Ducks so they can continue to recruit to a defense that now seems likely to finish the season as the worst in modern school history.
Entering its bye week, Arizona ranked No. 126 of 130 FBS schools in scoring defense, allowing 37.3 points per game. That is the worst total in UA history, surpassing the 35.8 average of 2015.
Worse, the Wildcats are No. 125 in total defense, allowing 481 yards per game. The Utes, Ducks and ASU could alter that average to exceed 500 yards per game, which has never happened at Arizona.
Here's what emergency defensive coordinator Chuck Cecil has to work with on his coaching staff:
Defensive line coach Iona Uiagalelei, hired by Kevin Sumlin two years ago. Uiagalelei's experience? He coached at Mt. San Antonio College from 2001-17. Why would a Pac-12 school hire someone with that résumé? Let's just say his nephew, the nation's most coveted quarterback recruit in the Class of 2020, DJ Uiagalelei of SoCal's St. John Bosco High School, had not yet made his college choice. Ultimately, he picked Clemson and did not take an official visit to Arizona. Uiagalelei is getting on-the-job-training about how to coach in Power 5 conference football.
Defensive backs coach Demetrice Martin. A former coaching partner of Uiagalelei's at Mt. SAC, Martin knows what it is to fear for his job. His first full-time FBS coaching job was at Washington, 2008-10. Martin then watched as his boss, UCLA coach Rick Neuheisel, was fired with two games remaining in the 2011 season. Martin coached under Neuheisel's replacement,  Jim Mora; in 2017, with two games remaining in the season, Mora was fired. Martin couldn't be blamed for being scarred and disillusioned by the life of a college football coach.
Linebackers coach Hank Hobson. Before being summoned for emergency duty under Cecil, Hobson had been a defensive analyst, breaking down game film. The former UA linebacker also spent three years as a graduate assistant coach for Rich Rodriguez. Before the Oregon State game, Hobson had never worn a headset on gameday, communicating with the decision-makers at a college football game.
That's it. Uiagalelei, Martin, Hobson and Cecil.
You can't blame any of them if they split the next three weeks sending out resumes and worrying about their next jobs as much as preparing for Oregon, Utah and Arizona State.
So what was the point of firing defensive coordinator Marcel Yates after a dismal loss at Stanford? It was cosmetic. It was meant to send a message that Sumlin is "working on it."
But the UA's struggling defense would've been better served with Yates and fired linebackers coach John Rushing playing out the string rather than putting a cobbled-together staff in panic mode, wondering what they have gotten themselves into. The confused UA players deserved better, too.
A college football playbook is overwhelmingly complicated. It contains anywhere from 200 to 600 pages of X's and O's and takes months to teach and put into operation. Imagine a makeshift coaching staff trying to create a successful game plan overnight.
Whatever Cecil and his staff put together against top 10 teams like Oregon and Utah will be like throwing a squirt gun at a forest fire.
Cecil is one of the three great living legends of UA football, with Tedy Bruschi and Ricky Hunley. It appears he is being sacrificed in the name of buying Sumlin some time.
Can you imagine Arizona State doing that to Jake Plummer or Danny White?
---
Tucson's top 3 sports figures of the week
Abdi Abdirahman. A week before he was to run in the prestigious New York City Marathon, Abdirahman was inducted into the Pima County Sports Hall of Fame. He said he fully plans to make the 2020 USA Olympic team, as a marathoner. Abdirahman is 42. Even though he is a four-time Olympian, it seemed a little bold.
But a few days later, Abdirahman broke the world record for masters (40 and over) marathoners, finishing the New York race in 2 hours, 11 minutes, 34 seconds. He broke Tucsonan Bernard Lagat's 4-month-old world record of 2:12.10, and missed the Olympic qualifying standard by 4 seconds. "Abdi is still running at a very high level," said his coach, Tucsonan Dave Murray. Amazingly, only one American, Galen Rupp, exceeded Abdirahman's New York marathon time of 2:11.34 in 2018.
Bijan Robinson. In his final regular-season game at Salpointe Catholic, a 76-0 blowout over Casa Grande Vista Grande, the Texas Longhorns-bound Robinson carried just five times for 76 yards before sitting out the second half. It pushed Robinson's season total to 1,974 yards. Had he stayed in the game for another carry or two, Robinson would've likely surpassed 2,000 yards, making him the only player in Arizona history to rush for 2,000 yards in three seasons. Salpointe coach Dennis Bene asked Robinson if he wanted to return to the game, gain 26 more yards and get the record in the books. "Bijan told me he wanted to see the other guys play," Bene said. "He said they deserved it. That's the kind of special person he has been here. He's a great player, no doubt, but he's also a type of young man that makes coaching worthwhile."
Nate Yeskie. One of the nation's most celebrated college baseball pitching coaches, Yeskie was hired by Arizona's Jay Johnson in June, ending a distinguished run at Oregon State in which the Beavers were probably the top baseball program in the Pac-12, and Yeskie among the most respected assistant coaches. Arizona is paying Yeskie more than $200,000 per season, making him the highest-paid assistant baseball coach in school history. Two weeks ago, the New York Yankees contacted Yeskie and asked if he would be interested in being the Yankees' new pitching coach. What does that pay, $500,000? Maybe a million or more per year? Yeskie declined. He told the Portland Tribune it wouldn't have been right to leave Arizona after only three months on the job. The Yankees also talked to Arkansas pitching coach Matt Hobbs and Michigan pitching coach Chris Fetter before hiring Matt Blake from the Cleveland organization.
---
Locals facing steep learning curve in college hoops
Here's how difficult it is to make the jump to college basketball: former Salpointe Catholic all-state forward Majok Deng, now a freshman at Pepperdine, did not play in the Waves' season opener, an 87-71 loss to Cal. Deng scored more than 1,700 points at Salpointe, leading the Lancers to a pair of state championship game appearances. The Waves used 11 players in the game. And former Pima College women's basketball star J.J. Nakai, a two-time first-team NJCAA All-American, did not start in Nevada's season opener against St. Mary's. Nakai scored six points as the third sub inserted into the game by the Wolf Pack. Another ex-Aztec, Deion James, the 2017 NJCAA Division II Player of the Year, made his Pac-12 debut at Washington State last week. A senior who  prepped at Cienega High School, James did not start for WSU but played 16 minutes and scored four points in a victory over Seattle.
---
Sahuaro trying to end 50-year title drought
Coach Scott McKee's Sahuaro High School football team, seeded No. 1 in the ongoing Class 4A playoffs, is trying to end the school's 50-year streak without an outright state championship. Could this finally be the year? Sahuaro has been so close to a championship the last half-century that it has become a very sad tale. Howard Breinig's 1994 team tied for the title with Peoria, finishing the season 11-1-1. Breinig's 11-1 team of 1988 and 12-1 team of 1989 came oh-so-close, as did his 1984, 1991 and 1993 teams, which all finished second at state. No team is more due than Sahuaro, which gets a home game Friday in the second round of the playoffs against ninth-seeded Gila Ridge. The football gods are overdue to be looking out for the Cougars.
---
UA soccer team awaits postseason fate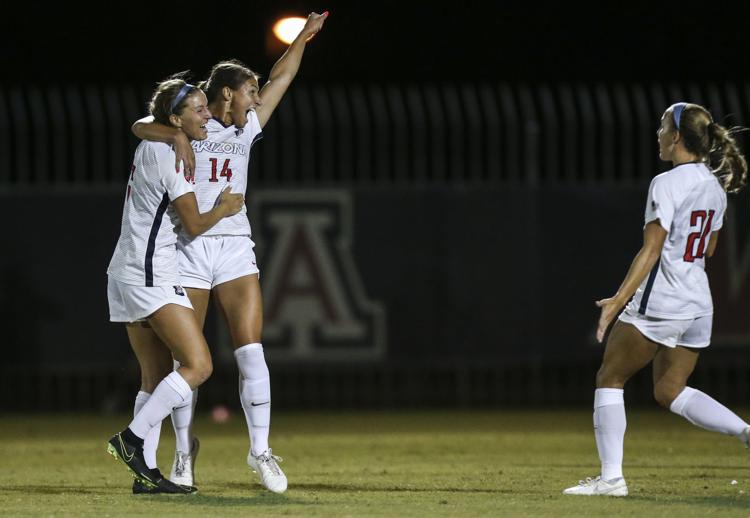 Coach Tony Amato's Arizona soccer team set a school record with attendance of 1,365 in Friday's 1-0 victory over Arizona State. Now the anxiety begins. Arizona finished 5-5-1 in the Pac-12 (ASU was 0-9-2) and is on the bubble awaiting Monday's NCAA selection show. Arizona's RPI is No. 40 nationally, but you can't blame Amato for not playing a tough schedule. The Wildcats lost to No. 1 Stanford, No. 7 USC, No. 22 Washington and No. 29 Cal, while beating No. 8 UCLA and No. 20 Washington State. That's life in Pac-12 women's sports.
---
These Tucsonans are hooping overseas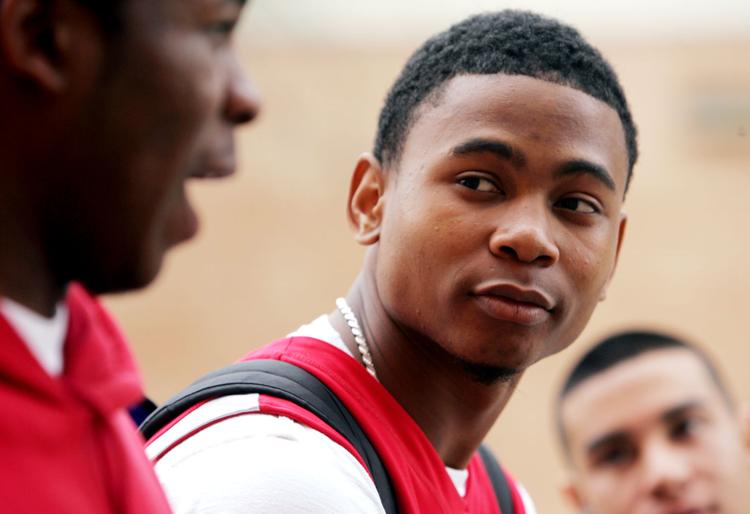 The international pro basketball season has begun with four players from Tucson high schools in action. Amphitheater's Tim Dersken, who played at USF, is averaging 15 points for Fribourg in the Swiss Euro League; Santa Rita's Terrell Stoglin, of Maryland, is averaging 26 points per game for Zamalek of the Egyptian pro league; Tucson High's Shakir Smith of Pima College and Adams State, is averaging 12 points for Academic Plovdiv of Bulgaria's pro league; and Pueblo's Michael Perez, of UTEP and Nevada, is averaging two points for Astros de Jalisco of the Mexican pro league.
---
UA women's golf team finishes fall schedule on high note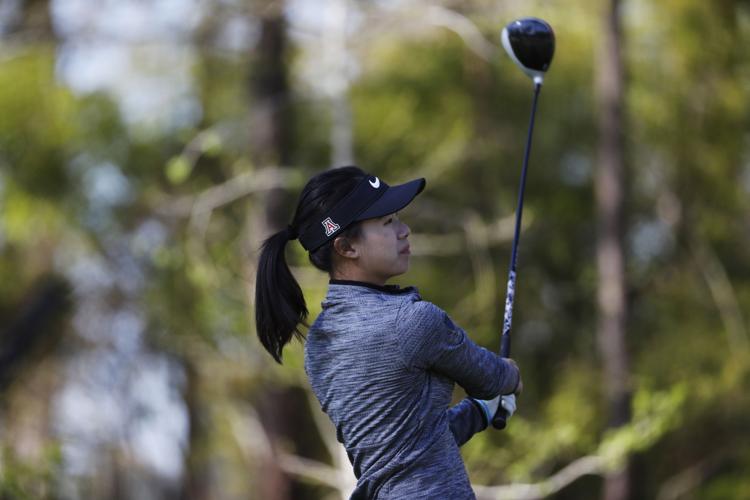 Coach Laura Ianello's UA women's golf team finished the fall portion of its schedule with what might be the most impressive first-half performance in school history. The No. 3-ranked Wildcats won the Pac-12 Preview last week in Hawaii, a veritable NCAA championship field in itself. Arizona beat No. 2 ASU, No. 4 USC, No, 5 Stanford and No. 15 UCLA in the three-day event. In five fall events — in Chicago, Atlanta, Minneapolis, San Francisco and Hawaii — Arizona played 30 Top 25 teams, now ranked as the most difficult schedule in the nation. Sisters Vivian Hou, No. 4, and Yu-Sang Hou, No. 18, are among the highest ranked golfers in the NCAA. The pleasant surprise of the fall was freshman Therese Warner, who climbed to No. 37 in the national rankings. Warner, from Washington, was successfully recruited away from the Pac-12's northern schools.
---
My two cents: Illinois has mostly struggled since 2005 Elite Eight upset of Arizona
In the years since Illinois beat Arizona 90-89 in overtime at the 2005 Elite Eight — a game many Wildcats fans consider the most painful loss in school history — the Illini have only won two NCAA Tournament games.
They have not reached the Sweet 16. They have not passed go, they have not won another Big Ten Conference championship. They have not been ranked in The Associated Press' final Top 25 poll since 2006.
Illinois plays at McKale Center on Sunday night coming off perhaps the worst season in program history. The Illini lost 21 games a year ago, the most in their 115-year history. They went 7-13 in Big Ten play, finishing tied with Rutgers and Penn State and one game ahead of Nebraska. 
Not many in this part of the American frontier will shed a tear.
Over the last 40 years, Illinois has employed four Final Four coaches — Lou Henson, Lon Kruger, Bill Self and Bruce Weber — which suggests that the brand of Illini basketball has national appeal.
This is somewhat rare. In the last decade, Arizona has played just nine Power 5 nonconference opponents in Tucson: North Carolina State, Oklahoma, Florida, Clemson, Texas Tech, Michigan, Missouri, Alabama and Baylor. Of that group, only two — Baylor in 2018-19 and Florida in 2013-14 — reached the NCAA Tournament.
I suppose playing a down-cycle Illinois squad is better than another game against Cal Poly or Utah Valley.
Contact sports columnist Greg Hansen at 520-573-4362 or ghansen@tucson.com. On Twitter: @ghansen711