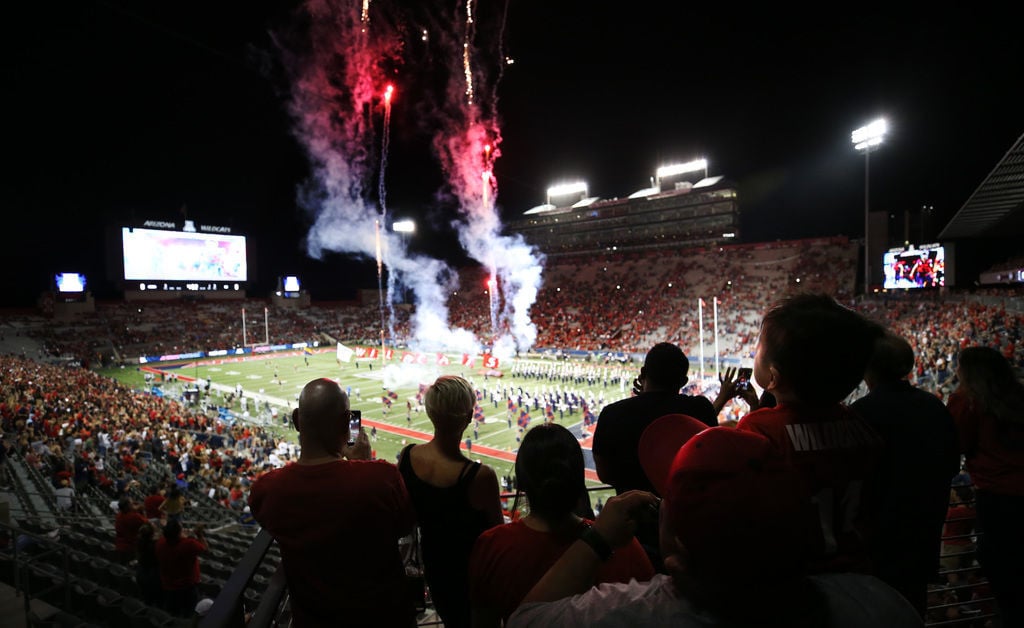 The ramifications of the coronavirus pandemic are sure to hit college athletics with a devastating financial blow. The model for college athletics is likely to be turned inside out.
Soon, paying the bills is likely to become more important than spending the money. Cost containment, which has largely been ignored by Power 5 Conference schools for the last 25 years, is apt to be dusted off and reapplied.
For example, in the fiscal year 2018, the UA athletic department received $23.9 million in gifts from donors. Those boosters created their wealth in every conceivable part of the business world — dentists, car-rental firms, plumbers, investment management. One of those donors was the Sam Levitz furniture company, which last week laid off 628 Southern Arizona employees.
The aftershocks of those layoffs and many others in Tucson will ultimately affect the UA athletic department.
Many of those UA donors are likely to reevaluate how much they will contribute to sports, or if they continue to contribute at all. Many of them are strongly involved in the stock market, which has plunged.
"Advertising in college sports could drop like a rock," former Utah athletic director Chris Hill told Salt Lake City radio station 97.5 The Zone. "If that happens, it'll really be tough."
Then there's the football season, the economic engine for most athletic departments.
Pac-12 commissioner Larry Scott told Jon Wilner of the Pac-12 Hotline that he'll examine the possibility of a disputed season "in the next week or two."
"The optimistic model has an elongated training camp and an on-site start," Scott told Wilner. "The most pessimistic has no season at all."
The smallest crowd at Arizona Stadium in the last 60 years was 17,131 for the Arizona-Idaho game on Nov. 5, 1960. If Arizona's 2020 football season is played as scheduled, a crowd of 17,131 might be wishful thinking.
Would you go? Would you again be eager to sit in a crowd of tens of thousands of people?
And what about the thousands of Tucsonans who have lost their jobs and can't pay their bills? They aren't likely to be buying football tickets.
On Tuesday, Arizona athletic director Dave Heeke made the first move toward restructuring the school's financial position by delaying the deadlines to purchase tickets for football and men's basketball from May 1 to June 1.
"The COVID-19 pandemic is not only a medical crisis, it is presenting many of us with significant financial challenges," Heeke said in a statement sent to season-ticket holders and donors. "Your continued support of Arizona athletics is crucially important during this time; therefore, we will be as flexible as possible to continue your active involvement."
With sports competition shut down, the losses are no longer on the field, but in the budget office.
Pac-12 schools will already fail to realize about $1 million each in disbursements from the canceled NCAA men's basketball tournament. That's just the tip of it.
"A one-time hit of $1 million to schools with $100 million budgets can be survived," said Hill, who was Utah's athletic director for 31 years. "But nobody knows how long the economy will be down."
If you listen to an Arizona basketball game on the radio, it takes about 30 seconds for a voice to list, one by one, all of the sponsors: Hughes Federal Credit Union, Casino del Sol, Jack Furrier Tire & Auto Care and on and on.
The Tucson branch of Learfield IMG College, which is housed in offices at McKale Center, creates millions of dollars of income for the UA athletic department via sponsorships, signage, social, digital and radio advertising and game-day hospitality.
That income seems sure to splinter and diminish.
According to the U.S. Department of Education, the UA athletic department had expenses of $85 million in the fiscal year 2019. It met those expenses via revenues of $43 million from football, $23 million from men's basketball and $24 million from donors. On top of that, Pac-12 schools each receive a yearly distribution of about $30 million from its media rights deal with ESPN and Fox.
The media rights deal is in place through 2024, but everything else — ticket sales, advertising, donor contributions — is fluid.
In the fiscal year 2018, Arizona's athletic department received 52 gifts of at least $50,000 from boosters. What if that is reduced by half? Unless you have a football program that generates about $100 million a year — such as Alabama, Ohio State, Texas and Clemson — it crushes your budget.
At a school like Arizona, every dollar counts again, the way it did in the 20th century.
Heeke recently told me that Wisconsin has a budget almost $100 million greater than Arizona's, which seems impossible. Many assume Arizona and Wisconsin play on even ground. But they don't. The Badgers had football income of $94 million in the fiscal year 2018, and a budget of $158 million, almost double the Arizona budget.
An athletic director like Alabama's Greg Byrne might be able to say, "We'll survive this." Most of his contemporaries live in a different financial world.
Before the coronavirus closed the UA and its sports operation, Heeke said it's possible the current number of Power 5 schools, 65, could be halved in the next decade.
"I don't think 65 can go to the elite level," he said. "I think the number will be more like 30. But then what do the rest of us do?"
That is a question that has been made relevant sooner than any AD in the country could have imagined.
Said Utah's Hill: "Schools with large amounts of money don't want to change. They can spend more and put you out of business. There are 20 to 30 schools that could squeeze everybody out."
Consider Arizona and ASU and every Pac-12 school except maybe privately funded USC and Stanford in the process of being squeezed.
The trickle-down effect, sport by sport, could change the landscape of college sports for the next decade or more. What could change? Almost anything and everything. The little guy will get hit first.
Hill, for example, said that it's "silly" for baseball and softball teams each to play 56 regular-season games per season. "It costs as much to fly a baseball player to a game as a football player," he said.
He also said that it's "a joke" for football coaches to leave campus and recruit in the spring, and questioned the oversized coaching/support staffs in football and basketball.
"Why do we need all these guys?" Hill asked. "Why do we need all of these sports?"
A month ago, those questions would've been met by bemused expressions. Now, they are a sobering reality.
Concerned about COVID-19?
Sign up now to get the most recent coronavirus headlines and other important local and national news sent to your email inbox daily.