Women's college basketball is gaining so much space in America's sports consciousness that you can now bet on an Arizona game, or any Division I NCAA game, about as easily as you can order from Door Dash.
The sports betting people don't appear to have assigned an intern or a rookie to the women's basketball oddsmaking business, either. The line on Sunday's Arizona-Oregon State game was 11½ points. The Wildcats won by 12, 73-61.
But it's unlikely any gambler made more money than the Wildcats did with their weekend sweep of the Oregon schools. Arizona drew 17,918 fans against the Beavers and Ducks and if you add food and drink to the income, it probably meant a deposit of close to $200,000.
That should more than pay for the remaining charter flights for coach Adia Barnes and her team's trips, to Washington and to the Pac-12 Tournament.
But it's not supposed to be about money, right? (Tell that to OSU coach Scott Rueck, who last week signed a contract extension through 2031 that is scheduled to pay him roughly $10.5 million).
It's about the Ws and the Ls, and to this point in the season, Arizona, with two Top-10 basketball teams, has never been more successful in combining Ws and Ls in a basketball season.
As far as NET rankings and Top-25 polls go, it was an unprecedented basketball weekend of profit at McKale Center: four games, four days. More importantly, the Wildcats beat No. 3 UCLA and No. 19 USC in men's games, and Arizona's women's team beat No. 19 Oregon and a worthy Oregon State team that has been a Top-25 fixture in recent years.
You can comb through the record books for hours and never find a Pac-12 basketball weekend to match it. Arizona drew 47,206 fans over those four days, which has never been duplicated in the conference.
That's partly because the league almost always avoids scheduling men's and women's teams to be at home on the same weekend. And it's also because a mix of Pac-12 men's and women's teams have rarely been so popular simultaneously.
Oregon's 31-2 women's team of 2019-20 drew five sellout crowds of 12,364 at Matthew Knight Arena and set a league record with an average attendance of 10,852. But they did not share a home weekend with the Ducks' men's team, which averaged 8,038 at home that year.
Arizona should easily become the first Pac-12 team in history to surpass 20,000 average attendance for its combined men's and women's teams in a season; Tommy Lloyd's club is averaging 13,190 and Barnes' club is averaging a school-record 7,462.
Ever aggressive and a willing marketer, Barnes didn't leave McKale Center on Sunday before making the first plea for selling out next Sunday's noon game against Arizona State.
"I want a sellout,'' she said. "I think it's very possible. I want to lead the league in attendance. It's a huge recruiting tool.''
Oregon currently leads in Pac-12 women's attendance by a slim margin: 7,605 to Arizona's 7,462. The Wildcats have remaining home games against ASU, UCLA and USC. It's certainly do-able.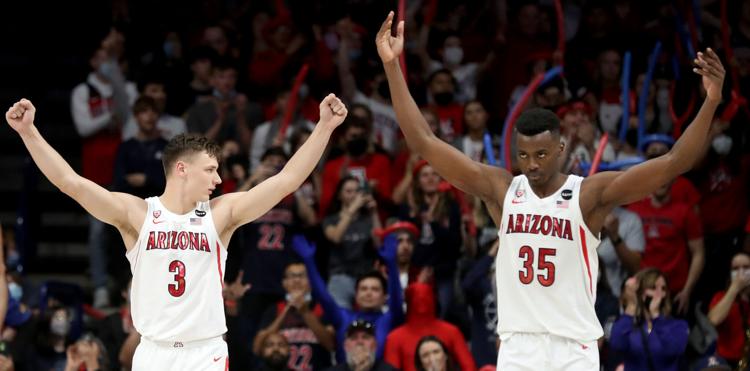 Arizona's weekend sweep meant more than money, it also meant Love.
Junior guard Koi Love had a breakout weekend, scoring 24 points with 12 rebounds. She was the one missing piece that Barnes has patiently waited to become a reliable producer.
A year ago, Love averaged 20 points and nine rebounds at Vanderbilt. A year earlier, as a part of the all-SEC freshman team, Love averaged 13 points for the Commodores. But her first season at Arizona included six games in which she didn't make a field goal. She was only averaging 12 minutes per game.
But finally, Love broke through against the Ducks and Beavers, playing 52 minutes, looking every bit the type of off-the-bench threat who can help secure Arizona a No. 2 seed in the NCAA Tournament and home-court advantage in the first two games of March Madness.
"I want to win, I want to play,'' Love said Sunday. "Whatever I have to do to get on the court, I'm going to do it.''
It is a right-time, right-place breakthrough for Love. She's versatile, a terrific ball-handler, physical and big enough (6-feet) to play three positions.
Said Barnes: "In the last two games Koi has come out of her shell a little bit; she's growing into her own.''
Barnes will not be able to kick back and relax in the build-up to the home-and-home weekend series with the considerably improved Sun Devils. No matter how high Arizona is ranked in this week's Top 25, the oddsmakers are surely intuitive enough to view Friday's game in Tempe as a one-possession, either-or game.
A little bit of Love could make the difference.
Contact sports columnist Greg Hansen at 520-573-4362 or ghansen@tucson.com. On Twitter: @ghansen711