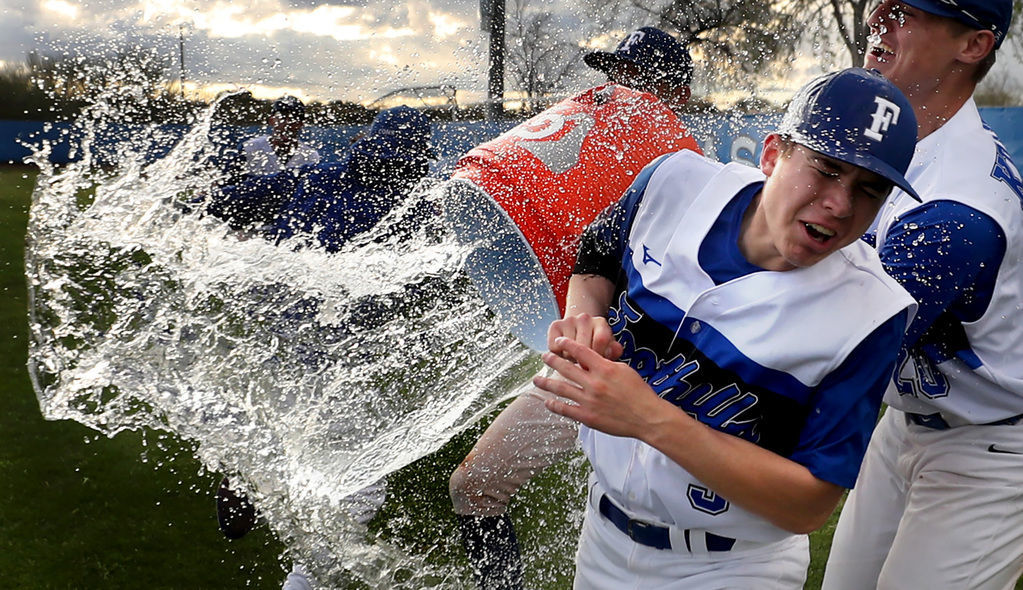 Several members of the Cienega High School boys volleyball team were in the school's gym Monday morning when the news came down that the Arizona Interscholastic was calling for a two-week break from games and scrimmages.
The players, who had been at the gym since 9 a.m., were kicked out, said coach Heather Mott, as school officials rushed to implement further guidance on how to handle the coronavirus pandemic.
While high school sports across the state will take a two-week pause, AIA officials said there are no immediate plans to postpone or cancel spring playoffs.
Arizona Gov. Doug Ducey and state schools chief Kathy Hoffman announced Sunday that public schools would be closed through at least Friday, March 27, with state health officials also recommending a two-week suspension of school and related activities.
If that timeframe remains the same, the closure should not impact the spring championship season, according to a news release from the AIA.
The release said the AIA would keep all postseason tournament processes in place and if the spring playoff season was extended for any period of time, it would remain ready to conduct tournaments in their entirety.
School-sponsored games and scrimmages were halted through Saturday, March 28. The earliest possible day that play could resume would be Monday, March 30, unless the situation changes, according to the release.
The decision surely comes as a surprise to Southern Arizona players and coaches. Catalina Foothills' baseball team and Tucson High's softball team were among the local programs who held impromptu Senior Days over the weekend for fear that their seasons would be canceled.
"We're super excited," Cienega Bobcats volleyball coach Mott said of the AIA's decision to wait and see how the situation plays out as opposed to following the NCAA's and NJCAA's lead and outright canceling spring sports. "We were really holding our breath and we were going to be super, super sad if we weren't able to continue our season."
Mott's son plays Division I college volleyball in California and said that the NCAA's decision to cancel the season was devastating for student-athletes. While the NCAA is exploring ways for senior spring sport student-athletes to retain their eligibility, no such decision has been finalized.
And regardless of the NCAA's decision, a similar option would not be possible for seniors in high school, Mott said.
"I would have really felt bad for our seniors if we got a week-and-a-half into our season and hand to cancel," Mott said.
The Bobcats are off to a 3-0 start this season, with Mott saying that this year's team shaping up to be something special.
"Great teams tend to come in flows for me," Mott said. "We're at the top of one of those flows this year. I'm excited about what we have and how we think it'll play out on our end, if we're given the opportunity."
As of now, it looks like they'll have the chance.
Empire High School softball coach Shannon Woolridge also agreed that the AIA's wait-and-see approach is the right move.
"I think it's premature to cancel the season with so much of the season left," Woolridge said. "This at least gives everyone hope that we're able to continue on with the season."
The Ravens, whose season opened March 5, are off to a 2-1 start.
The AIA is leaving the decision about practices up to schools and school districts, saying that it will respect individual schools and support their decisions.
While the Bobcats will follows the district's decision when it's made, Mott is already thinking of alternative activities for her players to do as long as they're feeling healthy.
"It's going to be very hard to keep this group of kids away from volleyball," Mott said of her players. "But we might do a team hike outside or find a creative way to be together and kind of keep our chemistry going."
Woolridge said that if his team wasn't able to practice, he and other coaches would provide players with suggestions about what to do to stay active and in playing condition.
The AIA said its first objective is to get students back into classes, then have them return to athletics when appropriate. All fees will be waived for any competitions that are cancelled or postponed due to the coronavirus pandemic.
All other AIA rules about practices, workouts and individual training sessions continue to apply. Teams are not allowed to scrimmage. The only exception to the AIA handbook is that upon resumption of competition, student-athletes affected by the 50% transfer rule will have their eligibility restored.
"We will continue to monitor the communications from the governor's office, as well as the state health department, and consider recommendations as they come," the release said.
As for the six seniors on his team, Woolridge said he's hoping that their high school softball careers aren't over just yet. He said he appreciates the AIA's taking its time and not rushing to a decision.
"It'll be heart wrenching if we have to cancel the season, but I think it'll be easier (to handle) then as opposed to right now," Woolridge said.
Concerned about COVID-19?
Sign up now to get the most recent coronavirus headlines and other important local and national news sent to your email inbox daily.