Five years ago, the Los Angeles Dodgers selected Tucson's Alex Verdugo in the second round of the MLB draft. Today, the Sahuaro High School graduate is the starting center fielder for the best team in the National League.
It usually doesn't happen that fast. More often than not, it doesn't happen at all.
So every day, however briefly, Verdugo pauses to appreciate how far he has come. He doesn't allow himself to feel content, though. He knows how quickly circumstances can change.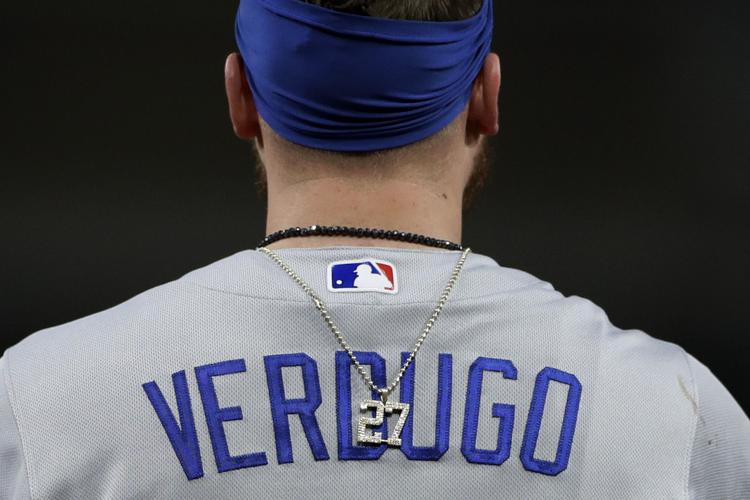 Verdugo has established himself as a bona fide major-leaguer this season, slashing .302/.358/.460 with 14 doubles, two triples, four homers and 28 RBIs in 189 at-bats entering Saturday. He also threw out Milwaukee's Hernan Perez at the plate with a 98.4-mph laser from left in April. And nailed Tampa Bay's Kevin Kiermaier at third from the track in May — an assist the animated 23-year-old punctuated with a Shakira-like hip shake.
But the return of injured free-agent acquisition A.J. Pollock appears to be imminent. Dodgers manager Dave Roberts has implied Pollock will get his starting job back upon his return. That would relegate Verdugo to the role he assumed to start the season: fourth outfielder behind Pollock, powerful Joc Pederson (18 home runs) and MVP co-favorite Cody Bellinger.
It beats shuttling between Los Angeles and Oklahoma City, something Verdugo did with regularity last year. The Dodgers optioned Verdugo to their Triple-A affiliate three times in 2018. They recalled him, for the final time, on Sept. 1 — exactly a year after he made his MLB debut as a 21-year-old.
Verdugo has gotten better in every facet since then, maturing into a big-leaguer without losing his youthful flair. Before Game 1 of this weekend's home series against the Chicago Cubs, Verdugo spoke by phone with the Star about his development, his style, his connection with Dodgers fans and his support system. The conversation has been lightly edited for context and clarity.
Do you ever stop and think, 'Man, this is amazing'? Or is that inadvisable because you'd be letting your guard down?
A: "I think it's a little bit of both. Every day when I'm out there on the field, looking at 45,000 people at our stadium, it always hits you. It's like, 'Man, this is cool. This is pretty crazy right now.' There's always that. But you don't let it catch you off guard. You don't take it for granted. You go about your business either way."
You had a bit of a slump recently (0 for 18 before going 3 for 4 Tuesday). That's going to happen over a long baseball season. How do you deal with the ups and downs?
A: "You try not to ride that roller coaster. You try not to get your emotions too high. You try not to get too low. You just try to stay even-keeled, in the middle.
"I came out of a little slump I was just in, but I feel like numbers don't really tell you if you're in a slump. A slump, for me, is how you feel in the box. During that 0-for-18, there were three or four hits that were kind of stolen away. Just good defensive plays. If those go through, it's a whole different story. It just so happened that those plays were made.
"It happens. You just try to go up there every at-bat and grind away. Just put a good swing on it, put the ball in play hard and hope for the best."
You've been described as fiery and energetic. You play with a high intensity level. How hard is it for you to stay even-keeled?
A: "I show my emotions. But I also feel like there's a line you (straddle) between showing emotions and caring and being disrespectful.
"If you get out in a key situation and want to show some anger — hey man, I love it. I love to see the guys get fired up. It's just a matter of how long you make that about yourself.
"You just get that quick burst. Get it out. Boom. Then you've gotta flip that switch and go root on your teammate – hope your teammate helps you out, brings a guy in, comes through.
"I feel my emotions. I'm fired up. I also feel like I have a really great team where they let me know if it's a little too much (or) if it's just right. There hasn't been a problem this year, and I don't see there being a problem."
We saw a lot of that emotion in the 2017 World Baseball Classic. You played for Mexico in that event. What was that experience like?
A: "It was amazing. One of the best times I've ever had playing baseball, being with that team, that group of guys. Every game is like a playoff game. Every game matters. Every pitch matters. Adrenaline was high.
"We didn't care about who was 'The Guy' there, who was the best, who was the worst. It didn't matter. It was just, 'Hey man, we need you to come through.' Every single guy. Every pitch. The fans were going crazy."
What's the story behind your walk-up song?
A: "My walk-up song is 'Volver, Volver' by Vicente Fernandez. My dad's Mexican. I grew up listening to it — every time he cleaned the house or picked me up from school, he'd always be jamming to it.
"It reminds me of being younger, with my father. He's not here to watch me a lot. Plus, L.A., our crowd, our fanbase, they really kind of picked up on the song and loved it. They really go crazy for it."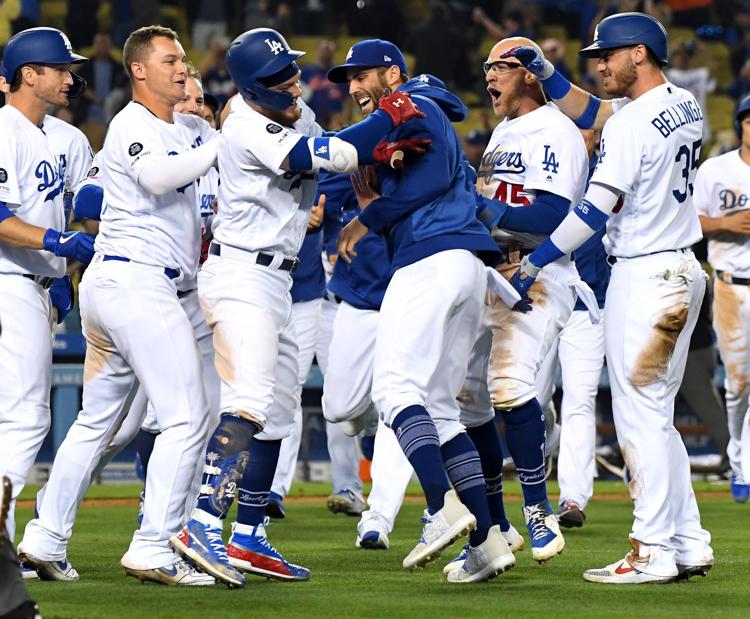 What role did your parents (Joe and Shelly) play in helping you get to this point?
A: "They've played the biggest role in my life. They've raised me, taken care of me, kind of showed me the way. Just helped me out through everything.
"My mom, she paid for all my private lessons, everything I would ever do for baseball. Dad, same thing, waking up super early to drive me to Phoenix (for tournaments).
"It's just the sacrifices they made. I wouldn't be here without them, without their support. They really do mean the world to me. I love my parents more than anything."
What advice would you give to a young baseball player who has similar dreams to the ones you had?
A: "Hang with it. It's gonna be tough. This is a hard sport that we're in.
"When you're in the minor leagues, it's not too fun, honestly. You try to make the best of it. You're grinding down there. It's tough travel, tough schedules.
"You've gotta play hard, constantly work and stay within your game. Whatever makes you great, try to perfect that."