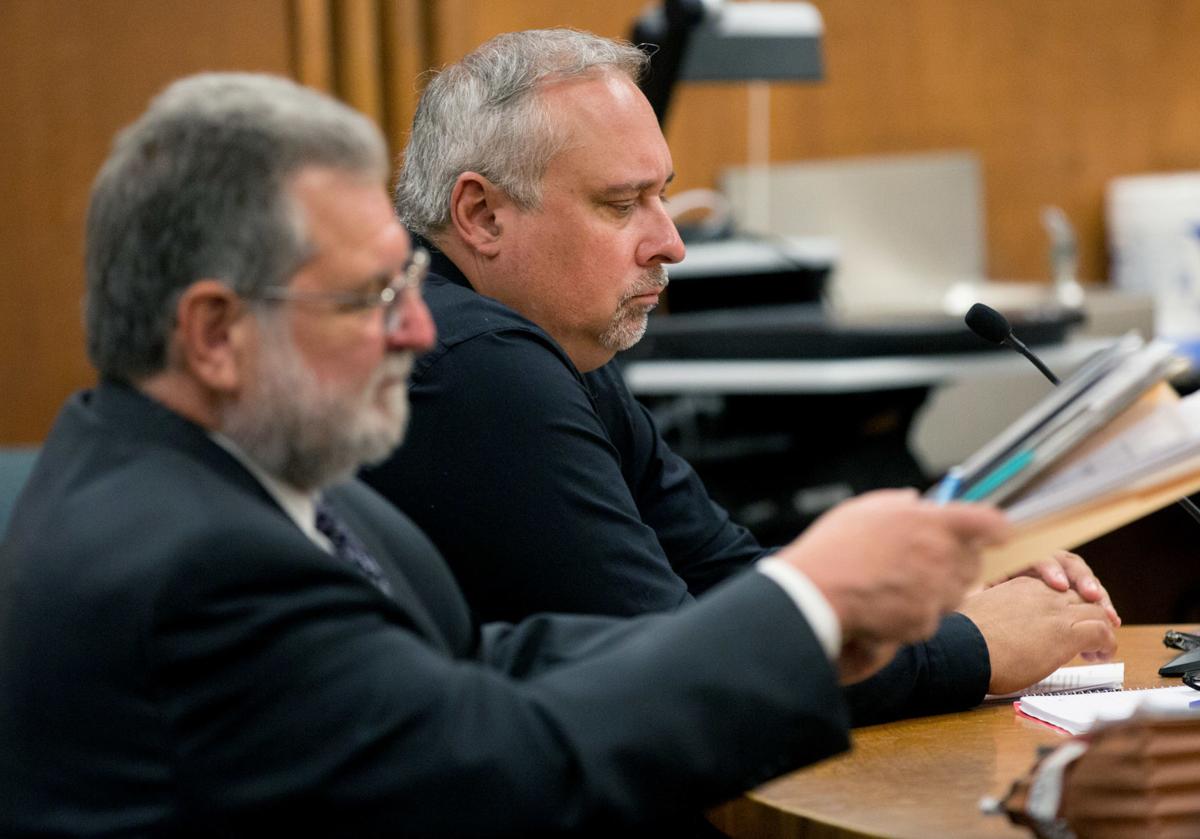 A Marana man accused of stealing more than $83,000 from a youth sports organization was sentenced Monday to 120 days in jail and seven years of probation.
Steve Leslie Marshall Jr., 49, was facing up to 12 1/2 years in prison after pleading guilty to one felony count of fraudulent schemes and artifices in March.
Judge Christopher Browning said that he sentenced Marshall to probation in large part so that he could begin paying restitution to the Marana Broncos.
The Broncos are one of 14 associations within the Tucson Youth Football and Spirit Federation, a nonprofit in which thousands of Pima County boys and girls participate each year. Marshall, who was president of the Broncos from 2009 to 2017, was indicted in September on eight felonies in connection with misappropriation of funds from the Broncos' bank account over a two-year period.
His indictment came at the end of a 16-month investigation by Oro Valley police and the Arizona Attorney General's Office, which revealed Marshall improperly used checks and an unauthorized debit card from the Broncos' account to pay his rent, dental bills, car repairs, water bills and more.
On Friday, Marshall's attorney filed a motion to continue the sentencing, saying he needed more time to prepare. That request was withdrawn Monday, with Marshall's lawyer telling the court they were ready to proceed.
Broncos president Juliette Gutierrez read a statement to the court on behalf of the association, saying that in addition to the money Marshall took from Broncos, he left the association with $17,000 in unpaid invoices.
The money Marshall embezzled from the Broncos was raised through children's participation fees, fundraising and donations from community members and local businesses.
"Every dollar counts" to the organization, Gutierrez said, adding that each TYF association has to pay annual expenses including insurance for the players, field usage, referees and lights.
Marshall also filed false tax information when he was president of the Broncos and tarnished the association's image in the community, Gutierrez said.
"The damage can't be measured purely in financial terms," Gutierrez said, adding that the league's morale "took a nosedive" and the Broncos lost families and sponsors as a result of Marshall's actions.
There are still businesses in the community that refuse to interact with the Broncos because of Marshall's behavior as president, she said.
The Broncos have made changes to how they receive and spend funds, as well as their transparency, Gutierrez said. The association posts publicly every month a statement of funds.
Broncos leadership has also engaged in dialogue with TYFSF about how to prevent this type of incident from happening again, Gutierrez said.
Gutierrez told the court that Marshall was no stranger to fiduciary responsibility and financial misappropriation, referencing a 2005 lawsuit filed by another TYFSF organization, the Oro Valley Dolphins, which accused Marshall of stealing roughly $10,000.
"He knew what he was doing to the youth and the community," Gutierrez said in court, asking that Marshall receive prison time.
Assistant Attorney General Jared Kreamer-Hope said the state believes that some degree of incarceration is merited in the case, which contained several aggravating factors, but that probation with a 120-day jail sentence gives Marshall the greatest ability to make restitution to the Broncos.
There were several aggravating factors in the case, Kreamer-Hope said, most notably in the source of the funds in which Marshall chose to take.
"It makes things significantly more severe when you're taking money from a charity organization that works with children," Kreamer-Hope said, adding that the harm to the Broncos was substantial. "Parents and businesses have to be able to trust their kids and money with the Broncos."
Marshall's attorney, David Lipartito, said that the situation with the Dolphins in 2005 was simply a "misunderstanding over money."
The financial improprieties with the Broncos took place over a period of 23 months which came at the end of Marshall's "long-term and dedicated service" to the organization, Lipartito said, citing letters sent to the judge from parents and coaches who talked about the impact Marshall had on their lives.
"This case is a tragedy," Lipartito said. "(Marshall has) taken something he felt very good about... and he has trashed it."
Lipartito said that he didn't agree with the amount of money that Marshall was accused of embezzling, but that his strategy wasn't deliberate, but rather incremental.
Marshall began experiencing financial problems and began taking money from the Broncos, initially paying it back. At a certain point, he fell behind, Lipartito said.
Lipartito asked for probation and that judge address a provision in the plea agreement which requires Marshall to tell his current and future employers about his conviction, saying that Marshall is concerned his current employer, Northeastern University, might fire him if they become aware.
"I am guilty," Marshall told the judge. "Regardless of the amount, even taking $1 is wrong."
Marshall said that he'd given 27 years of his life to volunteering and that he can't imagine how hard the incident has been on the Broncos, thanking the board for pursuing the criminal case and holding him accountable.
"I will cherish the good times forever," Marshall said, admitting that he was a failure as president for the last three years of his tenure. He said that at times, he believed that the association couldn't run without him and that he took the money, in part, so that he could remain president.
"I hope this can be a lesson for all those who come after me," Marshall said, ruminating about how he would be remembered in life and if this one act would negate the work he did with hundreds and possibly thousands of kids.
Marshall's 120 days in jail will be spent on work furlough, as long as he remains employed. He'll leave the jail each work day at 7 a.m. and return by 6 p.m.
After handing down his sentence of probation rather than prison, Browning warned Marshall that if he violated in a "significant manner" the only discussion would be how many years he'd be spending in the Arizona Department of Corrections.
Marshall recently entered into a restitution agreement with the state to reimburse $30,000 to the Broncos. The amount of the recurring payments will be decided upon by Adult Probation Services.
The conditions of Marshall's probation include no drugs or alcohol, he maintains full-time employment and take classes in cognitive skills and budgeting. He was also sentenced to 700 hours of community service.
Marshall is to report to the jail on Friday to begin serving his sentence.
Be the first to know
Get local news delivered to your inbox!