Tucson's Ascent Aviation Services recently helped make some history by preparing the first Boeing 777 jetliner for retirement after Hong Kong-based Cathay Pacific Airways donated the 24-year old plane to the Pima Air & Space Museum.
In January 2017, the aircraft maintenance company welcomed the last Boeing 747 jumbo jet flown by a U.S. carrier when Delta Air Line's last 747 touched down for mothballing at Pinal Airpark.
It's all in a day's work for Ascent, which is steeped in aviation history of its own.
In 2016, Ascent Aviation at Tucson International Airport merged with Marana Aerospace Solutions at Pinal Airpark to create one of the leading aircraft maintenance, repair and overhaul companies for both wide body and narrow body aircraft in North America.
The merger combined two of Tucson's oldest aircraft maintenance companies to create one of the largest such facilities in the world.
Ascent is a successor to Hamilton Aviation, which was founded right after World War II. Marana Aerospace's maintenance operation at Pinal Airpark was acquired in 2011 from Oregon-based Evergreen International Airlines, which operated a maintenance center there since the mid-1970s.
Ascent's president, Dave Querio, knows the history well after serving in executive roles for Evergreen and Hamilton, and later heading Ascent from 2009 to 2013.
"It's kind of a conglomerate of the old Tucson brand and the Marana brand, into one," said Querio, who returned to Tucson in 2016 to head the merged company.
Though the combined operation uses the Ascent name, the Pinal operation still maintains the Marana Aerospace brand.
Querio said the merger combined Ascent's expertise in narrow-body airliners with Marana Aerospace's capabilities for servicing wide-body jetliners, including Boeing's iconic 747.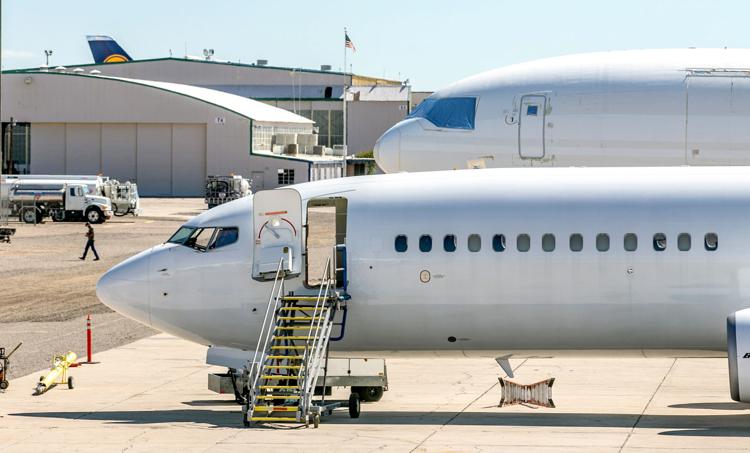 The combined company provides maintenance, flight line, storage and reclamation services at its two facilities, which span more than 1,250 acres and include five hangars. Its customers include major airlines, charter operators and aircraft leasing companies.
The merger has had multiple benefits, allowing the company to consolidate executive positions, use the same business-management software system and share tooling, hangars and other resources.
"Our sales teams can cross-market because a lot of our customer base have both wide-body and narrow-body aircraft, so now we give them options of expertise of narrow-body in Tucson and wide-body in Marana," Querio said. "It just made total sense."
Between both operations, Ascent now has about 330 employees, and maintenance techs are now cross-trained on both narrow- and wide-body jets, he said.
GROWTH MINDSET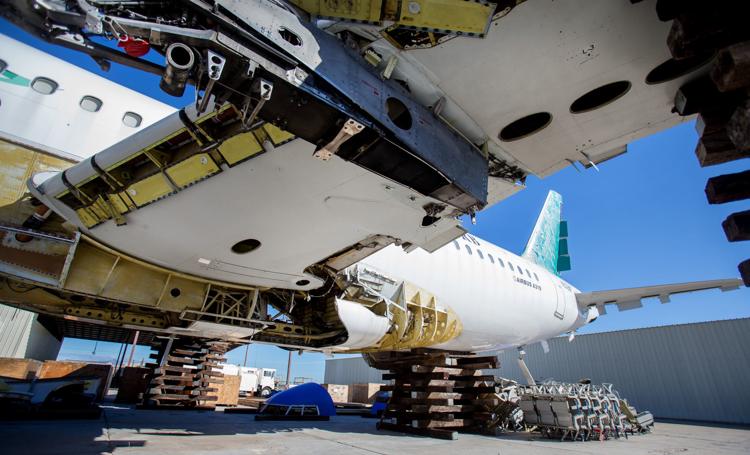 Ascent is looking to grow its operations both organically, and perhaps through acquisition opportunities, Querio said, citing a recent wave of consolidation in the industry.
The privately owned company doesn't disclose its revenues.
Querio said his company is always looking to add certifications to work on certain aircraft types, recently adding Embraer E190 and Bombardier CJR 700 and 900 series narrow-body jets to its roster.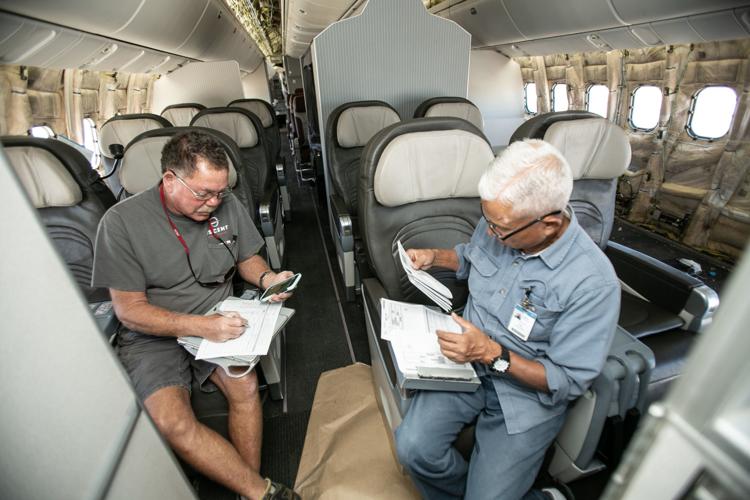 "Our plans are to grow the company and grow the company significantly, but there's only so much we can do with the property as far as aircraft maintenance goes," he said, adding that the company has looked at adding component overhaul capabilities and expanding machine-shop services, for example.
The merger initially helped both companies solve their problems in attracting enough skilled workers.
"For many years, Marana and Tucson always fought for people," Querio said. "We were stealing people from Marana, Marana was stealing people from us, and it's very difficult to get people and keep people."
But like other aircraft-maintenance companies, Ascent's growth is being hampered by an industrywide shortage of experienced aircraft mechanics that is projected to worsen over the next decade.
"We are restricted right now by manpower," Querio said, adding that his goal is to have 500-plus workers.
"We're in a phase in our industry where we are retiring out a lot of the baby boomers who were more laborers than technology geeks back in the day, and there's been a huge gap since the dot-com boom."
On the other hand, new technologies such as composite structures used by Boeing on its 787 Dreamliner demand new skills, Querio said.
Ascent has worked closely with Pima Community College's well-regarded aviation-technology program to get FAA-certifiable workers. It also has expanded links to other aviation tech schools in the region, as well as scooping up some departing military mechanics from Davis-Monthan Air Force Base, Querio said.
But the bigger need is for experienced technicians, and Ascent has tripled the number of recruiters it has hired to find workers worldwide, said Scott Butler, Ascent's chief commercial officer, who was lured from the San Diego area in August.
In a business that is cyclical from year to year as well as seasonal, it's tricky to line up work and have enough workers at the right time, said Butler, adding that the company tries to keep its workforce stable by booking a three- to six-month backlog of contract work.
"That's our job, is to try and weather those (lean) months and find that other customer to drop in, to keep a forecast that allows our planning group to keep the head counts stable," Butler said.
MAJOR PLAYER
Ascent is one of the larger U.S. maintenance companies but faces stiff competition from global players like Singapore-based ST Aerospace, which has large maintenance centers in Texas and Alabama, and Washington-based Aviation Technical Service, said Ron Donner, chief editor of Aircraft Maintenance Technology magazine.
Ascent benefits from Arizona's dry desert climate, making it an ideal place to store aircraft, Donner said.
"Arizona is a major player because of the climate down there — operators don't send their planes to Seattle," Donner said.
But like the industry as a whole, Ascent faces a shortage of skilled workers that will only get worse unless more efforts are made to attract young people to the trades, he said.
Boeing and Airbus have projected that some 20,000 new aircraft will join the market in the next eight years, Querio noted.
Donner said entry-level wages in aircraft maintenance start as low as about $10 an hour and nationally average about $20 an hour, according to a study by ZipRecruiter.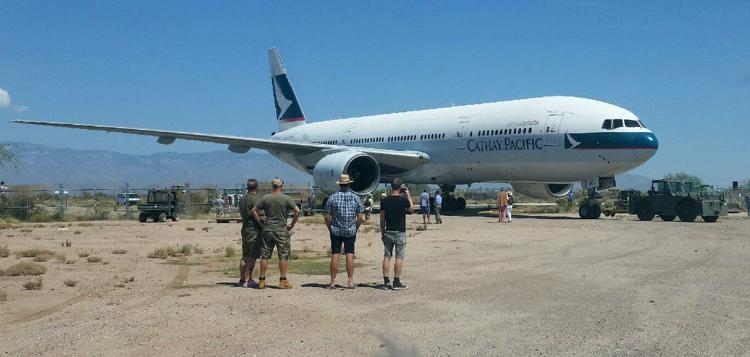 Wages vary by specific positions, experience and regions, but the overall median wage for aircraft and avionics equipment mechanics and technicians was $29.45 per hour, or about $61,000 a year, according to the U.S Bureau of Labor Statistics.
"It will take a few years, and you'll be able to make a good living," Donner said.
Ascent's Butler said wages haven't risen much in several years, as many operators offshored work to less costly overseas shops, but that may be changing.
"Aviation started seeing the wage growth before and started outsourcing to other countries awhile ago, when the capacity was there," Butler said. "But now that we've increased the market size in Asia and in South America, that has started filling up those shops as well, so there is that market pressure to raise those rates."