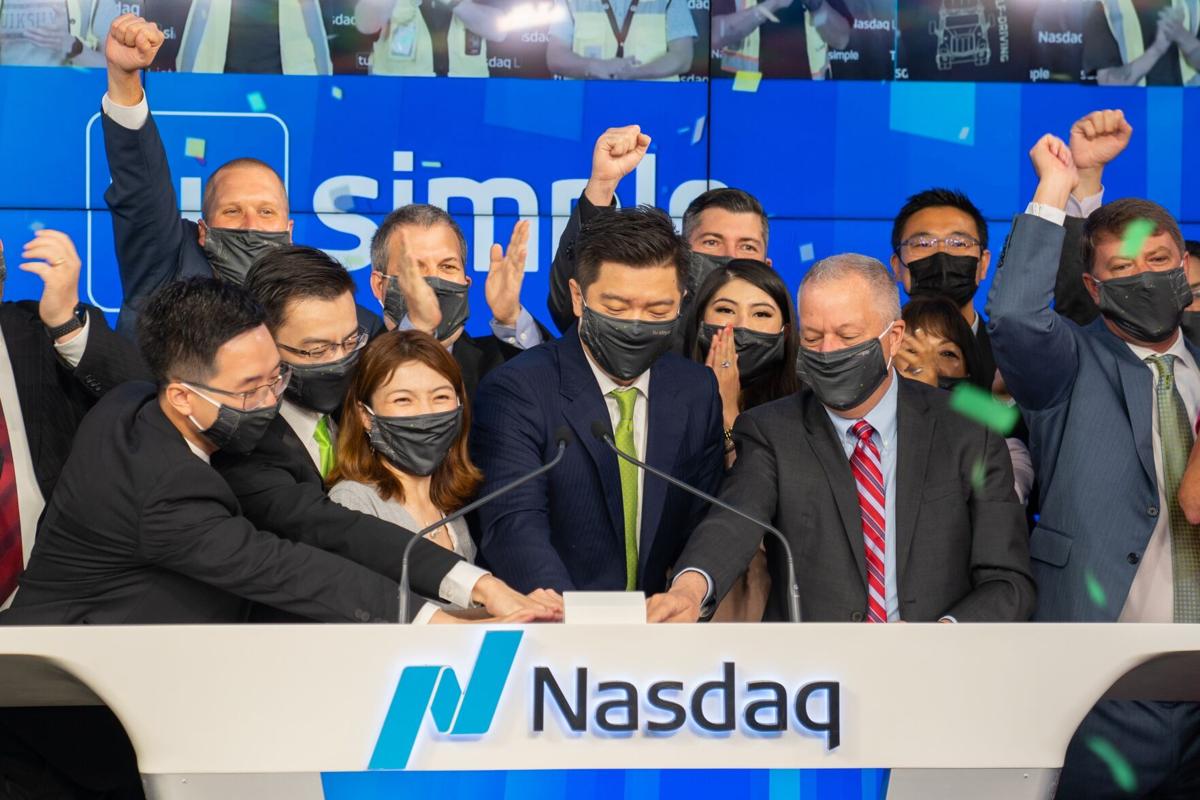 Self-driving truck developer TuSimple, which has a major technology center and freight hub in Tucson, has gone public and raised more than $1 billion with a successful initial public offering on the Nasdaq stock market.
San Diego-based TuSimple began trading on the Nasdaq Global Select Market on Thursday, April 15, under the ticker symbol "TSP," after the U.S. Securities and Exchange Commission declared the company's registration statement effective on Wednesday.
After falling after the opening on Thursday and trading down much of the day, TuSimple stock recovered to close at its opening price of $40 per share on the Nasdaq.
The company reported selling about 34 million initial shares through its offering underwriters at $40 per share, for gross proceeds of $1.08 billion.
TuSimple sold just over 27 million company shares and a major stockholder sold about 6.7 million shares in the initial offering, the company said.
The initial share price was above TuSimple's expected range of $35 to $39 per share. The initial price gives TuSimple a market value of more than $8 billion.
The company's lead underwriters for the offering, Morgan Stanley, Citigroup and J.P. Morgan, have a 30-day option to buy up to an additional 5 million shares, TuSimple said.
Prior to the IPO, TuSimple raised more than $600 million in private-equity investments, including a major stake owned by an affiliate of Chinese online giant Sina Corp.
Industry partners including truckmaker Navistar, Volkswagen's commercial trucking unit Traton SE and United Parcel Service also had invested in TuSimple.
The company said in its initial IPO filing that a committee made up of U.S. government agencies had sought information on the investment by Beijing-based Sun Dream Inc., which had owned 20% of TuSimple's private shares.
The federal Committee on Foreign Investment in the United States apparently cleared the deal, though the company has not commented on the results of the committee's probe.
TuSimple is seen as one of the leaders in the push to develop completely self-driving freight trucks, though it is still burning through cash as it completes development.
The company reported a net loss of $199 million in 2020, after spending $132 million on research and development.
TuSimple has been running paid loads from its Tucson test center since 2017, with a driver and engineer aboard as the company awaits regulatory approval for fully driverless operations, which it expects by 2024.
The company has partnered with Navistar to make purpose-built autonomous semi-trucks and says it has some 5,700 reservations for its Level 4 autonomous trucks, which can be operated without a driver.
The company, which was founded and is led by a group of Chinese scientists and entrepreneurs, is also testing autonomous trucks in China through a hub and development center in Shanghai.
In July, the company launched the TuSimple Autonomous Freight Network to manage and monitor a network of trucking routes initially extending along Interstate 10 from Phoenix to Tucson, then to El Paso, San Antonio, and Houston, with connecting routes along I-20 from El Paso to Dallas, I-45 between Dallas and Houston, and I-35 between Dallas and San Antonio.
TuSimple employs about 200 engineers, drivers and other workers at its 50,000-square-foot test center and hub on East Old Vail Road and is in the process of expanding the facility by 35,000 square feet and adding more than 100 jobs over the next year.