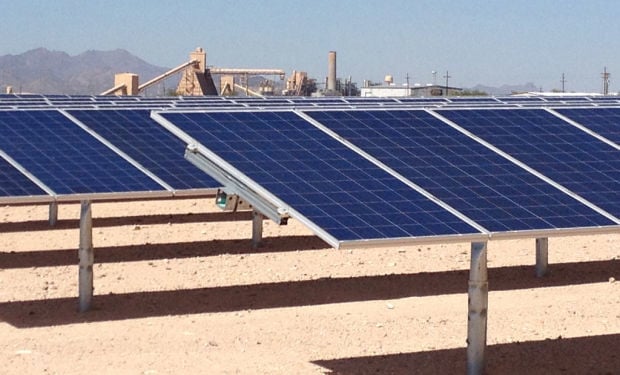 Arizona utility regulators have sent a strong message to the state's biggest power companies: Step off the gas.
For the first time, state regulators rejected long-term energy resource plans filed by Tucson Electric Power Co. and other state-regulated power companies, ordering them to develop plans that cut their planned reliance on new natural-gas plants in favor of more renewable energy and storage.
By a 3-2 vote last week, the Arizona Corporation Commission refused to acknowledge so-called "integrated resource plans" filed by TEP, sister utility UniSource Energy Services and Arizona Public Service Co., citing concerns they rely too much on natural gas and overestimate future energy demand growth.
Commission Chairman Tom Forese and Commissioners Andy Tobin and Bob Burns voted to reject the resource plans. Commissioners Boyd Dunn and Justin Olson voted against an amendment denying the plans, though the commission unanimously approved the final order.
The Corporation Commission — which went against a staff recommendation that the resource plans be approved — also slapped a moratorium through 2018 on the procurement of any natural-gas power plant with a generating capacity of 150 megawatts or more.
TEP, UNS and APS are required to file integrated resource plans every two years, forecasting energy demand and supply sources to meet that demand over 15 years with a three-year action plan.
Citing criticism of those plans by the commission's staff and the Sierra Club, the Corporation Commission found that TEP, UNS and APS didn't comply with requirements for the resource plans and approved a new process to revamp the rules.
The commission adopted an amendment proposed by Burns that specifically singled out APS for failing to comply with four of 11 planning requirements and finding that APS' forecasts of future demand "were not proper because they are 'too aggressive' " and citing "faulty and/or unrealistic load growth."
The commission also adopted a Burns proposal requiring the utilities to offer plans that analyze, along with their preferred plans, at least one generating portfolio where the addition of fossil fuel resources is no more than 20 percent of all resource additions.
The panel also backed a requirement proposed by Tobin prompting the utilities to develop alternate plans with less reliance on fossil fuels, and to add to their forecasts scenarios including a least a gigawatt of energy-storage capacity, and at least 50 percent "clean energy resources," including biomass energy and energy efficiency measures.
Those measures echo Tobin's proposed Arizona Energy Modernization plan, which among other things calls for 80 percent of Arizona's electricity generation to come from clean energy by 2050 along with a goal of deploying 3 gigawatts of energy storage capacity by 2030.
A spokesman for TEP and UNS Electric, which serves parts of Santa Cruz and Mohave counties, said in a prepared statement the companies support the commission's efforts.
"Determining how we plan to provide power now and in the future is an ongoing process, and our goal always is to provide safe, reliable and affordable service for our customers," spokesman Joe Barrios said in an email.
"We understand the Commission is considering the proposed Energy Modernization Plan as a path forward to satisfy Arizona's future energy needs, and we look forward to working with Commissioners and ACC staff as the plan is developed. We support the plan's principles and goals of expanding renewable energy and embracing new technologies like energy storage to build a stronger, more sustainable grid."
In a prepared statement, APS disputed the commission's findings and said its decision would change little as the utility works toward a "diverse energy mix" including more gas-fired generation.
"Our plan keeps Arizona on course for a cleaner energy future, so we respectfully disagree with the Commission's decision not to acknowledge any IRPs (integrated resource plans) even after Commission Staff determined they were complete and responsive to the filing requirements," APS spokeswoman Jill Hanks said.
"We all agree on the goal of cleaner energy, and this decision doesn't change that — or how we will meet our customers' energy needs in the near-term."
Environmental groups, including the Sierra Club, Western Rescource Advocates and the Southwest Energy Efficiency project, cheered the commission's actions.
"The Arizona Corporation Commission heard the diversity of voices calling for more clean energy and recognized APS and TEP's plans were out of touch with the emerging clean energy economy," said Sandy Bahr, director of the Sierra Club's Grand Canyon Chapter.
"As the utilities go back to the drawing board, they need to make sure Arizonans aren't missing out on the renewable energy, battery storage, and energy efficiency technologies that guarantee low-cost, reliable, clean energy."
The high level of public engagement in the resource planning process shows Arizonans want clean energy and energy efficiency, said Ellen Zuckerman, Arizona senior associate with the Southwest Energy Efficiency Project.
"The ACC's decision to start getting the utilities better in sync with public appetite for cleaner energy resources and cost savings is good to see," Zuckerman said.
The commission ordered a new resource-plan rulemaking process, with stakeholder workshops on the issue starting in two months.
The commissioners encouraged the utilities to work with stakeholders including tribal nations to develop cleaner energy resources.
The Navajo and Hopi nations face the loss of hundreds of jobs with the impending closure of the coal-fired Navajo Generating Station near Page and associated coal-mining operations.
TEP has accelerated its move away from coal to renewables to solar and wind and is planning to add significant energy storage as part of a plan to boost its percentage of renewable energy from about 11 percent as of 2016 to at least 30 percent by 2030, doubling the state's 2025 goal.
But TEP also is looking to add new natural-gas resources, with plans to remove two large steam generators at its H. Wilson Sundt Generating Station on Tucson's south side, where it stopped burning coal in 2015.
TEP plans to replace the old generators with 10 natural-gas reciprocating internal combustion engines, to provide quick power during demand peaks and to offset intermittent power losses from renewable-energy sources like solar farms.
That project, opposed by environmental groups, was also approved by regulators last week and apparently won't be stopped under the moratorium on 150MW or bigger plants, because its first phase this year will comprise 100MW.
"The Commission's approval of more pollution in Tucson is a bitter pill to swallow," said Duane Ediger, a member of Sustainable Tucson and organizer for Power Generation for Generations to Come.
"For us right now, it overpowers the sweetness of a (gas-plant) moratorium and support for solar and storage."
The Pima County Department of Environmental Quality, which must approve a revised air permit for the revamped Sundt plant, will host a March 28 community meeting on the issue at the county Public Works office, 201 N. Stone Ave.
The Sierra Club and other environmental groups plan to rally outside TEP's downtown headquarters and march to the meeting site.