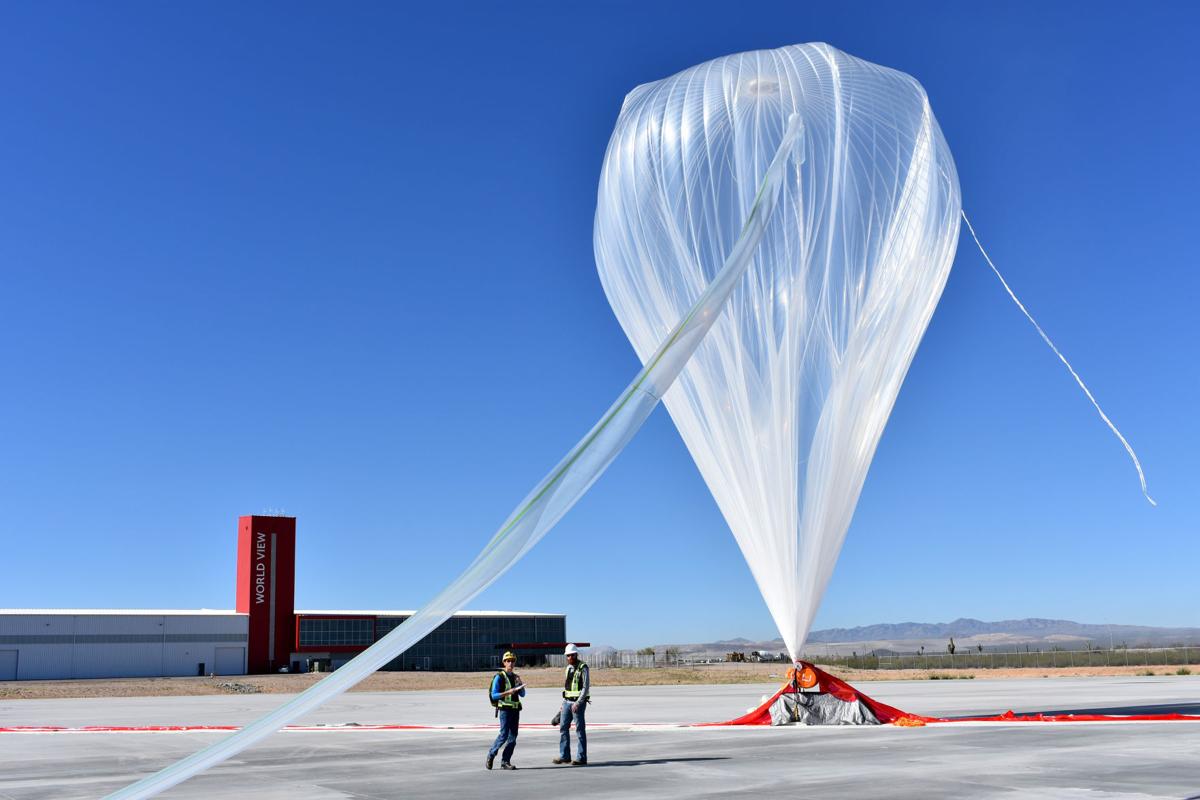 Should Southern Arizona jump into the new space race?
A new feasibility study commissioned by the University of Arizona and industry supporters says the region should consider creating a new space-industry organization to nurture the region's nascent commercial-space sector.
The report by Deloitte Consulting, unveiled Tuesday at a meeting of the Arizona Space Business Roundtable at the UA, cites the university's standing as a top research school and longtime NASA technology partner, a cadre of local companies that serve NASA and the space industry, and emerging companies like Vector and stratospheric balloon flight provider World View Enterprises.
Deloitte examined Southern Arizona's general strengths in space-related technologies and companies and compares efforts by other regions to establish or grow commercial space industries.
The conclusion: The region should create a "Southern Arizona Space Ecosystem," focused on developing existing space companies and core competencies, led by the UA.
The group would have a formal but loose membership model with a "concierge" operating model as opposed to a fee-based industry advocacy group, with a single point of contact.
Jeff Matthews, a Los Angeles-based Deloitte industry specialist who co-authored the space study, said the immediate aim would not be to create an industry "cluster" group — a more formal industry group model.
But the UA and local industry members have a good shot at setting up an effective ecosystem that could foster collaboration and growth, he said.
"We think you're primed to do it," said Matthews, who is familiar with Tucson after getting his undergrad business degree from the UA. "We hope this will give you a start on a roadmap, but it isn't the be-all and end-all."
Stephen Fleming, UA vice president of strategic business initiatives and organizer of the space roundtable, said the group and the Deloitte study confirmed his feelings that the local space industry has potential.
"I think we have the beginning of a space sector here, and that is something the region should pay attention to," he said.
Among other findings, the study recommends that the group identify regional facilities, such as hardware and software test infrastructure, to support space development; develop a focus on space for targeted economic development; and formalize a unified mission and defined growth goals for the region.
With billions of dollars being invested in the new space industry and companies like Tucson-based Vector looking to launch thousands of micro-satellites in the next few years, a number of states are looking to foster the industry by courting rocket makers and launch services.
With no approved rocket-launch sites in the state — Spaceport Tucson is only cleared to launch World View's stratospheric balloons — Matthews said Southern Arizona should focus on growing related space services in the region.
Based on the region's strengths, the Deloitte report recommends four main focus areas for a regional space ecosystem: "space situational awareness," including technologies to support space-debris tracking and satellite management; launch services and manufacturing; metals, mining, minerals and resources; and enabling and supporting technologies.
The Tucson area's strength in situational awareness technologies, such as optics for space sensors, represent an opportunity as the Air Force and other federal agencies look at how to manage traffic amid the expected boom in small-satellite deployments, Matthews said.
Tucson has a strong cadre of mining-technology firms, including Hexagon Mining, that could provide key enabling technology as several companies are racing to be the first to mine mineral-rich asteroids.
But Matthews said the initial efforts should be focused locally.
"See what you can do for the companies that are already here," he said. "That doesn't mean you should go out and recruit a space-mining company tomorrow."
Matthews cited Tucson-based Paragon Space Development Corp., a longtime provider of life-support and thermal control systems to NASA, as a prime example of a company providing enabling technologies.
Matthews said he's optimistic that Southern Arizona has the right stuff to grow its new space industry.
"It is feasible to expand what you've got — this isn't as good as it's going to get," he said, suggesting a targeted space industry cluster study and a survey of the region's technological advantages as next steps.
Sponsored by the UA, Sun Corridor Inc., UA Venture Capital, Pima County and the Southern Arizona Leadership Council, the $69,500 study was intended to be an unbiased assessment of the viability of an expanded space-tech ecosystem in Southern Arizona.
During a panel discussion, industry executives and study sponsors agreed that a more formal space-industry group is well worth exploring.
Fletcher McCusker, a local businessman who heads the UA-focused UA Venture Capital Fund, said the report's findings confirmed his feelings that the local space industry is ripe to become something bigger.
"It could have just as easy said, 'You're not ready," said McCusker, who has been deeply involved in local startups and economic development as chair of the Rio Nuevo downtown development district. "It occurs to me that this is an opportunity that only we can (mess) up."
Grant Anderson, CEO of Paragon Space Development, said he's happy to see the UA moving to work closely with the new-space industry. He cited difficulties in getting the UA to engage in the past and competing efforts like Arizona State University's 3-year-old NewSpace Initiative.
Fleming, who has personally invested in several commercial space startups, said he expects the UA's new strategic plan under President Robert Robbins to include a space-industry initiative that could help define the local space ecosystem.
The Arizona Space Business Roundtable started meeting last year and has met monthly to discuss the region's space strengths and emerging opportunities in the commercial space industry, said Fleming.
"One of the great things about the university is we can convene and people will show up," he said, noting that attendance at the roundtable has grown from about 15 last year to 41 at Tuesday's session.