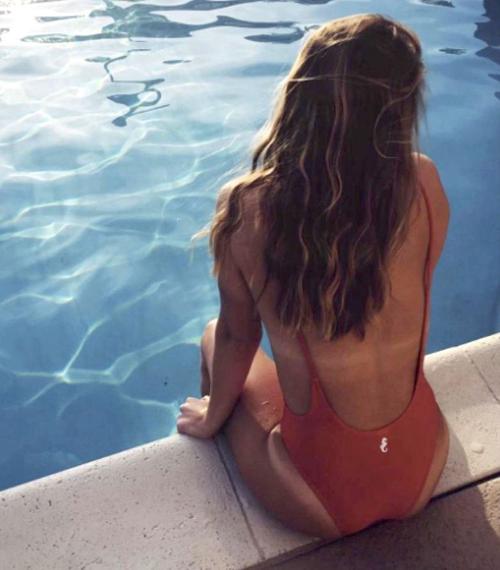 A pair of University of Arizona grads are getting a hard, real-world lesson in the power of the internet and viral marketing — and it's not exactly what they bargained for.
Sunny Co Clothing, launched by recent UA grads Alan Alchalel and Brady Silverwood, posted a photo of one of its swimsuits on Instagram on May 2.
The company offered one of the $64.99 suits, free except for the cost of shipping and handling, to anyone who reposted the image and tagged the account by the following afternoon.
In just 25 hours, the San Diego-based company's account grew from 7,000 followers to 784,000, and eventually the account was shut down, the company said.
Sunny Co pulled down the offer and promised to make its "best effort" to fulfill more than 50,000 promo orders for the red, one-piece "Pamela" suits, saying, "We truly had no idea the response was going to be so overwhelming and we are very sorry for any confusion."
But that didn't save the company from the wrath of the internet, as Sunny Co was flamed mercilessly on social media by people calling the whole thing a scam and worse.
"If you say gullible really slow it kinda sounds like 'repost for a free swimsuit from sunny co clothing,' " one tweeted, while another created a fake Sunny Co Twitter account and tweeted, "We are currently looking for a sweatshop to make the 37 million red swimsuits needed thank you for your patience!"
Others mocked the company by riffing on its "Pamela" one-piece in posts, such as one featuring a wrestling team in red tights.
In a news release last Thursday, Silverwood and Alchalel reiterated that they were "completely caught off guard by the viral success of the promotion" and said they were "moving at light speed" to fulfill orders that are planned for shipment within three to six weeks.
"We are committed to fulfilling the 50,072 Pamela orders that were placed using the discount code 'Sunny' on May 3, 2017," Silverwood said Monday in a prepared response to the Star. "If customers haven't received a refund from us yet, that means we are working hard to fulfill your order."
Customers who "inadvertently" paid full price for the Pamela swimsuit since the promotion's inception can file a claim for a refund, the company said in its release, adding that the company had issued nearly $73,000 in refunds.
All sales were final for customers who paid just shipping and handling, the company said.
If the aim was publicity, the promo was a big success.
Sunny Co noted that it was picked up by major media outlets including TIME magazine, Seventeen, AdWeek, TeenVogue, The Washington Post, CNET, Perez Hilton, AOL Lifestyle, Buzzfeed, E! News, Vogue and the New York Post.
But it was a bit of an unwelcome distraction for the company's UA founders as they headed toward graduation.
"Two weeks ago the only thing on my mind was graduation from the University of Arizona," Silverwood said in the news release a couple of days before UA commencement. "Now, with graduation only two days away, it's the last thing on my mind."
According to the company's news release, Sunny Co Clothing was founded in Arizona in November 2015 as Sunny Skirts LLC, launching sales in August 2016 with a popular line of school-colors "game-day" skirts, sold to students at over 28 colleges nationwide.
In January 2017, the company expanded its clothing line and renamed itself Sunny Co Clothing.
Contact senior reporter David Wichner at dwichner@tucson.com or 573-4181. On Twitter: @dwichner