Rodeos aren't just about fast horses, bull riding and cowboys. For the women of rodeo, it's a lifestyle, a passion and a community.
This year, 105 women will travel from all over the country to compete in the Tucson Rodeo. As the oldest women's sports organization in the country, the Women's Professional Rodeo Association has over 2,500 members and provides opportunities for women to compete professionally in rodeos throughout the country.
Sherry Cervi, a Tucson native and champion barrel racer, has been competing in rodeos for as long as she can remember. Cervi, who was born in 1975, grew up in Marana and is no stranger to the rodeo lifestyle. Both of her parents competed and taught her and her sister how to ride horses when they were young. She began taking part in rodeo competitions when she was 6.
Dubbed by the rodeo community as the "queen of barrel racing," Cervi travels to over 60 professional competitions a year, and is one of the many women who will compete in this year's Tucson Rodeo.
"I've gotten to travel to a lot of cool places," she said. "I have great friends all over the country that I probably would have never met if it weren't for rodeo."
With four WPRA world championships, Cervi was inducted into the National Cowgirl Hall of Fame in 2018.
With a long rodeo career under her belt, Cervi also wanted to create opportunities for youth to participate and compete in rodeo, so she founded the Sherry Cervi Youth Championships. Held annually at the Pima County Fairgrounds, the competition has 11 events and is open to girls ages 6 through 18.
Cindy Welling, a professional barrel racer living in Benson, also competes in many rodeos around the country, mostly staying west of the Mississippi. In the summer, Welling spends her time traveling to rodeos in Nebraska, Colorado and Wyoming, returning to Arizona in the winter.
"I come from a long line of ranchers who also competed in rodeos," said Welling, who this year will be competing at the American Rodeo in Irvington, Texas, instead of in Tucson. "My great grandfather owned a ranch down here in Southern Arizona and he competed in rodeos, and then my grandfather rodeoed, worked on ranches and trained competition horses."
Welling and her siblings were all riding horses by the time they were 2 or 3 years old. Now as a mother herself, Welling has been able to share these same experiences with her son, Rio Lee. Lee followed in his parents' footsteps and competes in bareback bronc riding at the professional level, racking up an impressive list of wins.
For Welling, being part of the rodeo is all about community and supporting one another. She recalled one competition in which she wasn't able to ride her own horse, and her friend offered to let Welling use hers. They then competed against each other on the same horse.
"Mostly, I really love the camaraderie," Welling said. "It's like a huge family. No matter where you go, if you're with rodeo people, you have people who are willing to do anything for each other. It's just a really great community. Everyone has each other's back."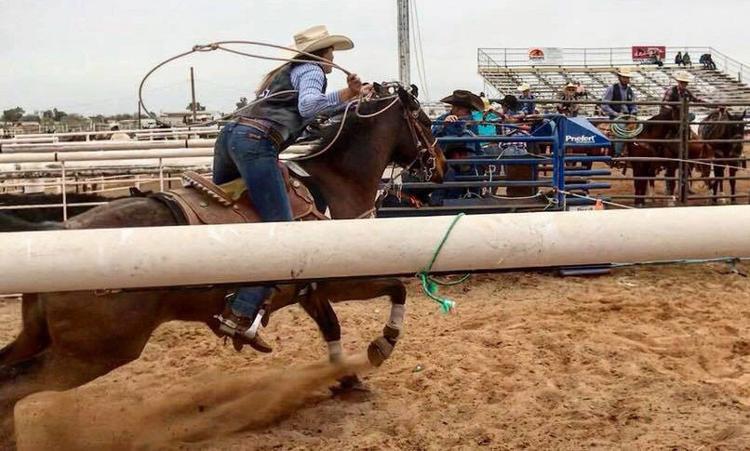 The University of Arizona is home to some young rodeo women who are hoping to go pro. Students Sarah Nelson and April Pahi are members of the University of Arizona Rodeo Team and compete in the National Intercollegiate Rodeo Association. Heading into its 80th year, the UA Rodeo Team is the oldest rodeo club in the nation to compete intercollegiately, and women make up two-thirds of the team.
As the team's president, Nelson, who competes in barrel racing, breakaway (calf roping minus the throw-down and tying) and team roping, said being part of rodeo has been an enriching experience.
"I can't imagine my life without rodeo, and I don't know where I would be if I never got into it," she said. "Rodeo has opened so many doors for me, and I am truly grateful for this sport. I believe that I would not be the same person I am today had I not fallen in love with horses at such a young age."
Pahi, who competes in barrel racing, has a long line of rodeo involvement in her family. She said she's fortunate to be able to compete, especially since the costs associated with traveling and taking care of horses are quite high.
"My favorite part about being involved in rodeo is the connection you have with your horse," Pahi said. "Because the horse has its own mind and so do you, so you have to trust your horse and the horse has to trust you. There's a deep level of communication that you need when running barrels."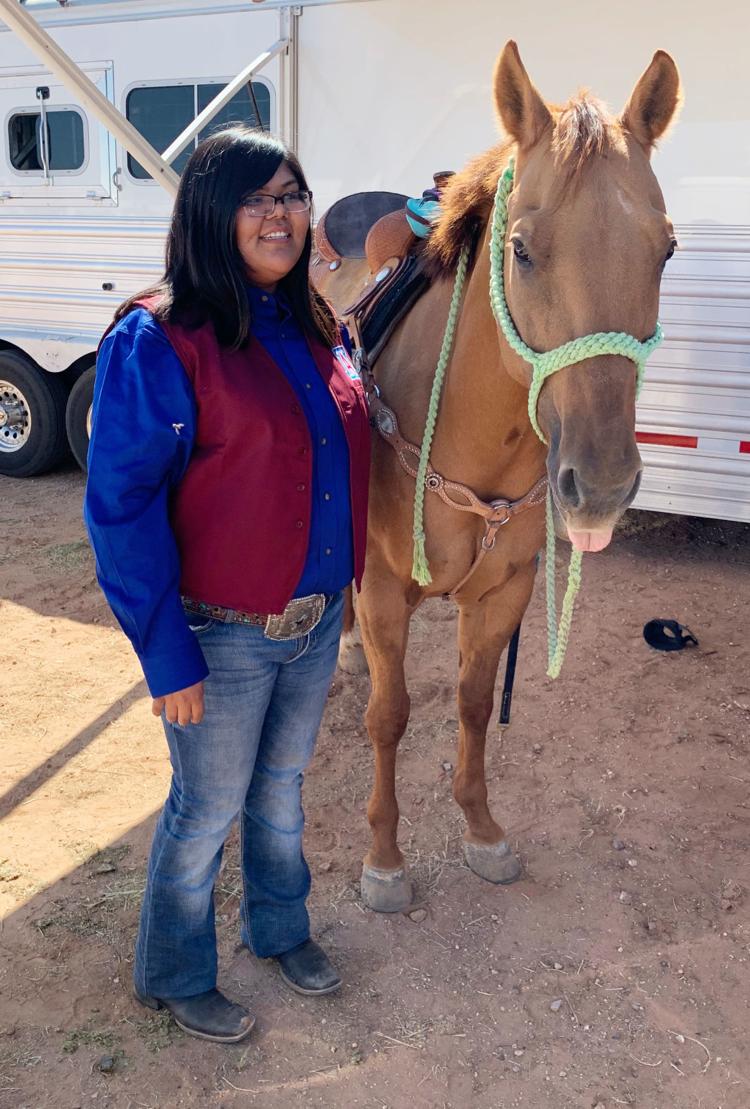 While there is a rich history of women in rodeo, some said there are some things they'd like to see changed.
"The downside I think as a woman is just that the WPRA only has one event at most pro rodeos. They only have barrel racing," Welling said.
While women are able to join the Professional Rodeo Cowboys Association to participate in other events such as bull riding and team roping, it's much less common for a woman to go that route. Women like Nelson are hoping that the WPRA will begin to sponsor more events for women at professional rodeos.
"Coming from someone who does not love barrel racing as much as I love breakaway, I am so excited for the future of breakaway and how it has already started to become a bigger part of the rodeo industry," Nelson said. "More and more big time rodeos are including breakaway as one of their events, and it makes me hopeful as a woman in rodeo to see the sport growing for women."
These women are optimistic about the future of women in rodeo and hope that more women will be encouraged to compete. In the meantime, they'll continue to trot through life, competing, cheering each other on and building a community with shared passions.