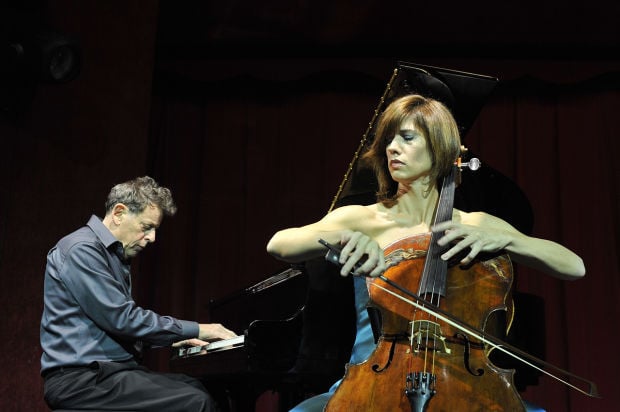 Wendy Sutter wanted to withdraw her recording of Philip Glass's Songs and Poems for Solo Cello before it ever hit record stores and digital download portals in 2008.
"It was either going to come out covered in gold or covered in shit," said the cellist, who is making her Tucson Symphony Orchestra debut this weekend. "This is so unlike anything that he's ever written before and I'm playing it with all this bravado and freedom. I wanted to withdraw the recording, I really did. I was really scared that I would just be trashed by the critics."
Glass, who accompanied her on piano, and the producers wouldn't let her back out, which turned out to be a godsend. The recording has been critically acclaimed and continues to sell about 10,000 downloads a year. To date, it has sold 85,000 downloads — a huge number for a classical record.
Songs and Poems was the first work Glass composed for Sutter, whom he met in the mid-2000s while she was a member of the Bang on a Can All-Stars.
Sutter had never really heard much about Glass before she recorded some of his works with Bang on a Can, a multifaceted contemporary classical music ensemble that she joined in 2000. She left in 2007.
A graduate of the Curtis Institute of Music in Philadelphia, she had long been taught that contemporary, minimalist composers like Glass weren't really legitimate.
"At Curtis we were really encouraged not to play music post-Schöenberg so I was really naïve," said Sutter, a 46-year-old single mother of a 13-year-old daughter. "I just wasn't aware of Philip Glass or Steve Reich or anyone."
She had heard his music, though, primarily through his film scores which included "The Thin Blue Line," "Notes On A Scandal," "The Truman Show," "Hamburger Hill" and the "Candyman" horror films among the dozens he has scored.
"I didn't like Philip's music before I met him. I thought his music was gimmicky. I really only thought of him as a film composer," said Sutter, who admitted she had seen one of his earlier films, "Koyaanisqatsi," when she was 14 and "I thought that was amazing."
She changed her mind about his music when she met him and recorded some of his works from the 1960s with Bang on a Can.
"I thought they were just fantastic. They were revolutionary. These little motifs being repeated over and over again. I really, really enjoyed recording them," she said.
After the recording was finished, Glass approached her about writing a solo cello piece for her.
"I was really curious what he would do because I didn't consider him a string writer. And a solo piece for string, you can't hide anything. It's like writing a great monolog. I was very curious to see what he would do," she said.
She admits she was the last one on the block to see that Glass had more than a passing musician/composer interest in Sutter, who was divorced.
"He kept wanting to meet and talk to me about this piece and blah, blah, blah. And I thought it was a little strange that the composer would have to keep meeting with me because normally you just make an agreement with the composer and then they just deliver the goods," she said. "But you don't have to meet with him for coffee. He was married at the time and I didn't see him as a romantic partner at all. I just thought he was very social. And I just kept meeting with him because I was getting this great solo piece for free. It took me a very, very long time to see that maybe there was a crush as well. I had to be kind of banged over the head with that one."
The couple was together about five years, during which they performed together and collaborated on Glass's compositions.
She says the couple's relationship "was scattered and it was hard to find time together."
"I would say the relationship honestly was based more on work than romance," she said. "It was kind of an old-fashioned Victorian relationship. He loved to write music for me and I loved to interpret it and play it. And that was really the heart of the relationship beyond the romance."
Today, Sutter is engaged to be married. She said she and her fiance are planning a simple ceremony in the next couple months and will celebrate with a party next summer.