Fifty years ago, Charlie Watkins sold his first piece of art.
"I had no idea what I was doing," he says. "I got invited to a show in Pasadena and people wanted to buy what I made — and that set me off. I was ecstatic that someone wanted to buy what I made."
At the time, he was selling acrylic paintings. Over the years, he's done everything from furniture refinishing to Christmas window paintings.
But 25 years ago, he had an idea to blend his love for history with his love of art by creating layered three-dimensional pieces with wood and other materials.
His intricate designs of architecture in the Four Corners area are all made by hand — no molds or masks are used — and each piece is one of a kind that can hang on a wall or act as a table centerpiece.
"I'm kind of an amateur historian and archaeologist," says Watkins, who moved to Tucson in 1986. "I enjoy those subjects and was able to tie that with my artwork, where the concept was created to focus from a period of about the 1200s to the 1880s, early 1900s, of architecture."
"I focus on the architecture of what made the Southwest what it is today and the blend of cultures that made it."
Here's how it works: Watkins first picks out a piece of natural desert wood found in local washes.
The wood is then washed, treated, cut, sanded and coated with a polyurethane finish to help preserve it. It's then mounted to a backboard and Watkins draws out his design.
Watkins doesn't carve the wood, but instead builds on it by layering different materials to create his design. For example, mountains are made with a wire mesh, then covered in a plaster cloth.
A stucco and acrylic paint mix is then coated on top. Each layer has to sit in the sun to dry completely before Watkins can start the next layer.
When all is said and done, he gives the piece some color with acrylic and oil paints.
"My original concept was to create a majestic look that is very heavy looking but based on the materials I use, it's lightweight," Watkins says.
"When you see my artwork, it's very difficult online because there's a lot of dimension and texturing to it," he says. "When people see it in person, they get a mesmerizing feeling towards it and it talks to them."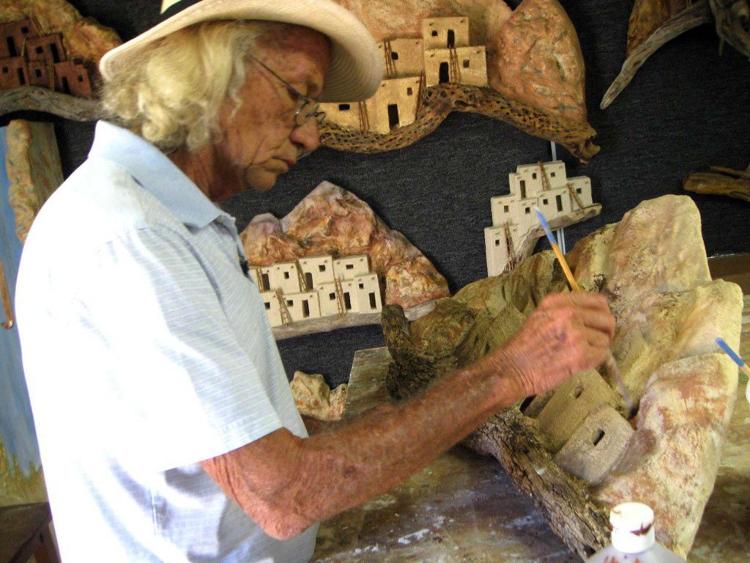 Watkins has been interested in art since he was a "youngster."
Although he had a 27-year-long career in hospitality, art was always his stress reliever.
In 1995, after he came up with the idea for the artwork he does now, he left the hospitality industry and became a full-time artist.
"I had this new concept and it was exciting and I didn't want to interfere with it," he says.
Even his wife and children are artists.
"You have a lot of families that are musician families," he says. "It's rare to have an artist family."
Contact reporter Gloria Knott at gknott@tucson.com or 573-4235. On Twitter: @gloriaeknott