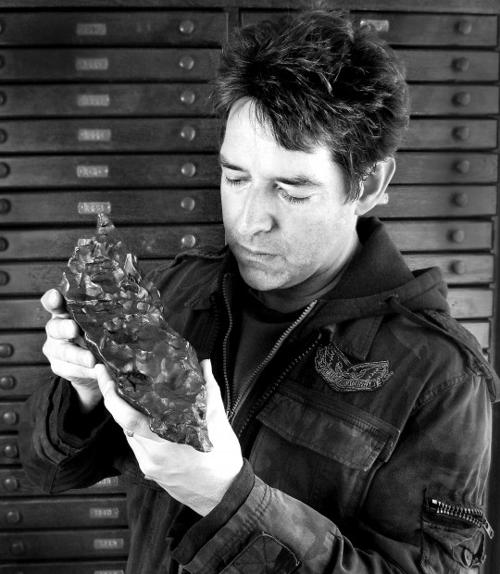 Geoff Notkin is like an eager child who brings his glove to a baseball game. Only his baseballs are meteorites, and his baseball stadium is the globe.
Along with his meteorite-hunting partner, Steve Arnold, Notkin hosts the reality show "Meteorite Men," which starts its second season at 6 or 7 p.m. Tuesday on the Science Channel, depending on your provider.
Notkin, 49, grew up in London and has lived in Tucson for seven years. A collector and trader who owns Aerolite Meteorites LLC, Notkin met Arnold online in 1996, and the duo teamed up to travel the world hunting meteorites.
On the show, cameras follow Notkin and Arnold as they piece together clues as to where new meteorites have landed, travel to the destination, negotiate with property owners to allow them to search their land and find the rare space rocks that hit the Earth any time between 100,000 years ago and last week.
This season contains eight one-hour episodes.
Do you actually find meteorites on the show or is this more like those ghost-hunting shows?
"We really have been successful. One of the requests from our producers is that we try and find something interesting. It's not like 'Storm Chasers' where I haven't seen too many tornados."
How tough are meteorites to find?
"Meteorites are much more rare than gold, diamonds and emeralds on the surface of the planet. There's an enthusiastic international network of collectors, and meteorites are sold daily for a tremendous range. The value depends on the type and rarity. Many are worth considerably more than their weight in gold."
What's your most valuable find?
"In our first season pilot, we found four large meteorites at two different locations. One of them was estimated to be worth $100,000."
Is the competition to find meteorites cutthroat?
"That's quite correct. It's a small field, and I think we pretty much know almost everyone in the field, and most are our friends. But the equivalent of claim jumping definitely goes on in the meteorite world. For instance, we'll be leasing land from the owner of a property where a meteorite was found, and people will sneak in at night. It's happened more than once."
What sort of elements do you deal with when meteorite hunting?
"We visited the high Atacama Desert in northern Chile, and were filming during their winter. It was August for us but winter in Chile. We were at 9,000 feet, and it got down to about 25 degrees below. It was freezing, extremely cold weather."
How do you decide which meteorites to sell and which to keep?
"Sometimes we'll find an amazing piece, and Steve will want to sell it but I want to keep it. Usually a bit of bargaining and bartering goes on."
How large is your collection?
"I have several hundred, ranging in size from 1 gram to over 100 pounds."
Why do you live in Tucson?
"I grew up in London, and when I was 10 years old I visited Arizona on an adventure vacation with my parents. We saw the Grand Canyon and the Petrified Forest. It was the start of a lifelong love affair with Arizona and (I) visited many times. I moved to New York in 1998 and started attending the Tucson gem and mineral show and just fell in love with Tucson."
Stay up-to-date on what's happening
Receive the latest in local entertainment news in your inbox weekly!