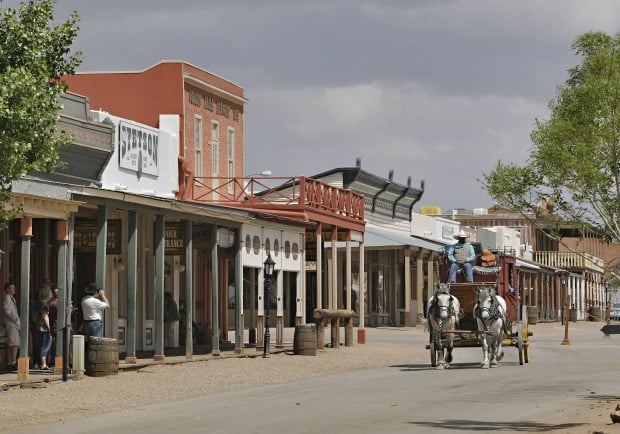 Originally published April 10, 2011
This is a story about Old West moviemaking in Arizona, told through the selection of 20 significant Westerns.
The list, which came together after a monthlong immersion in Old West movies, includes some of the most acclaimed films of the genre, from "Stagecoach" to "Tombstone."
But we've also included movies that were significant for reasons other than quality: "The Outlaw," for example, was the first movie to challenge the prevailing Hollywood production code, and "Broken Arrow," a 1950 movie that was among the first to present Indians as something other than savages.
Westerns that weren't filmed in Arizona didn't make the cut. That's why you won't find classics such as "Shane," "High Noon," "Unforgiven," "The Ox-Bow Incident" or "The Man Who Shot Liberty Valance."
Likewise, if any part of "Blazing Saddles" or "Brokeback Mountain" or "The Three Burials of Melquiades Estrada" had been filmed in Arizona, you'd be reading more about all three today.
And so, after that cavalcade of caveats, here's our 20-film salute to Old West moviemaking in Arizona (in chronological order):
Directed by John Ford, with John Wayne, Claire Trevor, John Carradine and Thomas Mitchell.
Up until last week, I had never seen this tale originally billed as "a powerful story of 9 strange people," which probably makes me the strangest former film critic in the land.
It's just that whenever I thought about renting a movie from 1939, there were so many to choose from, including "Gone With the Wind," "The Wizard of Oz," "Mr. Smith Goes to Washington," "Wuthering Heights" and "Destry Rides Again."
But "Stagecoach" holds its own by any measure.
By the time Wayne teamed up with John Ford to make "Stagecoach," the director's first Western with sound, Wayne was 31 years old and had made more than 60 pictures, most of them B-movies.
He played the outlaw Ringo in "Stagecoach," and it made him a star at last. The film also made Monument Valley a star, and Ford would return again and again to the majestic mesas and otherwordly sandstone spires in Navajo country.
The stagecoach is populated by a drunken doctor, a prostitute with a heart of gold, a shady banking executive and other types who clash mightily on the way to Lordsburg through Apache country.
The coach looks so tiny and frail against the vast, immovable landscape near the Utah border. Ford creates ample tension, and when the Indians attack, as we know they will, it makes the heart race.
It's easy to imagine how thrilling these action sequences must have been to audiences in 1939. But it was also the crisp writing and acting that that elevated "Stagecoach" from B-Western to A-list.
According to Patrick Wayne, John's son, the director decided to film in Monument Valley after Harry Goulding, who operated a trading post there, showed up at Ford's office in California with more than 100 snapshots of the amazing landscape.
Ford was sold on the idea almost instantly, a decision that was made easier when he realized that there would be fewer chances for studio interference on the remote location.
• Orson Welles claimed to have watched "Stagecoach" more than 40 times while he was making "Citizen Kane."
• Asked why, in the climactic chase scene, the Indians didn't simply shoot the horses to stop the stagecoach, Ford said: "Because that would have been the end of the movie."
• Although Ford is often credited with discovering Monument Valley, director George B. Seitz got there first and made "The Vanishing American" in 1926.
• The first movie Wayne made in Arizona was "The Big Trail" (1930), an ambitious flop from director Raoul Walsh. It was filmed near Yuma.
Ford was nominated for best director for "Stagecoach" but lost to Victor Fleming for "Gone With the Wind." Ford went on to win four Oscars for directing, a record, and none of his Oscars were for Westerns.
Even so, he told an interviewer that he wanted to be remembered as "John Ford, a guy who made Westerns."
Directed by Wesley Ruggles, with Jean Arthur, William Holden, Edgar Buchanan.
You will be hard-pressed to find "Arizona" on anybody's list of the best Westerns ever made, but the 1940 film was a big, big deal in Tucson.
The adobe buildings that were built by Columbia Pictures west of the Tucson Mountains were donated to Pima County and became Old Tucson Studios.
"Arizona" was originally conceived as a big-budget Technicolor epic, but production stopped when Adolph Hitler invaded Poland. When shooting resumed several months later, the movie was downscaled considerably and shot in black and white.
Jean Arthur starred as the dirt-streaked, jeans-wearing Phoebe Titus, the only white woman in 1860s Tucson. She runs a freighting business and doesn't take no mess from nobody. She also makes a mean pie.
When we first see William Holden, who would become Phoebe's love interest, he is leading a wagon train into town, on his way to California. Looking over Tucson, he says: "Ain't a pretty sight, is it?"
The world premiere of "Arizona" on Nov. 15, 1940, was held at five local theaters simultaneously: the State, the Rialto, the Temple of Music, the Lyric and the Fox - all of which were sold out.
Fay Wray, Rita Hayworth and other stars arrived in the Old Pueblo by plane, train and automobile for the premiere, along with studio bigwigs and more than 60 national journalists including Hedda Hopper. Kate Smith was here, too, and hosted her radio program from the University of Arizona.
Arthur, Holden and other stars of the movie went from one theater to the next, introducing the film. They watched it with the audience at the State theater.
The Arizona Daily Star devoted many pages of coverage to the weeklong premiere celebration, which included a downtown parade led by the governors of Arizona and Sonora and a midnight menudo party that lasted until 4 a.m.
"Broken menudo bowls were found as far away as the foothills the next morning," the Star reported.
Another headline said that Tucson was being invaded by friendly Pima, Papago and Apache Indians, who came together on a blocked-off stretch of Congress Street to create an Indian village for locals and visitors.
"Arizona" was nominated for two Oscars (art direction and music scoring).
• Jean Arthur surely ranks as one of the first cougars in motion pictures. She was 40 years old when the movie came out, and the then-unknown William Holden was 22.
• Jean Arthur's last movie was "Shane," the 1953 classic that's widely regarded as one of the genre's top five films. Filmed in Wyoming and California, it turned out to be the biggest hit of her 30-year career.
Another early movie with Arizona in the title: "In Old Arizona," filmed at locations all around the state, was Oscar-nominated for best picture in 1928, the second year that Oscars were presented.
Warner Baxter, who played the ubiquitous Cisco Kid in that film, became the first American to win best actor. It was a role given to him after director Raoul Walsh, set to play the Kid, lost an eye when a jackrabbit jumped into his car.
Directed by William Wyler, with Gary Cooper, Walter Brennan and Doris Davenport.
This majestic Western centers on Roy Bean, the corrupt justice of the peace who sided with the brutal cattlemen in post-Civil War Texas and threw the book at homesteaders every chance he got.
The movie is solidly entertaining, with two great elements: Brennan's crackling performance as Bean and the gorgeous photography by Gregg Toland, a cinematographer who died in 1948 at age 44.
• Production was stopped at one point because the dust made the actors too hoarse to continue.
• Brennan won his record-setting third Oscar for best supporting actor. The picture also earned Oscar nominations for black and white art direction and for original story.
• The Mexican dancers seen in one brief scene were played by Josephine Bautista and her sisters, all of whom lived in Tucson at the time.
Directed by Howard Hughes, with Jane Russel, Jack Buetel, Thomas Mitchell and Walter Huston.
Howard Hughes made "The Outlaw" in 1941, but battles with censors kept it from being released until 1943, and even then it was banned in many cities, the authorities of which couldn't abide by the bosoms on display.
The buxom Jane Russell, who died Feb. 28 at age 89, made her movie debut in "The Outlaw." The posters featuring her sprawled suggestively on a haystack resulted in pinup stardom.
Hughes, whose uncredited co-director was Howard Hawks, pushed the boundaries of the moralistic production code that prevailed at the time. But while censors were fixated on cleavage, they didn't seem to notice the rampant homoeroticism going on with the men.
Another notable Western made in Yuma: "Badlanders" (1958) - directed by Delmer Daves, with Alan Ladd, Ernest Borgnine.
Directed by King Vidor, with Jennifer Jones, Joseph Cotten, Gregory Peck, Lionel Barrymore, Herbert Marshall, Lillian Gish, Walter Huston, Charles Bickford.
The hot-blooded son of a Texas land baron and his clear-headed, calm brother become rivals when the beautiful half-breed Pearl comes to live on their ranch.
And yes, half-breed is the term used throughout the movie, a pretentious, overheated drama that's never as sexy or meaningful as it thinks it is,
Still, it's a kick to see Jones scamper around Gates Pass with her rifle and her red lipstick and her very real sweat, taking shots at Gregory Peck.
• Only one 1946 movie made more money at the box office: Disney's "Song of the South."
Nominated for two Oscars, for best actress (Jennifer Jones) and best supporting actress (Lillian Gish).
Directed by Howard Hawks, with John Wayne, Montgomery Clift, Joanne Dru and John Ireland.
In the fall of 1946, Howard Hawks and about 250 actors, wranglers, crew members and production staff invaded the Elgin area to shoot "Red River," a movie now considered one of the top five Westerns ever made.
A sign saying "Los Angeles City Limits" went up on Elgin's main street when the two-month shoot began.
John Wayne plays a borderline sadist cattle baron who cracks the whip on the first cattle drive over the Chisholm Trail from San Antonio to Abilene.
Thousands of cattle were leased from Arizona and Mexican ranchers, and the San Pedro would pose as the Red River. The 1868 boomtown of Abilene, Kansas, was re-created with false fronts on Elgin's buildings.
When plans for the movie were announced in the Arizona Daily Star in September 1946, the reporter couldn't help but rub salt in the wounds of prominent Texans who hated to see their stories filmed in Arizona.
The Star called out one of those critics by name. "Gene Howe, a Texas editor who was inspired to startling heights of journalistic indignation when 'Duel in the Sun' was filmed here, will be interested to know that 'Red River' concerns a herd of Texas cattle being driven to Kansas. The entire 1,400-mile trek will be shot near Elgin."
Just as "Johnny Guitar" is regarded as a veiled lesbian love story, "Red River" became famous for its supposed homoeroticism.
The gay subtext has been explored at length and no doubt exaggerated over the years. But at a time when subtext was the only way for gay people to see themselves in Hollywood films, the interpretation is understandable. How else should we take the priceless game of "I'll show you mine if you show me yours" played by two lonely cowboys.
Handling each other's guns, one says to the other, "Nice. Awful nice."
But the most quoted line is spoken by John Ireland, who plays Cherry Valance:
"There are only two things more beautiful than a gun: a Swiss watch or a woman from anywhere. Ever had a good . . . Swiss watch?"
• "Red River" featured the movie debut of Montgomery Clift, whose open homosexuality only fueled speculation about the movie's "real" subject.
• Only two other movies made in 1948 made more money at the box office: "The Three Musketeers" and "The Red Shoes."
Nominated for two Oscars (for editing, writing).
Other movies about lonesome cowboys include Andy Warhol's "Lonesome Cowboys" (1968), filmed at Old Tucson and Rancho Linda Vista north of Tucson, with Paul Morrissey, Joe Dallesandro and Eric Emerson as overheated cowhands on the make.
Directed by John Ford, with John Wayne, Henry Fonda, Ward Bond, Shirley Temple.
This is the first in John Ford's trilogy depicting the eternally heroic U.S. cavalry under siege from the savage "red hordes" that surrounded them. It was followed by "She Wore a Yellow Ribbon" in 1949 and "Rio Grande" in 1950, which also used the dramatic landscape near the Utah border .
All three were filmed in Monument Valley, starred John Wayne as Capt. York and showed the cavalry as the enforcers of Manifest Destiny - the deeply held belief that it was the God-given destiny of the United States to expand all the way to the Pacific. A voice-over in "Yellow Ribbon" proclaims this about the cavalry: "Wherever they rode and whatever they fought for, that place became the United States."
When "Fort Apache" hit theaters in 1948, World War II was done, but many Americans still felt under siege from communism. This Cold War mentality is apparent throughout the trilogy, but only the first one shows the cavalry laying down their lives in a heroic defense of the frontier.
"Fort Apache," which never wavers from its "us against them" theme, ranks as one of the most influential Westerns because it set the tone for the countless siege movies in the years to come.
In a 1964 interview with Cosmopolitan magazine, Ford said:
"There's some merit to the charge that the Indian hasn't been portrayed accurately or fairly in the Western, but again, this charge has been a broad generalization and often unfair. The Indian didn't welcome the white man... and he wasn't diplomatic... If he has been treated unfairly by whites in films, that, unfortunately, was often the case in real life. There was much racial prejudice in the West."
Directed by Delmer Daves, with James Stewart, Jeff Chandler, Debra Paget. Based on the novel "Blood Brother," by Tucsonan Elliott Arnold.
You wouldn't think that a movie in which the major Indian characters are played by white men would be held in such high regard today, but the film was an important turning point toward a more sympathetic treatment of Native Americans in the movies.
James Stewart plays Tom Jeffords, the real-life ex-soldier who ventured solo into Cochise's stronghold east of Tucson to talk peace with the leader of the Chiricahua Apaches.
Cochise is played by a Jewish stage actor from New York, Jeff Chandler, who would go on to play Cochise in several more films.
Debra Paget was 16 years old when she arrived in Arizona to play the Indian maiden who falls for Jeffords (Stewart was her elder by 25 years). The romance, as per usual, was a strictly Hollywood invention.
Many of the scenes were shot in the Oak Creek Canyon area, and nearly 400 Whiteriver Apaches were hired to play their own ancestors. During the shoot, they lived on location in wickiups.
Twentieth-Century Fox, which made the Technicolor Western, promised that the Apache would get to see the movie before it was screened for anyone else.
When the film was finished, the studio kept its word and arranged a free screening on the Fort Apache Indian Reservation in Whiteriver during Fourth of July celebrations in 1950.
So many showed up, from all corners of the reservation, that the film had to be shown six times that weekend to accomodate everyone. According to an article in the Star, the Indians reacted with cheers and more than a few tears of appreciation.
The screenplay was written by Albert Maltz, one of the original Hollywood 10 who was blacklisted for failing to name names at the House Unamerican Activities Committee hearings in the late 1940s.
Locations also included Old Tucson, Flagstaff and Sedona.
Nominated for three Oscars, for the screenplay, the cinematography and supporting actor (Jeff Chandler).
• Geronimo, a minor figure in the film, was played by Jay Silverheels, a Native American best known for his TV role as Tonto, "faithful Indian companion" to the Lone Ranger.
Also released in 1950: "Winchester '73," filmed at Old Tucson. A moody treasure that was the first of five Westerns starring James Stewart and directed by Anthony Mann. Look for Tony Curtis in one of his first movie roles. Oh, and Rock Hudson plays an Indian.
Directed by Nicholas Ray, with Joan Crawford, Sterling Hayden, Mercedes McCambridge, Ward Bond.
This surreal, sparsely populated movie, set on the outskirts of an Arizona cattle town, features a bizarre turn by Joan Crawford as a gunslinger doing battle with Emma Small.
Many critics have pointed out that the film is a hidden commentary on the McCarthy witch-hunts on Capitol Hill.
Reportedly jealous of the younger Mercedes McCambridge, Crawford fought but failed to have Claire Trevor cast opposite her.
Ward Bond, like his character in the movie, sided squarely with the forces demanding names. He cooperated fully with the Committee.
Joan Crawford didn't earn many new friends on the set of "Johnny Guitar." McCambridge didn't mince words when she called Crawford, "a mean, tipsy, powerful, rotten-egg lady."
The director piled on, saying: "As a human being, Joan Crawford was a great actress."
• The odd screenplay was ghosted by the blacklisted Ben Maddow.
Directed by John Ford, with John Wayne, Jeffrey Hunter, Vera Miles, Ward Bond, Natalie Wood.
This is the movie that people point to as evidence that John Wayne could act. His portrait of Ethan Edwards is black as night, and more than a little scary.
Edwards is a Civil War veteran on the trail of a Comanche raiding party that kidnapped his dead brother's daughters. The search, joined by his adopted nephew (Jeffrey Hunter) goes on for years, during which we see the mental unraveling of Ethan.
This was the sixth film made in Monument Valley by director John Ford, and his love affair with the landscape is more apparent than ever.
Watching the gorgeous imagery on DVD, one can only imagine how stunning it must have looked when projected in VistaVision.
Martin Scorsese, praising "The Searchers" in a tribute to Ford many years ago, swore that VistaVistion was the best projection system ever invented.
Unlike so many other Hollywood Westerns, the blinding fear of Indian attacks is made visceral. Ford doesn't show the savagery that threatened settlers, leaving the worst to our imagination. "The Searchers" instead conveys the awful anticipation of violence, and its aftermath.
The hatred for the Comanche that consumes Ethan is nothing short of breathtaking. Audiences today can only gasp at the ugliness on display when, for example, Ethan kicks a squaw, sending her tumbling into the dirt for the sport of it.
This movie may or may not convey much truth about life in the Old West. But it speaks volumes about America in the middle of the 20th century.
• "That'll Be the Day," a song written by Buddy Holly and Jerry Allison, was inspired by their viewing of this film in June 1956. "That'll be the day" was the world-weary catchphrase employed by John Wayne throughout the film.
• Navajos were employed by the hundreds to work on the production or don war paint as ruthless Comanche.
Ford recognized that "The Searchers" and many of his other films unfairly depicted Indians as simplistic savages. He attempted to remedy this in his last Western, "Cheyenne Autumn," which was also the last film he made in Monument Valley. In this 1964 drama, Indians were the undisputed heroes. The well-intentioned movie, alas, is a long, long bore.
Directed by Delmer Daves, with Glenn Ford, Van Heflin, Felicia Farr. Based on a short story by Elmore Leonard.
This taut Delmer Daves drama presents a battle of wits between Dan Evans (Van Heflin), a poor, stubborn rancher in the third year of a drought, and Ben Wade (Glenn Ford), the leader of a gang of thugs.
Desperate for money, the rancher agrees for $200 to take the captured Wade to Contention City and make sure he's onboard the 3:10 to Yuma, bound for the Yuma Territorial Prison.
Almost all of this suspenseful film was shot in Arizona, with locations that include Sedona, Willcox Playa, Texas Canyon, Old Tucson, The Triangle T Guest Ranch and the Amerind Foundation in Dragoon.
• The studio trucked in seven tons of dirt from California. Just in case we didn't have enough.
• "3:10 to Yuma" was remade in 2007 with a cast that included Christian Bale and Russell Crowe.
Directed by Howard Hawks, with John Wayne, Dean Martin, Ricky Nelson, Angie Dickinson, Walter Brennan and Ward Bond.
This amiable Western was the first of three Howard Hawks movies filmed at Old Tucson, each of which tells essentially the same story. Like "El Dorado" and "Rio Lobo," this one is about a town.
Said Hawks: "I made 'Rio Bravo' because I didn't like 'High Noon.' Neither did Duke. I didn't think a good town marshal was going to run around town like a chicken with his head cut off asking everyone to help. And who saves him? His Quaker wife. That isn't my idea of a good Western."
The Duke despised 'High Noon' because he felt it was an allegory for blacklisting, which he wholeheartedly supported. In a 1971 Playboy interview, he called the 1953 classic "the most un-American thing I've ever seen in my whole life."
He added that he would never regret having helped blacklist liberal screenwriter Carl Foreman from Hollywood.
While "Rio Bravo" was conceived as a conservative response to "High Noon," the result was nonetheless unconventional in its own way. The characters, John Wayne's excepted, were a nontraditional bunch that included Dean Martin as a drunk and Ricky Nelson as the new gunslinger on the scene.
• This was Ward Bond's 22nd and last movie with John Wayne.
• Josephine Gay was among those who worked as an extra on "Rio Bravo." According to her grandson, Gerald M. Gay, she ended up with a speaking part, but her scene was cut out of the movie.
• This was the film in which Wayne finally retired the hat he had worn since "Stagecoach," made 20 years earlier.
• On May 8, a week into shooting, Ricky Nelson celebrated his 18th birthday. John Wayne and Dean Martin gave him a gift of 300 pounds of steer manure, into which they threw the pretty pop star. Nelson died at age 45 in a plane crash in Texas.
Other movies made by John Wayne at Old Tucson: "McLintock!" "El Dorado" and "Rio Lobo," which was the last of 46 movies directed by Howard Hawks.
Directed by John Ford, with Jeffrey Hunter, Woody Strode, Billie Burke, Constance Towers, Juano Hernandez, Willis Bouchey.
In 1866, courageous new fighting units were formed within the U.S. Cavalry: the black 9th and 10th regiments, a fighting force that was called "Buffalo soldiers" by the Indians.
In this drama a black 9th Cavalry officer is on trial for the rape and murder of a white woman. Court testimony, relived in flashbacks, shows the accused sergeant-at-arms to be the most brave and noble sort.
Woody Strode, an imposing figure who is perhaps best known for his role in "Spartacus," plays sergeant-at-arms Braxton Rutledge. It's one of the first Westerns to tackle the effects of frontier racism - racism heretofore seen mostly in the depictions of Indians as less-than-human savages.
As courtroom dramas go, it's a far cry from "A Few Good Men," but it's worth seeing for the performance by Woody Strode as the wrongly accused sergeant-at-arms.
It's true that Ford flattered white audiences in movie after movie, but in "Sergeant Rutledge" he puts a black man on center stage and stresses the character's heroism. Many film critics have noted that Rutledge was imbued with a level of dignity that Hollywood usually withheld from black males.
Other, slightly less prestigious Westerns with a black hero: "The Legend of Nigger Charley" and its sequel "The Soul of Nigger Charley," both filmed at Old Tucson and both starring Fred Williamson as the bad-ass title character .
The Deadly Companions (1961)
Directed by Sam Peckinpah, with Maureen O'Hara, Brian Keith, Steve Cochran, Chill Wills.
Sam Peckinpah's debut film follows former Union soldier Yellowleg, who accidentally kills a boy during a holdup then helps the boy's mother take her son to his grave site.
On the trip, Yellowleg tries to fight off troublemakers, not to mention his growing attraction to Kit.
This was the first film that Bob Shelton worked on after he bought Old Tucson. Scenes were also filmed in Sabino Canyon.
Peckinpah made 16 films, including several Westerns, and he was the first to acknowledge that "Deadly Companions" was little more than a learning experience for him. The movie sunk without a trace and remains his least-known work.
As for Bob Shelton, his all-time favorite Western is "The Wild Bunch," which Peckinpah made in Mexico just before he arrived in Arizona to film "The Battle of Cable Hogue." The latter, which the director often referred to as his favorite among his movies, was filmed at Apacheland, a studio in Apache Junction that's best described as a poor man's Old Tucson.
John Wayne never made a movie at Apacheland, but Elvis Presley did. "Charro!" (1969) was one of the King's last movies and the only one in which he didn't sing. He did, however, sport a beard for the first and only time on screen.
How the West Was Won (1962)
Directed by Henry Hathaway, George Marshall and John Ford (the Civil War sequence), with James Stewart, Henry Fonda, Gregory Peck, John Wayne. Debbie Reynolds, Robert Preston, Eli Wallach, Karl Malden, Carroll Baker, Lee J. Cobb, George Peppard, Richard Widmark and Walter Brennan. Narration by Spencer Tracy.
This epic, long-winded tale about settling the West was one of the first narrative films made in the large-screen Cinerama format. The process required action to be recorded on three 35mm strips of film, then projected side-by-side to create a seamless panoramic view with remarkable depth and clarity.
But audiences today are likely to be more impressed by the cast, which has more famous names than your average state dinner.
Filming sites included the Colorado Rockies, the Black Hills of South Dakota, the Ohio and Cumberland rivers in Kentucky, and Monument Valley on the Arizona-Utah border.
Other Arizona locations included Oatman, Superior, Tonto National Forest, Old Tucson, Monument Valley, Canyon de Chelly, the Verde River railroad bridge and Perkinsville.
"How the West Was Won," which seems more old-fashioned than movies made much earlier, was released in November 1962 and became the biggest hit of 1963 ("Cleopatra" was the top-grossing film, but it lost money).
Nominated for eight Oscars, including best picture. It won three (for original screenplay, sound and editing).
Directed by William A. Fraker, with Lee Marvin, Jack Palance, Jeanne Moreau.
First-time director Fraker shows a sure hand with this affecting tale about a cowboy facing an existential crisis as demand for his skills dries up and blows away.
This lovely meditation on the disappearing cowboy way doesn't rely on gunfights, and the only real villains are the unseen Eastern conglomerates who are buying up all the land and putting folks like Monte Walsh out of work.
Lee Marvin, fear and despair etched on his face, delivers perhaps his best performance, matched every step of the way by Jeanne Moreau as a prostitute facing a similar downturn in her profession.
CBS built the town on a bluff southeast of Tucson near Benson, and when the movie was done, Old Tucson bought the town and later renamed it Mescal.
Directed by Robert Aldrich, with Burt Lancaster, Bruce Davison, Jorge Luke, Richard Jaeckel, Joaquín Martínez.
Here's the tagline for this revisionist Western, filmed in Nogales and in areas southeast of Tucson: "One man alone understood the savagery of the early American west from both sides."
That man is McIntosh (Lancaster), a U.S. Army scout who has an Indian wife and who has lived with the Apache for 20 years. After a band of justifiably angry Apaches, led by Ulzana, leave the reservation and go on a rampage through Southern Arizona, he and a rookie cavalry officer named DeBuin are assigned to track down and exterminate the renegade natives.
But their mission becomes the subject of hot debate between the pair of searchers.
DeBuin: "Do you hate Apaches, Mr. McIntosh?"
Lt. DeBuin: "Well, I do."
McIntosh: "Well, it might not make you happy, Lieutenant, but it sure won't make you lonesome. Most white folks hereabout feel the same way you do."
Lt. DeBuin: "Why don't you feel that way?"
McIntosh: "It would be like hating the desert because there ain't no water in it. For now, I can get by being plenty scared of 'em."
The young lieutenant is forced to confront his prejudices before the end credits roll.
In a talk at the Tucson Press Club in 1972, Burt Lancaster discussed the astonishing brutality of the movie and compared it to racism. He drew parallels between the extermination of the Indian people in the American West and the slaughter of Asians in the Vietnam War.
Another notable film shot near Nogales: "Oklahoma!" (1955).
The Outlaw Josey Wales (1976)
Directed by Clint Eastwood, with Eastwood, Chief Dan George, Sondra Locke, Bill McKinney, John Vernon, Paula Trueman, Sam Bottoms, Geraldine Kearns.
Here's one way to tell a traditional Western from the revisionist type exemplified so perfectly by "The Outlaw Josey Wales."
When John Wayne sent some scoundrel into eternity, he always stuck around to give the guy a decent burial. The code of the West demanded it.
But when Clint Eastwood kills a guy who had it coming in this 1976 triumph, he dismisses his pardner's suggestion that the two of them should get to digging.
"Buzzards got to eat, same as worms," says Josey Wales, spitting tobacco at the dead.
Josey Wales wasn't always so cold, and he wasn't always an outlaw. He was a peaceful Missouri farmer during the Civil War. But when a pro-Union gang slaughters his family and torches his home, he is radicalized and bent for revenge.
He takes up with a band of Confederate guerrilla fighters, all of whom decide to surrender to Union troops. All, that is, except Josey Wales, who watches from a distance as they are gunned down. The slaughter of his surrendering comrades sends him into a rage that leaves a dozen Yankees dead and a price on his head.
He heads for Texas, and it's what happens on the way that gives this movie such power: He slowly gains a new family, including an Indian chief and a young Navajo girl, and the realization a satisfying life might be in the stars for him.
The movie's ace in the hole is Chief Dan George, who impressed Eastwood with his Oscar-nominated performance in "Little Big Man" (1970). He should have been nominated for his sly, serene work here. It's a performance that sneaks up on you.
• When Orson Welles appeared on "The Merv Griffin Show" in 1962, he said that after watching "The Outlaw Josey Wales" for the fourth time, he realized "that it belongs with the great Westerns. You know, the great Westerns of Ford and Hawks and people like that."
Eastwood often refers to "Josey Wells" as one of his favorite movies. He told an interviewer that had it been released years later, in a different political climate, it might have been as highly regarded as "Unforgiven," his acclaimed 1992 Western.
"Unforgiven" earned nine Oscar nominations, and won four, including best picture. "Josey Wales" picked up a single nomination, for original score.
But get this. As of last week, "Unforgiven" had a 96 percent fresh rating on the critical website Rotten Tomatoes. "Josey Wales" was sitting tall in the saddle at 97 percent.
Directed by George P. Cosmatos, with Kurt Russell, Val Kilmer, Sam Elliott, Bill Paxton, Dana Delaney, Michael Biehn, Powers Boothe, Jason Priestly.
It's surprising how well this star-studded drama holds up. Although it takes plenty of license with the historical record, "Tombstone" presents a fascinating swirl of activity that rings true more often than not.
And while it's a mostly male affair, like most Westerns, the women (especially Dana Delaney) are presented as more than just decoration.
As the movie begins, Wyatt Earp is trying to get past his violent past, but a building confrontation with the so-called Cowboys soon forces him to unholster his gun once again.
Along the way, we see the town's lawmen grapple with the issue of gun control, with Sam Elliott's Virgil Earp saying at one point: "We're not saying you can't have a gun . . . you just can't carry a gun in town."
Filmed at Old Tucson's Mescal location, the production was by all accounts a fairly out of control nightmare for the cast and crew. It was reported that more than 100 people were fired before the movie wrapped.
Other great movies made in Arizona about that 30-second fight in Tombstone: John Sturges's "The Gunfight at the O.K. Corral" (1957), filmed in Elgin, Phoenix and at Old Tucson, and John Ford's "My Darling Clementine" (1946)," filmed in Monument Valley.
The Quick and the Dead (1995)
Directed by Sam Raimi, with Sharon Stone, Gene Hackman, Russell Crowe and Leonardo DiCaprio.
Monument Valley is seen only briefly in Sergio Leone's ultimnate spaghetti Western, "Once Upon a Time in the West," so we really shouldn't claim it as Arizona-made.
That leaves us with this ripe, utterly deranged sendup of spaghetti Westerns from director Sam Raimi, every minute of which was filmed at Mescal and other Arizona locations.
The film critic at the Star called it "a garish, hip, ludicrous joke."
"The director stocks his film with the scuzziest collection of lowlifes you've ever seen. Redemption is a hellhole where the good are far outnumbered by the bad and the really, really ugly. 'The Quick and the Dead,' on the other hand, is pretty and slick."
• This was Woody Strode's last movie. It was also the last movie made at Old Tucson to get a major theatrical release.
Other Westerns made here during the 1990s: "Posse," a lamentable effort by Mario Van Peebles to depict the Buffalo Soldiers, and "Lightning Jack," a comedy cow pie starring Paul Hogan and Cuba Gooding Jr. that must have looked better on paper.
The Star's esteemed reviewer at the time noted: "It's directed, after all, by Simon Wincer, the man who won an Emmy Award for his direction of the epic television miniseries 'Lonesome Dove.' He won't win any awards for this one."
In 2008, the American Film Institute revealed its list of the Top Western films:
7. "Butch Cassidy and the Sundance Kid"
8. "McCabe & Mrs. Miller"
His name is Bond, Ward Bond
When the American Film Institute named the 100 best American movies in 1998, it was determined that Ward Bond appeared in more films on that list than any other actor.
The same held true when the list was updated by AFI in 2007.
Ward Bond made 22 pictures with John Ford, including "My Darling Clementine."
Ford teased Bond unmercifully and made sure there was at least one shot in every movie of Bond's big behind, an inside joke that was funny to everyone but Bond.
An eternally nameless face who never got a leading role in the movies, Bond finally found bona fide fame as trail master Seth Adams on NBC's hit Western series "Wagon Train," which debuted in 1957.
He saw to it that Ford directed one episode, in which John Wayne took the kind of bit role Bond built a career on. He was billed as Marion Michael Morrison, the name his parents gave him.
"Wagon Train" was still NBC's biggest hit in November 1960 when Bond suffered a fatal heart attack while taking a shower. He was 57.
Among the most notable TV shows were "Bonanza," "Gunsmoke," "The Rifleman," "Have Gun, Will Travel," "Maverick," "Rawhide," "The Virginian" and "Wagon Train" - all of which had episodes that were filmed at Old Tucson and/or Apacheland Studios in Apache Junction.
The peak year for Westerns on television was 1959, when 26 Westerns aired during prime-time hours.