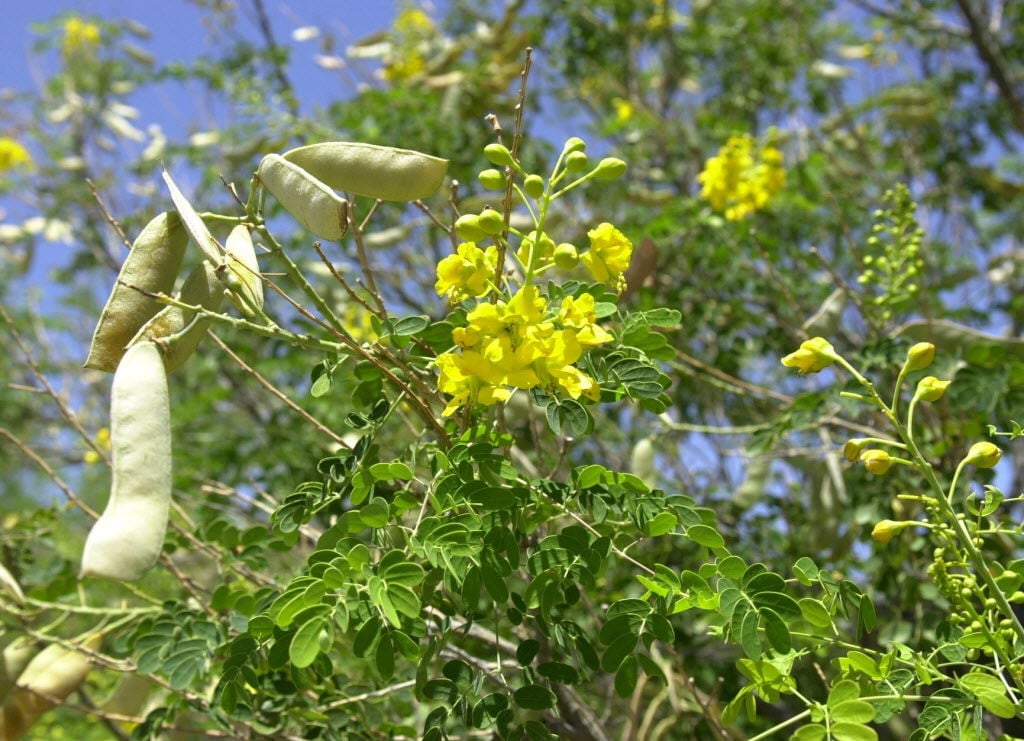 Your Tucson yard can have that lush green look you see in gardens in other climates if you choose your plants carefully — there are many drought-tolerant plants (even some natives) that will give you rich green foliage and tropical-looking colorful flowers. 
Keep in mind that you will need to water these plants more often and also note that the hardiness temperatures generally indicate the temperature at which damage occurs to the foliage. It is rare for the plants listed below to die completely (to the roots) in our climate if they are healthy and well-mulched and watered. If some branches and foliage are damaged, they can be pruned back in the spring and generally recover quickly.
Lush trees for Tucson gardens
Anacacho orchid tree (Bauhinia lunarioides): This beautiful tree is native to the Chihuahuan desert and has lovely large white orchid-like flowers. It's hardy to 15 Fahrenheit and can grow in full or partial sun (which in my experience usually means that harsh afternoon sun should be avoided). Do not plant where it will be subjected to reflected heat. It grows at a moderate rate to a small tree (about 8 feet high) and is shrubby in form.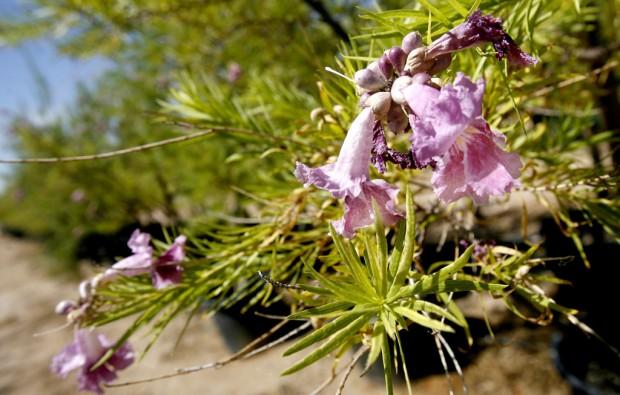 Desert willow (Chilopsis linearis):  This fast grower is native, and can take our full sun and even reflected heat. The leaves are a lush green, and it has gorgeous orchid-like flowers in a variety of colors from white to pink to purple (depending on the cultivar). It's hardy down to 0 Fahrenheit, and birds and hummingbirds love it.
Feather bush (Lysiloma watsonii):  This lovely small tree grows to 15 feet in height. It's native to our desert and has beautiful lush green tiny leaves that give it a feathery appearance. Its flowers are cream-colored puffy balls that bloom in late spring. It's only hardy to 25 Fahrenheit, so make sure you put it in a warm spot in your yard.
Texas ebony (Ebenopsis ebano): This Texas native is a slow grower and has thorns, but it has beautiful lush dark green leaves and creamy yellow flowers. It's hardy to 20 F and can take full sun.
Mexican Bird of Paradise (Erythrostemon mexicanus): This beautiful little tree can be considered a shrub; it has deep green oval leaves and warm yellow flowers that grow in clusters. It's hardy to 15 F and does well in the sun, although in my experience it likes partial shade better. It gives lovely filtered shade thanks to its small leaves.
Silk floss tree (Ceiba speciosa): This tropical tree is native to Brazil and Argentina. As such, it requires more water than the other trees mentioned, but its unique, thorned trunk and spectacular fall flower show make it worthwhile. The flowers are similar to hibiscus, pink in color, and are 5 inches in diameter. The tree is hardy to 26 F and will tolerate drought and full sun, but will look better when watered regularly. It will need to be protected from frost when it's small, and should be planted in a warmer area of your yard. It grows to 20-30 feet, so be sure you have lots of room for it! These can be hard to find, but Plants for the Southwest has them.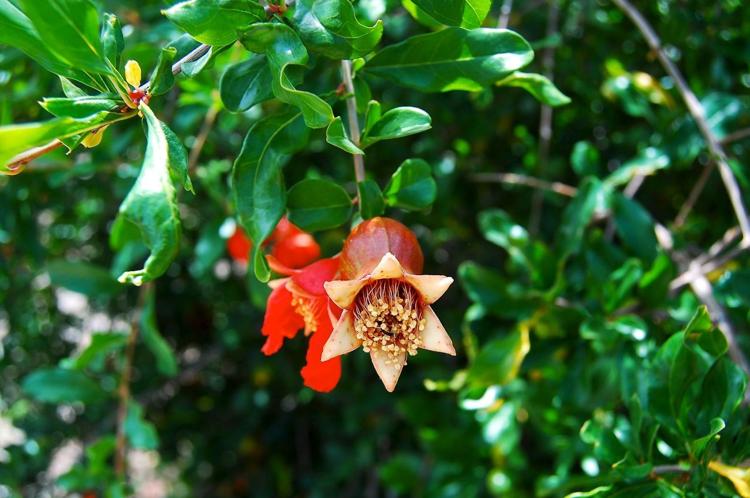 Pomegranate (Punica granatum): This mediterranean plant not only has glossy dark green leaves and unusual orange flowers, it also produces edible fruit. It's hardy to 10 F but needs a bit more water than our natives to keep it from looking scraggly. It is deciduous, and loses all its leaves in the winter.
Lush shrubs for Tucson gardens
Arizona yellow bells (Tecoma stans): Bright yellow trumpet flowers and rich green foliage make this native a great addition to your yard. Hummingbirds love the flowers. It's a little frost sensitive (hardy to 25 F) but will grow back if damaged. It's a fast grower and likes full sun. There is also a variety called Orange Bells which is less cold-hardy.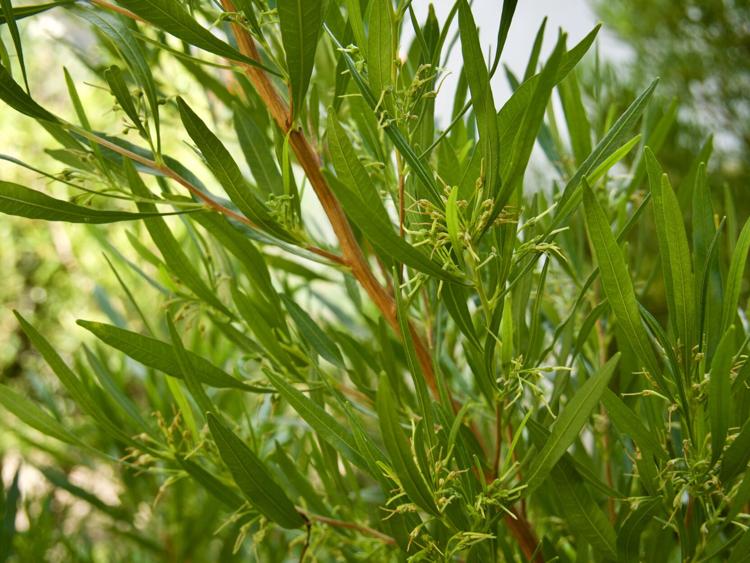 Hopseed bush (Dodonaea viscosa): This native fast-growing bright green shrub is a great choice for an informal privacy hedge. It has a fresh green color, and female shrubs have pretty light green seed pods. Birds love these. It can handle full sun and is hardy to 15 F.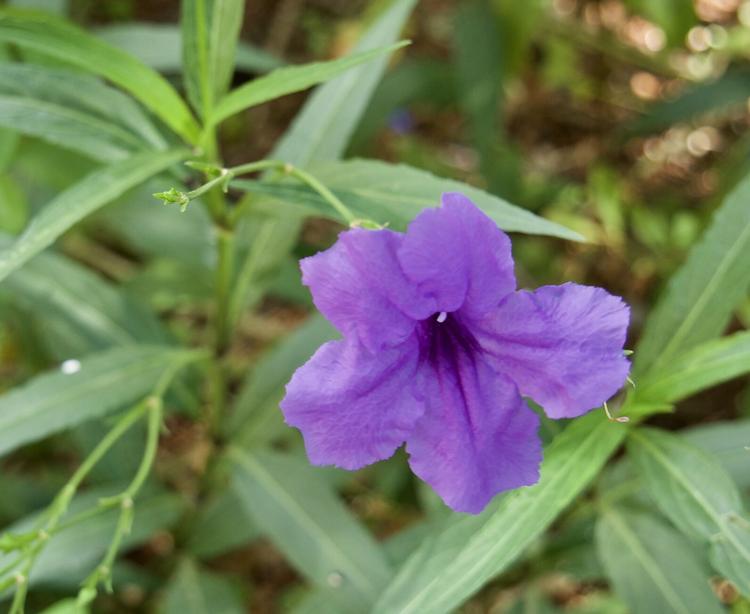 Mexican petunia (Ruellia brittoniana; Ruellia simplex):  This small shrub has dark purple flowers and medium-green leaves. It's native to Mexico and the Southwest U.S. It's hardy to about 28 F and will need a warm spot. It will need regular watering to look its best, particularly in summer. You can find white and pink varieties in addition to the deep purple.
Guayacan (Guaiacum coulteri): This 5-foot shrub grows very slowly, but has striking violet flowers and deep green leaves. It's hardy to 25 F and does best in partial sun.
San Marcos hibiscus (Gossypium harknessii): Believe it or not, this is a native plant. It has light yellow flowers with red accents, and deep green leaves. It's hardy to 25 F and doesn't mind full sun. It can be hard to find, but Spadefoot Nursery has them from time to time, and can obtain them if requested.
Texas mountain laurel (Dermatophyllum secundiflorum): This Chihuahuan desert native is hardy to 5 F and has beautiful rounded dark green leaves. It is known for its clusters of violet, fruity-smelling flowers. It is a very slow grower, so tends to be expensive if bought in a larger size. Eventually it grows into an 8 foot shrub.
Texas olive (Cordia boissieri): This Texas and Mexico native doesn't have the dark, lush green foliage (it's grayish-green), but I included it because of its beautiful and plentiful white orchid-like flowers. It's hardy to 20 F. It will require patience, as it's a very slow grower.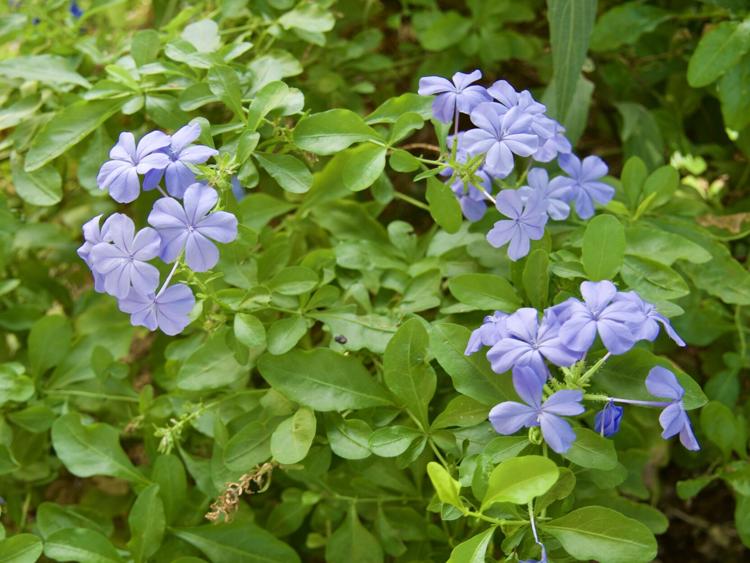 Cape Plumbago (Plumbago auriculata): This plant gets a bad rap for using too much water, but if planted in the shade and mulched it's just as drought-tolerant as many of our natives. It has deep green foliage and attractive clusters of small tubular blue-violet flowers. There are also white varieties. I have it growing in shade on the eastern side of my house and I don't water it any more frequently than the desert willow tree next to it. It needs a fair bit of room, as it tends to sprawl, but this can be an advantage if you want to attach it to a trellis for privacy.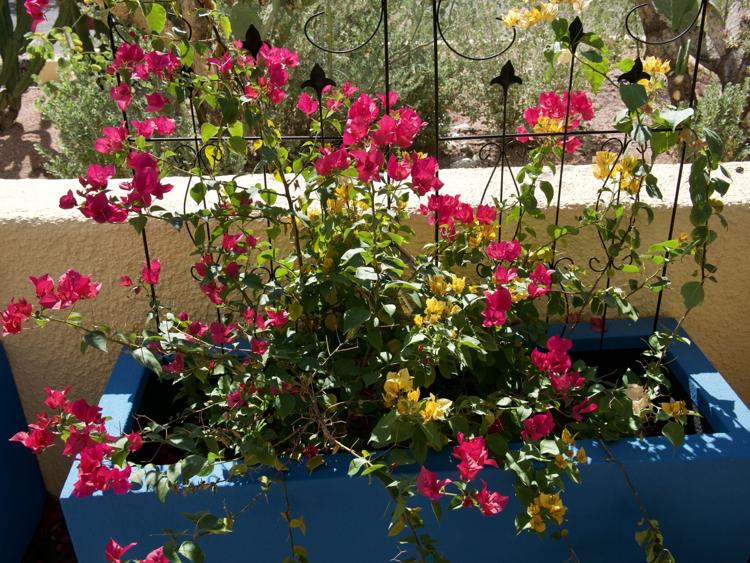 Bougainvillea (Bougainvillea spectabilis): Despite its large thorns, this Brazil native is a good choice for a lush garden due to its gorgeous colors and lush dark green foliage. The color actually comes from the bracts; the flowers are tiny, white and unassuming. It gives you vivid tropical colors and is safe to plant in dry, sunny exposures. There are many Bougainvillea varieties to choose from. Certain smaller varieties do well in containers. Colors run the gamut: white, yellow, apricot, hot pink, and purple. They can sprawl, but you can purchase smaller varieties. Larger varieties can be trained on a trellis and provide a backsplash of color to your garden wall. A dwarf variety called "Miss Alice" is thornless and can be grown as a groundcover of sorts. Bougainvilleas are happiest when allowed to dry out between watering, so be careful not to overwater them.