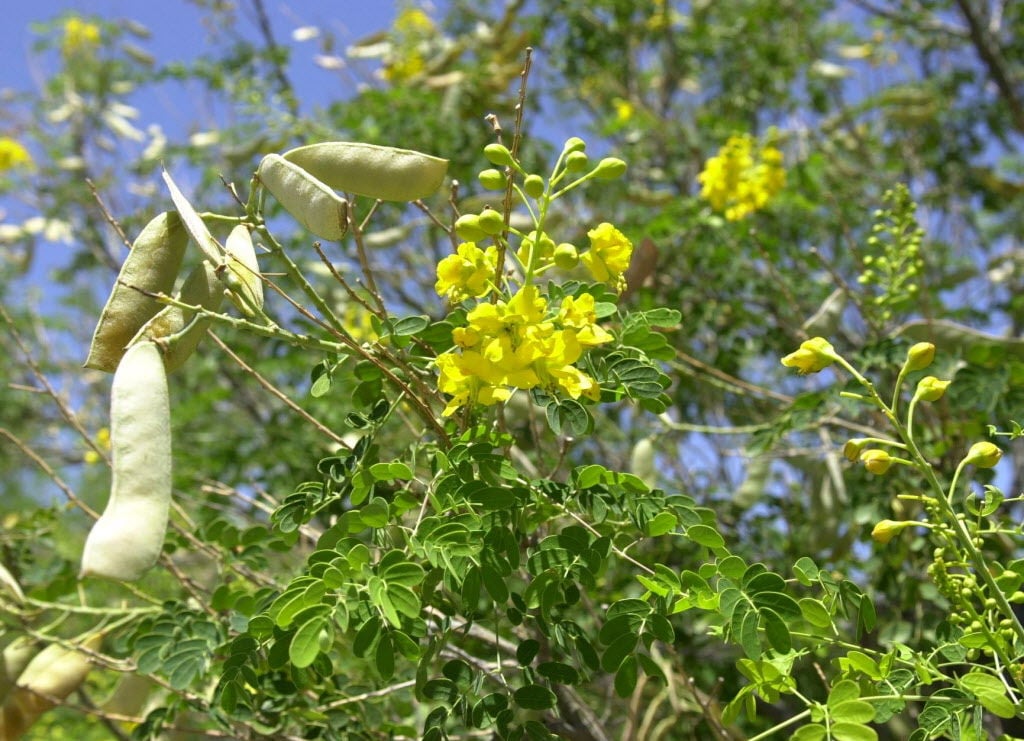 Not only is it beautiful, but pollinators love it too, and it's a near-native, coming from Mexico.
The Mexican bird-of-paradise grows as a large shrub or a small tree, depending how you prune it. It can grow up to 15 feet high and about 6-10 feet wide (again, dependent on pruning). It takes full sun, and doesn't create much litter, making it a great small tree for patios and pool areas. The tree is also thornless. It's hardy to 15 F so it will do well in the city and even up in higher elevations in a warm spot. It also grows fairly quickly and is drought-tolerant. It makes a great shady light hedge.
The leaves are a lush dark green, compound, and almost fern-like, but with little oval leaflets. It casts a beautiful dappled shade once it grows taller. It is evergreen in warms spots, but some report loss of foliage in cooler areas. I have seen them do well in hot, sunny yards and in part-shade on the northern side of houses, although they can get a bit leggy there and may not flower as much. They do need good drainage, so make sure to remove caliche and do a drainage test before planting.
The flowers are bright yellow and attract bumblebees and hummingbirds. They tend to flower in the spring and early summer, but I have also had mine flower after monsoon rains.
Once the flowers are spent, the plant makes bean-like pods which eventually dry up and explode their seeds, scattering them several feet from the plant. I usually find a few tiny volunteer plants near my trees. The seeds can be grown out in containers if you want some free trees to plant or to give away, but the outer coatings need to be scarified first for germination to be successful.