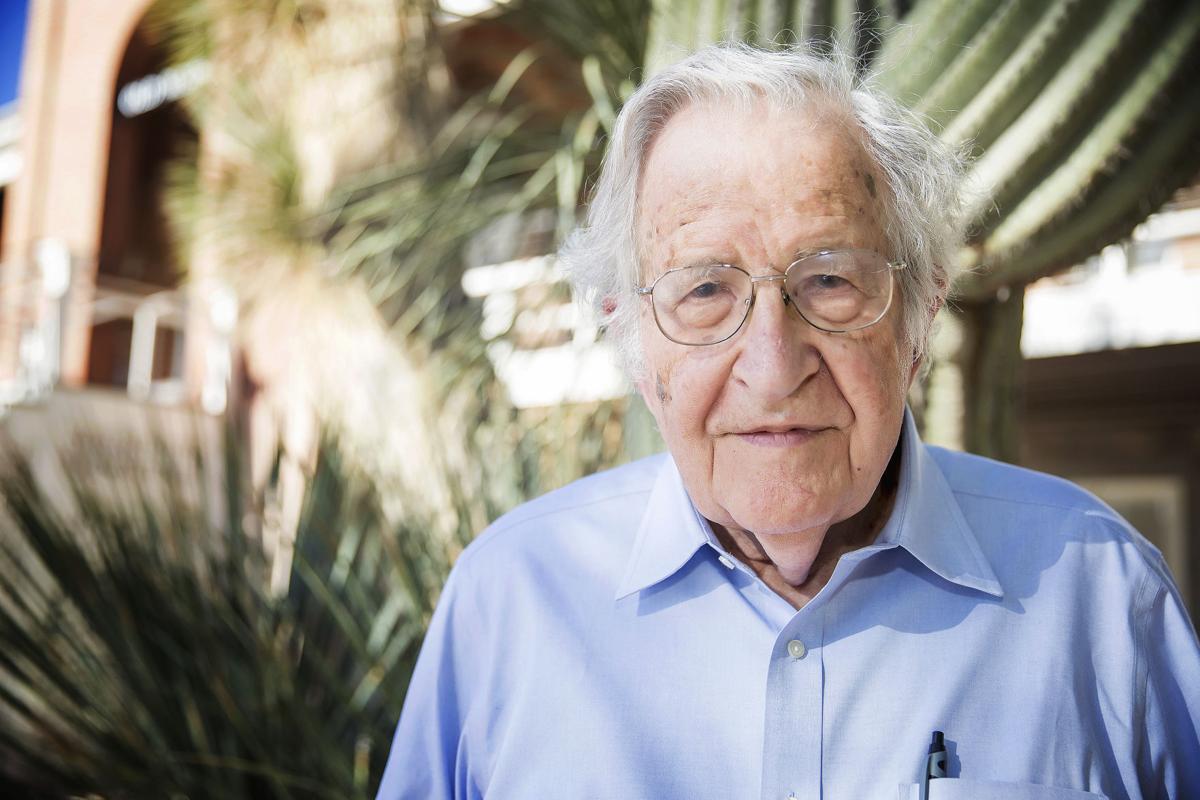 Renowned linguist Noam Chomsky is joining the University of Arizona faculty this fall and will begin teaching in the spring semester.
"Having a scholar of Dr. Chomsky's caliber on our campus presents a tremendous opportunity for our students, faculty and staff, and truly speaks to the greatness of this university," said UA President Robert Robbins in a prepared statement.
Chomsky, who has been a guest lecturer and teacher at the UA for about five years, will join the Department of Linguistics in the College of Social and Behavioral Sciences in a quarter-time appointment as a laureate professor, Robbins said.
He will also serve as an Agnese Nelms Haury Chair in the Agnese Nelms Haury Program in Environment and Social Justice.
Chomsky's salary is $62,500 a year, all of which is funded by philanthropic donations, mostly from the Agnese Nelms Haury Program.
And while Chomsky is not a full-time faculty member, John Paul Jones III, dean of the College of Social and Behavioral Sciences, expects him to have a full schedule, splitting his time between teaching and public events.
Chomsky is among the most cited scholars in history and has written more than 100 books.
He is considered the father of modern linguistics, and his work has influenced many fields, including cognitive science, philosophy, psychology, computer science, mathematics, childhood education and anthropology.
He is also a powerful voice on sociopolitical issues, including free speech, foreign policy, political engagement, environmental destruction and the rights of indigenous populations, among many other topics.
"He's been a figure on campus since 2012," Jones said. "The first talk we had in Centennial Hall, 6,000 showed up for 2,500 seats. We had to scramble to find classrooms (for overflow)."
Since then, he's visited Tucson often, including for "A Conversation on Privacy," in which the College of Social and Behavioral Sciences invited Chomsky, Glenn Greenwald, co-founding editor of the Intercept; Nuala O'Connor, president and CEO of the Center for Democracy and Technology; and Edward Snowden, who participated through Skype, to talk about the balance between government surveillance and individual rights.
"He wouldn't have come here (permanently) if it hadn't been for the Linguistics Department," Jones said, not only referring to former students who are now at the UA, but the department is "also intellectually engaged in the same questions that he's interested in."
"We've very much come to appreciate the intellectual environment and the lifestyle," Chomsky said in a statement. "The linguistics department, which is excellent, happens to be full of former students of mine. In general, we felt that the UA would be a good place to work and think and interact with people we like and can work with."
Chomsky worked as a linguistics professor at the Massachusetts Institute of Technology since 1955 then as a professor emeritus.
Teaching undergraduates regularly again was also a big draw, Chomsky said. He hadn't taught undergrads for about 10 years until spring 2016, when he co-taught an elective course on politics and global issues with UA geography professor emeritus Marv Waterstone.
Half of the 500 people who signed for the course were undergraduate students. The other 250 were community members enrolled through the Humanities Seminars Program, Jones said.
"I think about the students who are going to be sitting around a dinner table some day," Jones said. "And someone will mention Noam Chomsky, and he'll say, 'I took his class!' and they'll say, 'Where?' and they'll say, 'At the U of A.'"
Chomsky's former students and departmental fellows who have also made the move to the UA were just part of his decision to call Tucson home.
"We fell in love with Tucson — the mountains, the desert," Chomsky said. "Tucson has an atmosphere that is peaceful and manageable."