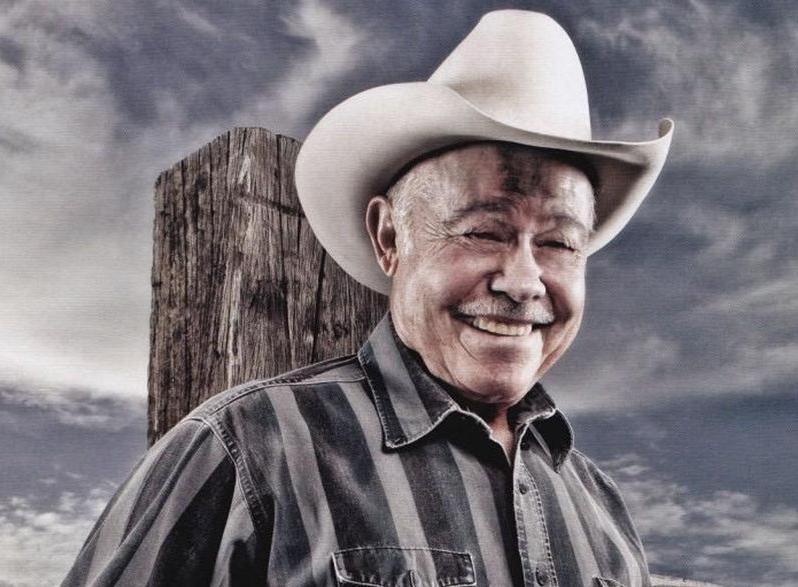 J.P.S. Brown, a onetime boxer and longtime cowboy who ran livestock across the U.S.-Mexico border long before the wall was erected, has died. He was 90.
Brown worked on ranches on both sides of the border, the same one he smuggled liquor from north to south. He worked on movie sets about the mythical west, but who wrote some of the best literature about true life on the saddle in the borderlands.
Brown died Jan. 9 in his Patagonia home.
"He died peacefully. He didn't have any pain," said Rick Padilla, a Tucson filmmaker who had befriended Brown and joined him in a publishing venture in Brown's later years.
Brown, born into one of the earliest Anglo ranching families in Southern Arizona, told his stories of growing up in the Nogales-Patagonia-San Rafael Valley and of his cross-border cattle days in a series of books, largely fictional but based on real characters. His unadorned but true-to-voice writing garnered him wide accolades among aficionados of the genre. But his book about life in Mexico's Sierra Maestra, "The Forests of the Night," is considered by many to be one of the best writing about life in the rugged region straddling the Mexican states of Sonora and Chihuahua, and on the borderlands.
"He was tremendously undervalued," said Gregory McNamee, a longtime Tucson writer, publisher and editor.
While some in the elite world of publishing looked down on the western cowboy genre as a less serious form, McNamee said Brown's writing "punctured that myth." However, Brown was not like other authors who wrote about a fictional west; Brown wrote about what he knew from ranching, roping and romping across the border but without the clichés of Zane Grey or Louis L'Amour, McNamee said. He wrote what he lived. And Brown lived a lot.
"He was the real goods," said McNamee, editor of Zócalo, a Tucson cultural and arts magazine and whose latest book is "Tortillas, Tiswin & T-Bones: A Food History of the Southwest."
In addition to Brown's authentic voice as a cowboy, he was equally authentic as a vaquero, said Thomas Sheridan, a noted University of Arizona professor of anthropology.
Brown, who was fluent in Spanish and in the ways of the Mexican cowboy from whom the Anglo vaquero copied much of the trappings and practices, said that Brown was "muy mexicano," very Mexican.
"As a writer he really knew that bicultural, cross-border world … long before the drug war," said Sheridan, author of several books on the border region and Tucson's Mexican-American history. "He was a window into a part of a region that we all love and is disappearing."
One of Brown's ancestors in the mid-1800s settled among the rolling hills and lush valleys a few miles north of Mexico about two hours southeast of Tucson in what is now Parker Canyon. While border life made him, Brown also spent his youth in a boarding school in Santa Fe, New Mexico, a dark chapter for him which he wrote about in "The World in Pancho's Eyes." His 2007 memoir chronicled growing up alongside his fighting parents, drinking and wrangling cowboys, and horses and cattle.
Brown graduated from Notre Dame University and served in the U.S. Marine Corps. He was an amateur boxer both in college and in the service, and also boxed briefly as a professional in the early 1960s.
His first stab as writing was as a newspaper reporter.
His debut novel, based on short stories he wrote while convalescing in Nogales from an illness, was "Jim Kane" in 1970 which was later turned into the film, "Pocket Money," starring Paul Newman and Lee Marvin. He followed up with "The Outfit: A Cowboy's Primer" in 1971. But it was his 1974 masterpiece, his third novel, "The Forests of the Night" that earned him his writing spurs.
"Joe was talented from the get-go," said Diana Hadley, who retired from the University of Arizona, where she served as associate curator of Ethnohistory and director of the Arizona State Museum's Office of Ethnohistorical Research.
Brown, who was married five times and long battled with alcohol, saw his writing career diminish after the publication of "The Forests of the Nights." But he kept writing books and magazine articles. And like the many times he was knocked down in the ring or in a bar, or tossed by a horse, Brown got back up. His writing was no different. He refused to give up. He had stories to tell.
Ten years ago he teamed up with Padilla to form Make A Hand, a multimedia publishing company. In the decade, several print and audio books were released, new and reprints of Brown's earlier works. Padilla, whose father was a rancher too, said that Brown was a vaquero first and foremost. But Brown had the gift of storytelling and writing.
"He wanted to elevate the cowboy culture and tell their story," said Padilla.
Brown's works are collected in the National Cowboy Hall of Fame in Oklahoma. He received the first Will James Society's Big Enough Award for literary achievement in 1989. In 2003, Brown received the Arizona Historical Society's Lawrence Powell Award for lifetime achievement in Southwestern Letters.
Information on Brown's survivors was unavailable. Patsy Brown, his wife of 35 years, died in 2011.