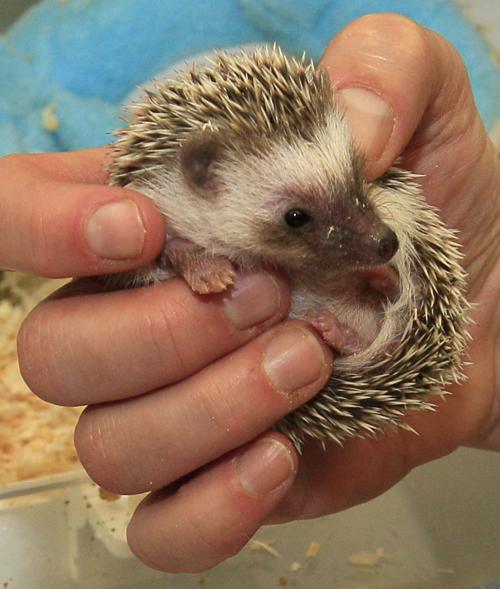 Here's happy news for anyone hankering to have a hedgehog in the house: State wildlife officials have removed the spiny little critters from the list of restricted wildlife to allow them as pets.
"The department has decided that hedgehogs are suitable as pets," said Pat Crouch, field supervisor for the Arizona Game and Fish Department. "Originally, some of the hedgehogs brought in from different parts of the world could have survived here in the wild and been a problem for native species. But the type that is now sold as pets wouldn't survive in the wild and become a problem."
A Tucson pet shop owner said he expects to have hedgehogs available for customers soon.
"I'm getting 15 of them in this month," said Kenneth MacNeil, owner of An Exotic Pet Shop at 3115 N. First Ave. "Some customers have been asking for them, and we'll have a few for sale.
"They're cute little animals," MacNeil said. "It's something like having a porcupine that's not so intimidating. Hedgehogs are slightly pokey, but they tend to put their quills down so you can hold them and pet them."
Updated rules for restricted wildlife, which went into effect Saturday, Dec. 5, also expanded the list of restricted primates "to include all non-human primates in an effort to protect public health and safety," according to the Game and Fish Department.
Previously, the only restricted primate species were the great apes — including chimpanzees, orangutans and gorillas.
"Until recently, people could hold any other type of primate without a special license — anything from a marmoset to a baboon," Crouch said.
He explained why the rules were changed: "Some of the diseases carried by primates can be passed on to humans, and they're difficult to keep in a home environment. We felt it prudent for public safety to update the rules. But current owners will be able to keep their animals that are legally held right now" through a so-called grandfather clause.
Other new provisions in the rules governing live wildlife include:
Designating red shiner, certain species of tilapia, paddlefish, sturgeon, Chinese mystery snail and false dark mussel as restricted wildlife because all are non-native to Arizona and pose a threat to native species.
Prohibiting a person from allowing native desert tortoises to reproduce in captivity in an effort to reduce the number of unwanted captive desert tortoises.
"They reproduce very well in captivity, and our rehab facilities are full of unwanted desert tortoises," Crouch said.
"They cannot be released because that could cause health issues with wild populations.
"If people have a male and female (tortoise), we're asking that they are kept separated" to prevent reproduction, he said.
Contact reporter Doug Kreutz at dkreutz@tucson.com or at 573-4192. On Twitter: @DouglasKreutz