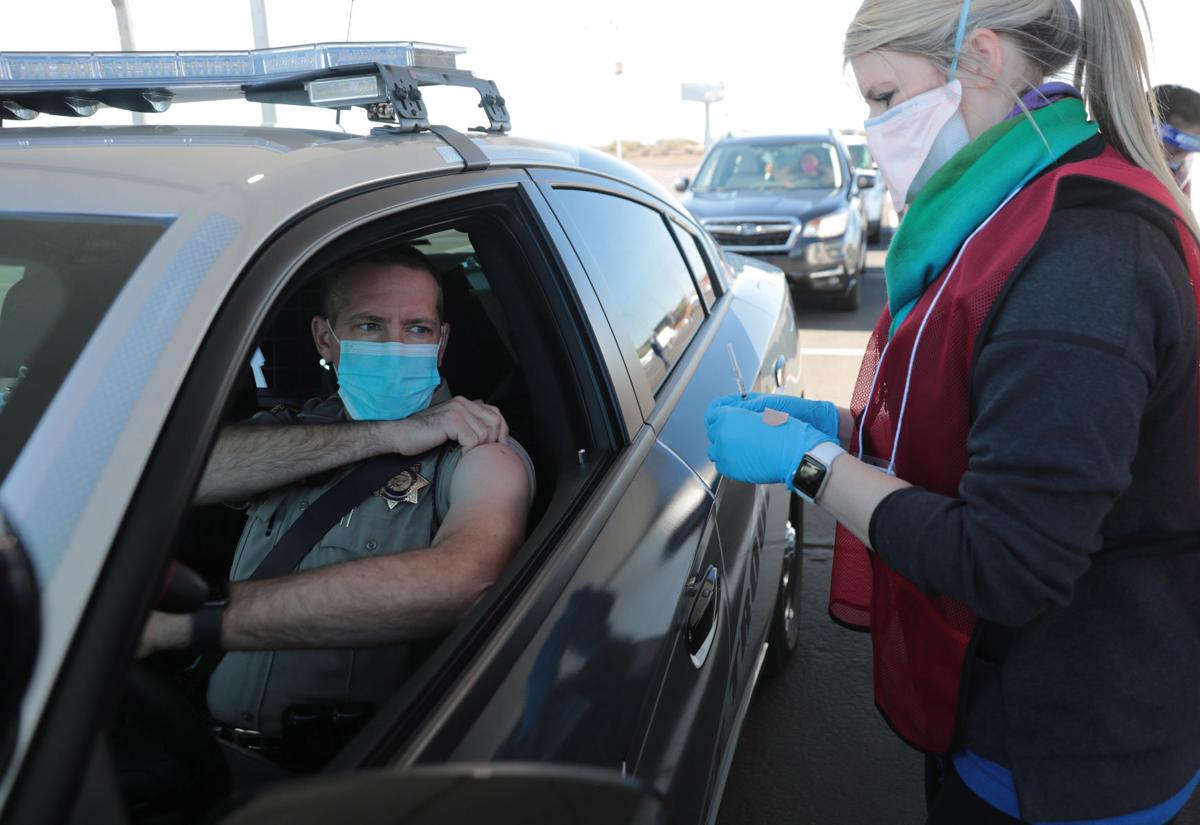 The Pima County Health Department released a plan Tuesday that will eventually include vaccinating up to 12,200 people per day against COVID-19 and could be expanded to more than 16,000 per day in the near future.
Near the end of this week, the county plans to begin vaccinating the first portion of the "1B" population, which includes people ages 75 and up who are living at home, as well as law enforcement officers and firefighters, and teachers and child-care workers.
The number of people being targeted in this next phase ranges from 275,000 to 325,000.
Pima County residents who want to get vaccinated here need to register through a site administered by the county Health Department, not through the state's Department of Health Services site.
The county is testing its registration system now and plans to activate parts of it by the end of the day Wednesday, Jan. 13. Registration for the county's system can be found at www.pima.gov/covid19vaccine, including three registration links that will be made live today, likely toward the end of the day.
"If you want to get vaccinated for COVID-19, you will be. It will take time to work through the prioritization plan, and there have been and will be frustrations with the system," said Mark Evans, director of communications for the county.
"But we are confident that by the end of June, everyone who wants a COVID-19 vaccination will have received one," he said.
In the meantime, there are several problems the county is trying to address.
One is that there isn't enough vaccine currently available to meet the county's long-range goals, County Administrator Chuck Huckelberry wrote Tuesday, Jan. 12, in a memo to the Board of Supervisors.
However, the county is supposed to start getting a weekly allotment, currently 12,000 doses a week, and that amount is expected to increase over time, Evans said.
Another challenge is getting people registered without having systems crash.
Registration in other parts of the state and country have been delayed when too many people try to register at once, and so Evans said officials are working on building durability into the systems here to avoid crashes.
"It's difficult to duplicate having hundreds or perhaps thousands of people try to access the system at the same time," he said. "We're doing everything we can to make sure the registration systems can handle the demand."
Another issue is funding. The county will need to pay upfront for the vaccination effort out of its general funds, said Supervisor Sharon Bronson. There is currently no federal or state money that's been made available even though there is money earmarked for these efforts, Bronson said.
The federal Consolidated Appropriation Act of 2021 recently allocated $66 million to Arizona for the vaccination process and $419 million has been sent to Arizona for testing.
"These amounts should be appropriately and proportionately passed through the state to local county public health agencies who are incurring both vaccination and testing costs at a pace that is now the highest since the COVID-19 pandemic began," Huckelberry wrote. "When and how these funds will be distributed remains a mystery at this point in time."
C.J. Karamargin, director of communication for Gov. Doug Ducey, did not specify when the money will be released to the state's 15 counties.
"Vaccination is our top priority and requires the efforts of both the state and counties," Karamargin said. "We will be assessing vaccination efforts across the state and ways to support and expand vaccination options using the new funding."
Without the funds disbursed, and with "no plan at the state or federal level," Bronson said, "that makes it very difficult for us in the 15 counties in Arizona tasked with delivering this (vaccine)."
Currently, the focus is still on immunizations for health-care workers and assisted-living facilities as part of phase "1A."
"The most immediate way to reduce the present overtaxing of hospital capacity is to quickly vaccinate those individuals 75 years of age or older since they are the ones most likely to require hospitalization and intensive care if infected," Huckelberry wrote.
People in that age group will be prioritized, he wrote, and ideally they will receive their vaccine at sites that are within, near or adjacent to full service medical facilities so they can get help quickly if they have a reaction.
With this in mind, Huckelberry wrote, Banner-University Medical Center Tucson, Tucson Medical Center and Kino Sports Complex will prioritize vaccinating those 75 and older.
The plan so far also includes teachers and child-care workers getting their vaccinations at the University of Arizona site that's being established, and the Tucson Convention Center will be used for people who work in law enforcement and as firefighters.
The Rillito Racetrack site, which has also been discussed by the county as a mass vaccination site, will likely be used for the balance of the 1B rollout, including essential workers.
Evans said it doesn't matter how far in advance people sign up, and that in a few weeks county officials hope to have same-day appointments available. None of the vaccination sites will be open for 24 hours a day. There will be specific hours at each of the sites, Evans said.
Photos: Pima County health-care workers get COVID-19 vaccine
TMC workers get COVID-19 vaccine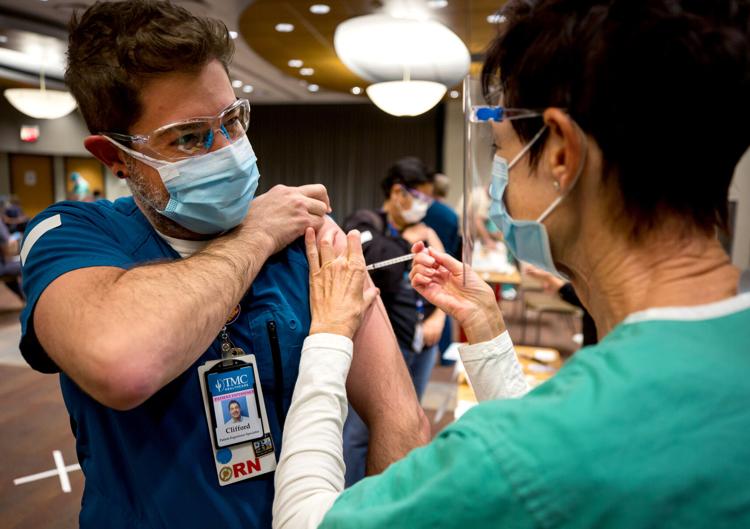 TMC workers get COVID-19 vaccine
UMC workers get COVID-19 vaccine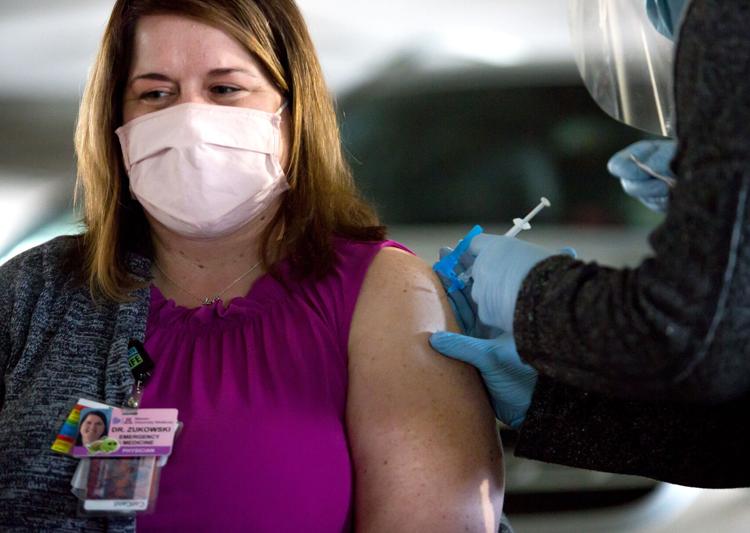 UMC workers get COVID-19 vaccine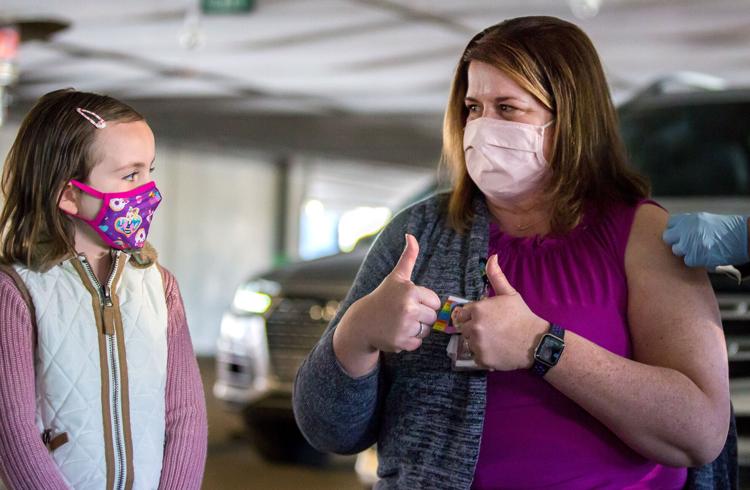 TMC workers get COVID-19 vaccine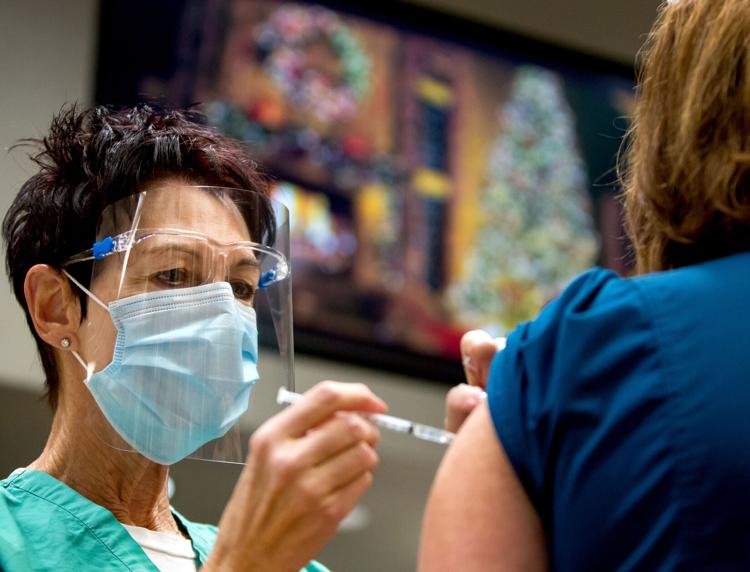 UMC workers get COVID-19 vaccine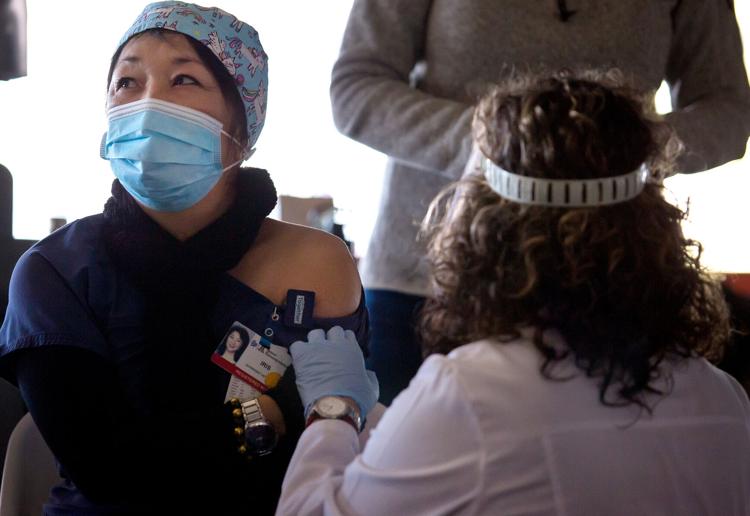 UMC workers get COVID-19 vaccine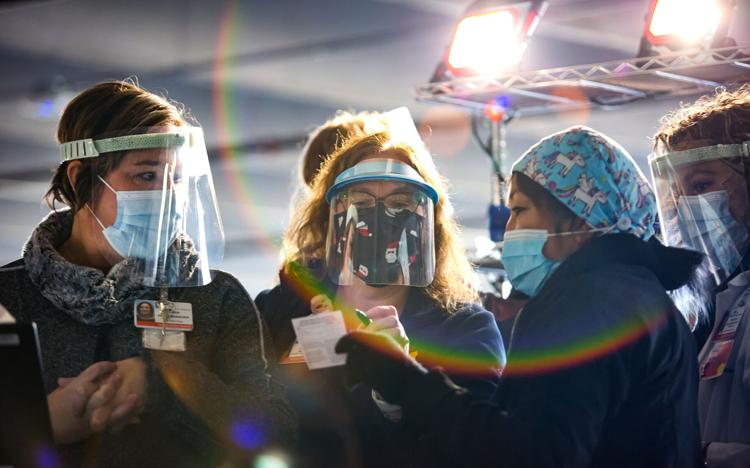 TMC workers get COVID-19 vaccine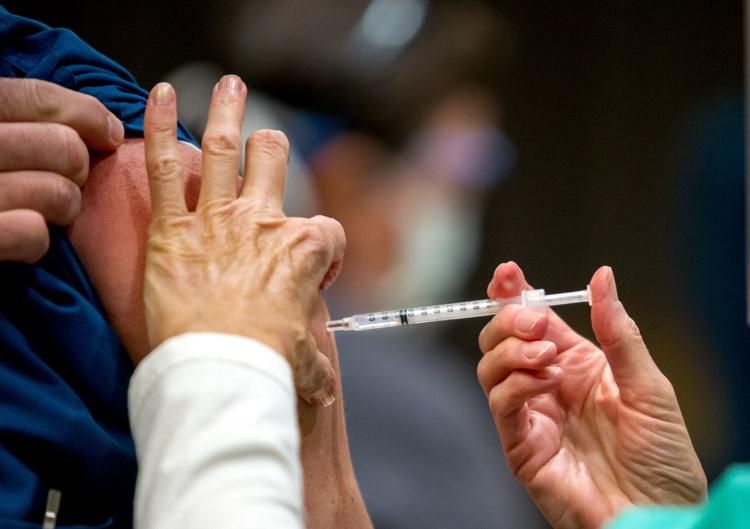 UMC workers get COVID-19 vaccine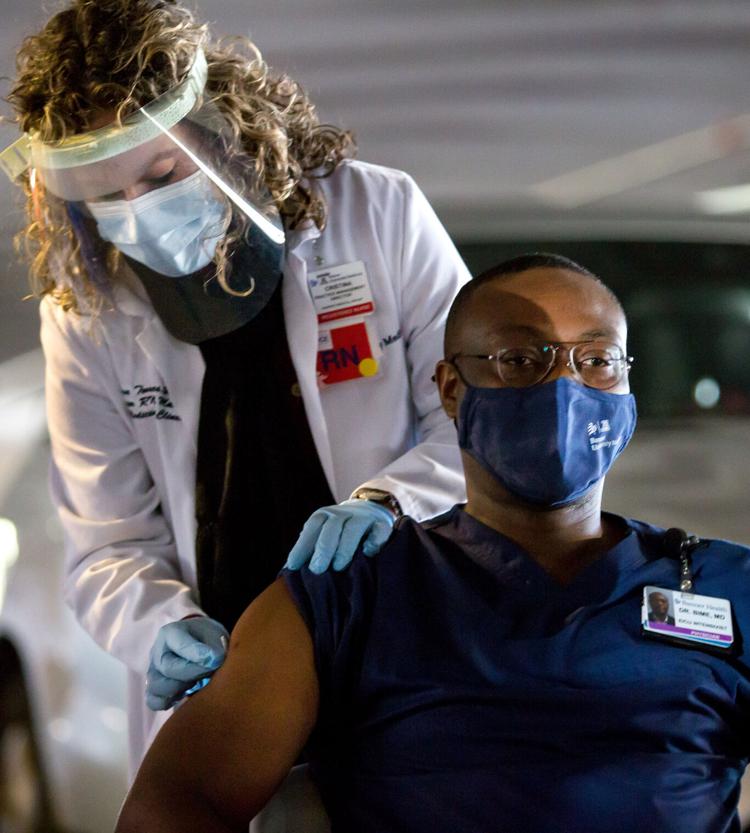 UMC workers get COVID-19 vaccine
UMC workers get COVID-19 vaccine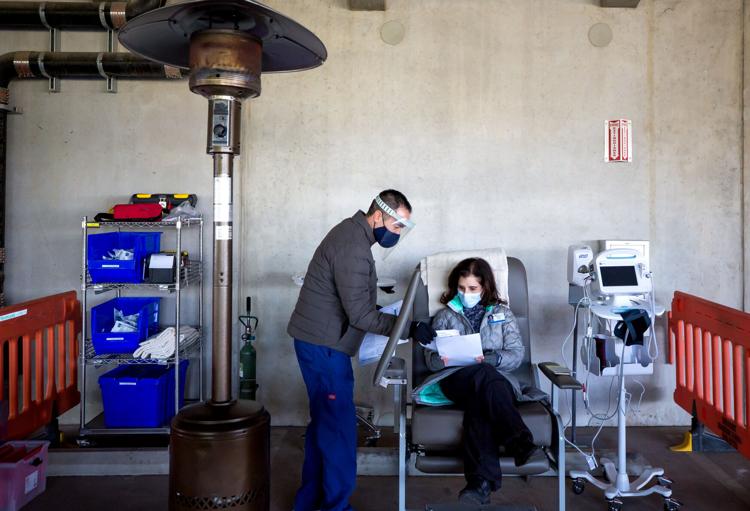 TMC workers get COVID-19 vaccine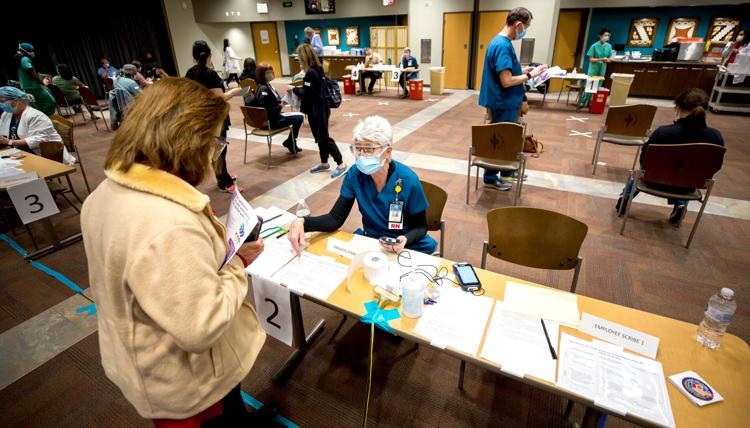 TMC workers get COVID-19 vaccine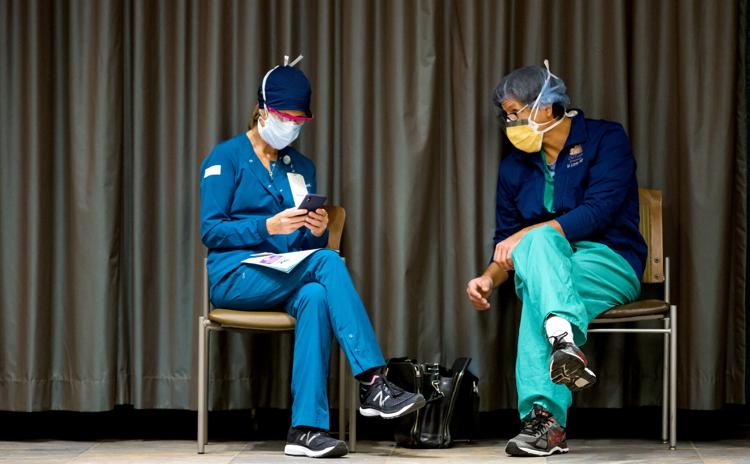 TMC workers get COVID-19 vaccine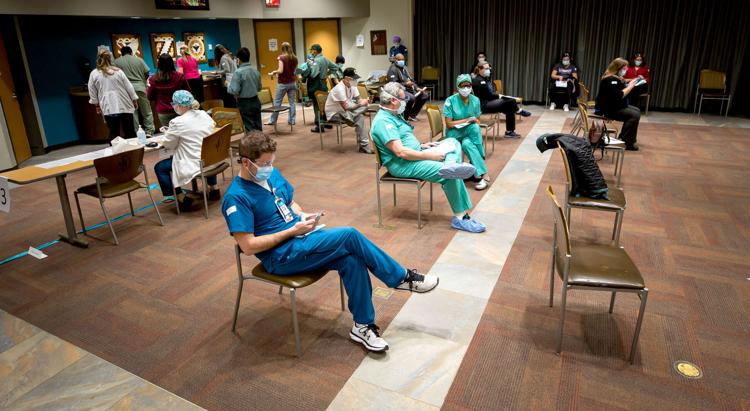 TMC workers get COVID-19 vaccine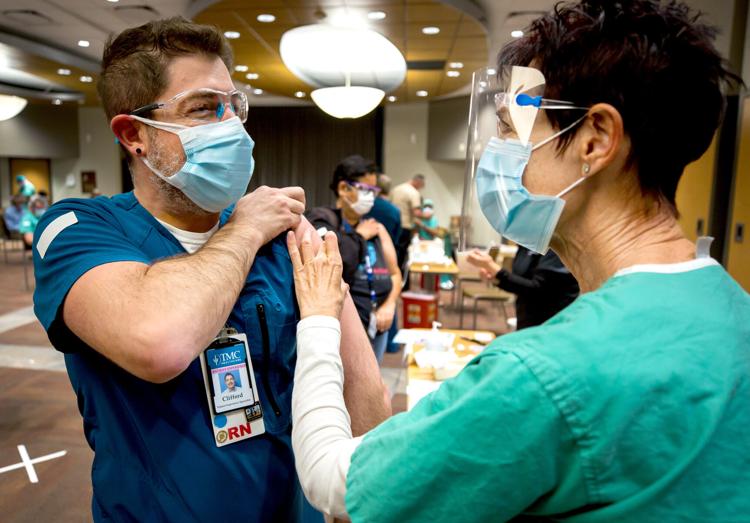 TMC workers get COVID-19 vaccine