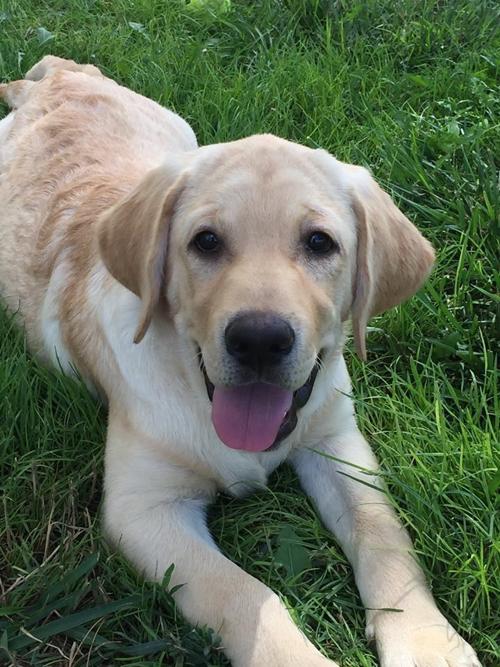 A yellow Labrador retriever puppy is the newest member of the Pima County Sheriff's Department and will be deputized as its first therapy dog.
The 4-month-old pooch — who still has no name — will be assigned to the Mental Health Support Team unit to team up with Detective Shawn Degan.
Meanwhile, the sheriff's department is taking nominations to name the puppy. Submissions can be left on the department's Facebook page under the "Name Our Dog" post in comments. Nominations will be accepted until 5 p.m. Sunday, Sept. 3.
The winning name will be revealed on the department's Facebook page soon after the contest, and the person who made the nomination will get to meet the puppy and receive some items.  
Before the pup begins his duty, he must go through obedience school. He will begin classes in mid-October, which will be followed by more rigorous training, including how to enter buildings, said Sgt. Jill Isely, supervisor of the Mental Health Support Team unit.
The dog will then be trained as a therapy animal, and learn how to be a first responder to crime scenes. The training will take about a year. In the meantime, he will accompany Degan to work and "get used to activity and being around people. He will get a feel for the job, but will not be deployed as a crisis response canine" until he is ready, Isely said.
That should be by next April when he will respond with his partner Degan to scenes including shootings, crashes, fires and calls to mental health crisis situations. The dog's job is to help people who have experienced traumatic events calm down, said Isely.
A therapy dog can help in circumstances where vulnerable victims or witnesses are having a difficult time opening up or coping with tragedy. The dog can provide comfort, distraction and even a measure of relief at incidents involving injury or loss, Isely said.
"If we determine the situation is appropriate, the dog will be brought out and victims, including witnesses, can pet the dog, sit with the dog and even throw a ball to the dog. We want to help them relax," said Isely, adding that the dog will interact with children, teens and adults.
A therapy dog can also comfort first responders at traumatic events. Studies have shown therapy dogs can bond with a person in a crisis and that interaction "physically brings down the heart rate and blood pressure," said Isely, who learned about the critical work a therapy dog can do by researching the Scottsdale Police Department. Scottsdale police have worked for nine years with Fozzie, a golden retriever, who is a crisis response canine.
The Glendale Fire Department also works with a therapy dog, named Topaz. Isely said the use of therapy dogs in law enforcement is not common in the United States. "I believe the use of these dogs is an untapped resource. We will start our program and then see how successful it is before we branch out," Isely said. She mentioned that therapy dogs are popular among the Royal Canadian Mounted Police.
Isely wrote a proposal for the Sheriff's Department to acquire a therapy dog, and Cenpatico Integrated Care, a behavioral and physical health-care provider in Southern Arizona, awarded a $10,000 grant in July for the crisis response canine program.
The puppy cost $1,000 and the grant will support the program, which includes the dog's training, veterinarian costs, kennels, and daily care and food for the first year, said Isely. "The first-year expenses are the most, and then the dog will be fairly inexpensive to support," she said, adding that the department will pick up the costs, or she will apply for more grants.
"This is the first time we have supported a crisis response dog program," said Greg Taylor, regional vice president of community affairs for Cenpatico Integrated Care.
"The use of an animal helps people work through trauma and get back to their regular lives," said Taylor. "This is a pretty progressive program that more first-responders are looking at to help people recover from trauma."
Contact reporter Carmen Duarte at cduarte@tucson.com or 573-4104. On Twitter: @cduartestar