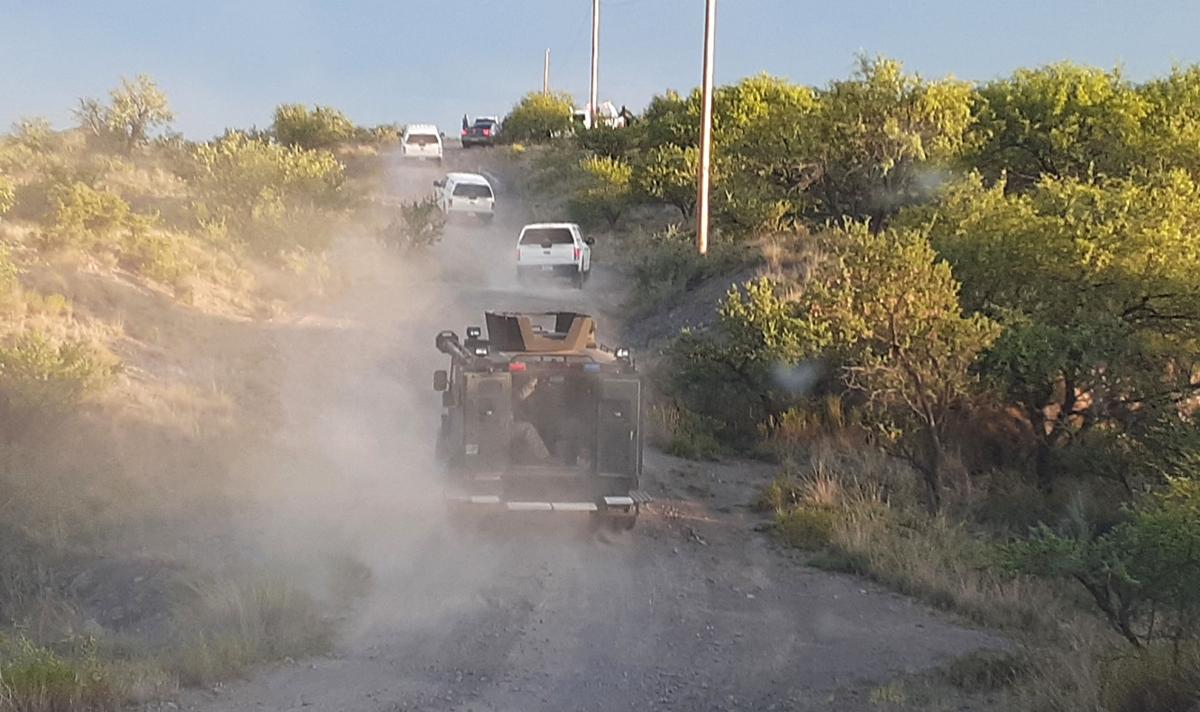 Border Patrol agents in an armored vehicle, two helicopters, and two-dozen vehicles raided a migrant aid camp near Arivaca Friday evening, detaining more than 30 migrants and seizing the phones of volunteers, No More Deaths volunteers said Saturday.
"For two hours, in darkness, they detained and chased people receiving care while a Border Patrol cameraman filmed the scene," according to a news release Saturday from No More Deaths, a Tucson-based humanitarian aid group that has worked in the deserts of Southern Arizona since 2004.
"Last night's military style raid on the aid station is a clear example of Border Patrol's deadly pattern of interfering with humanitarian aid," according to the news release.
The camp was set up more than a decade ago to help migrants recover from dehydration, blistered feet and other maladies common to trekking through the desert. A recreational vehicle serves as the office, solar panels power a refrigerator, and a couple dozen beds, some of which are supported by green milk crates, are tucked inside large tents.
Border Patrol officials say the camp encourages illegal border crossings and smuggling.
The Border Patrol confirmed that agents executed a federal search warrant on the No More Deaths camp near Arivaca on Friday. Upon entering the camp, agents found "over three dozen illegal border crossers," according to a statement from the Border Patrol's Tucson Sector. The agents were supported by Customs and Border Protection's Air and Marine Operations Tucson Air Branch.
The roughly three dozen people were taken into custody and are being processed for suspected violations of federal immigration laws, according to CBP spokesman John Mennell.
During the raid, agents detained the volunteers at the camp, including some who were restrained with plastic zip-tie handcuffs, according to Sara Vazquez, a Tucson physician and long-time volunteer with No More Deaths.
No volunteers were arrested or charged with a crime, Vazquez said. They were released when agents finished searching the property.
No More Deaths volunteers said agents refused to show the search warrant when the agents entered the camp, which is located on private property. Volunteers later were shown a copy of the warrant, which they said "specified the seizure of all cell phones and paperwork, in a clear attempt to suppress documentation of their actions," according to the news release from No More Deaths.
The Friday evening raid came after agents set up surveillance of the camp on Thursday morning, including a checkpoint on the road outside the camp to search vehicles as they left the camp.
Roy Villareal, chief patrol agent for the Tucson Sector, said in a Friday afternoon tweet that agents "detected a group of suspected border crossers moving north from the international border southeast of Arivaca" on Thursday.
Agents tracked the group until they reached the No More Deaths camp, Villareal said. On Thursday morning, agents detained a woman suspected of crossing the border illegally. Villareal said that incident occurred "just outside the perimeter of the camp."
Vazquez said Villareal's description was "not accurate" and agents detained the person "well within the boundaries of the camp" without obtaining a warrant.
The incident on Thursday morning was "likely retaliatory" for documents No More Deaths released Wednesday, said Paige Corich-Kleim, a volunteer with the group.
On Wednesday, No More Deaths released a pair of emails they obtained through a Freedom of Information Act request that showed agents discussing a similar incident in June 2017 at the same camp in Arivaca.
In June 2017, agents said they tracked four sets of footprints for 18 miles until they led into the camp, which is on private property. Agents waited for two days outside the camp, but could not get consent to enter the property. They then obtained a search warrant, entered the property and arrested four men suspected of crossing the border illegally.
In one email released Wednesday, an agent who No More Deaths volunteers believe is a high-ranking member of the Border Patrol agents union, asked the head of Customs and Border Protection to end "diplomacy" with No More Deaths during the June 2017 raid.
The second email indicated two agents with the Border Patrol's tactical unit, known as BORTAC, "helped out in an advisory capacity" to "hit the No More Deaths/No Mas Muertes camp" in June 2017. That unit has come under increased scrutiny after they clashed with protesters in Portland, Oregon, in recent days.
The accusation that Friday's raid was retaliatory stems from a January 2018 incident when Border Patrol agents raided a No More Deaths aid station in Ajo, hours after No More Deaths released video showing Border Patrol agents destroying water bottles for migrants in the desert.
Agents arrested No More Deaths volunteer Scott Warren and two Central American migrants. The migrants were deported and Warren was charged with human smuggling. He was acquitted in November after a high-profile trial at Tucson's federal court.
Get local news delivered to your inbox!
Subscribe to our Daily Headlines newsletter.