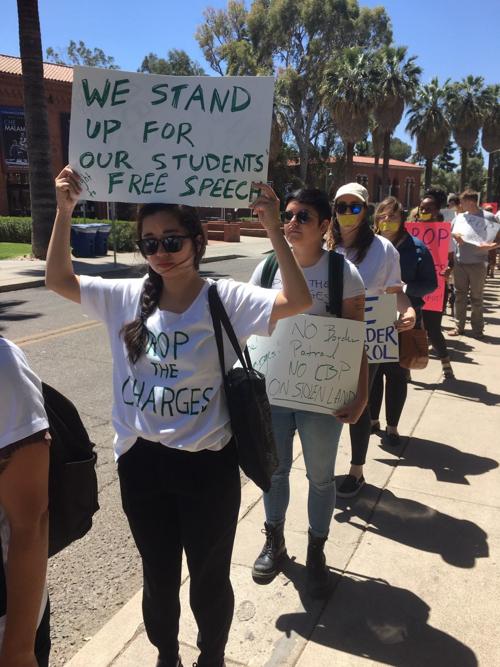 The Pima County Attorney's Office has decided not to pursue criminal charges against three University of Arizona students involved in an on-campus confrontation with Border Patrol agents.
The students confronted the agents on March 19 while the agents spoke to a student-run club for criminal-justice students. Several students in the hallway outside the classroom called the Border Patrol an "extension of the KKK" and then chanted "murder patrol" as the agents walked out of the Modern Languages Building and drove away.
Three students, Denisse Moreno Melchor, 20, Mariel Alexandra Bustamante, 22, and Marianna Ariel Coles Curtis, 27, were issued misdemeanor citations by UA police for interfering with the peaceful conduct of an educational institution. Moreno also was issued a citation for threats and intimidation.
Moreno and Bustamante were scheduled to be arraigned in Pima County Consolidated Justice Court Monday morning, but the hearings were vacated, court records show.
The Pima County Attorney's Office filed motions on Friday to dismiss the charges against the three students, Chief Deputy County Attorney Amelia Cramer said in a written statement. The motions asked a judge to dismiss the charges without prejudice, meaning they can be brought again.
The charges were filed by UA police, not the County Attorney's Office, Cramer noted.
The three students said they were "happy to announce our charges have been dropped" and called it "truly a community victory," according to a news release the students sent out Monday.
"We know that this was only made possible by the massive community support we have received, both on campus and off," the students said.
Supporters have been "flooding" the County Attorney's Office in the last week with calls to drop the charges, the students said. Callers also demanded that the UA stop its efforts to "criminalize and silence students."
In response to the students' claim, Cramer said: "Pima County Attorney Barbara LaWall does not make prosecutorial decisions based upon public lobbying efforts."
The decisions to file the motions to dismiss the charges against the students "were made by the County Attorney based upon a careful review of the facts and the law and the relevant circumstances in each case," Cramer wrote.
The UA informed the County Attorney's Office that the university will conduct an administrative investigation, Cramer said. The students will be able to participate in a hearing before an administrative fact-finder, as will the victims, she said.
In a statement Monday, the UA said: "The University is aware of the Pima County Attorney's determination in the March 19th incident involving our students. We respect the decision and will continue to follow our processes and the law. The University is moving forward with the Dean of Students' process review of the incident per our policies."
Details of any code of conduct inquiry would be confidential, under federal law, UA spokesman Chris Sigurdson said.