The city of Tucson is holding SheTech Explorer Day for high school girls to engage with science, technology, engineering and math fields through hands-on activities with industry mentors and learning about STEM careers.
SheTech Explorer Day, which will be held virtually on April 22, is expected to draw approximately 150 girls from high schools throughout the region, a news release said.
Participants will attend workshops hosted by STEM professionals and higher education partners at Pima JTED, the University of Arizona, Paragon, FreeFall Aerospace, Microsoft TEALS, Edmund Optics, NP Photonics, Darling Geomatics, IBM and more.
Students will also hear keynote addresses from Katie Schwertz, design engineering manager at Edmund Optics; president and CEO of Tucson Electric Power Susan Gray; as well as speeches from Sen. Kyrsten Sinema, Tucson Mayor Regina Romero and Vice Mayor Nikki Lee.
The event is presented with support from Raytheon, Pima Community College, Tucson Electric Power, Brink Media, Pima County, Tech Parks Arizona and Optics Valley.
Students, parents or schools interested in getting involved can go to tucne.ws/1hbu.
Cox to award $35,000 in scholarships to seniors
High school seniors can apply for one of 10 $3,500 Cox Diversity scholarships.
Applicants should be on track for graduation with a minimum 2.5 grade point average, have demonstrated leadership and community service, and submit an essay about a leader from their respective diverse community. The deadline to apply is May 1.
Cox will present $35,000 in scholarships to students, in partnership with the Southern Arizona Aids Foundation, Women's Foundation of Arizona and YWCA Southern Arizona, YWCA Maricopa County, ACEL, Be a Leader Foundation, NAACP Maricopa Branch, One n Ten, Black Chamber of Arizona and Chicanos Por La Causa.
"Helping students achieve their educational goals helps make our communities stronger," said Lisa Lovallo, market vice president for Cox, Southern Arizona.
Students, teachers win nearly $128,000 at SARSEF events
Arizona students and some teachers earned $127,534 in scholarships and prizes at SARSEF events in March, including $117,809 in awards and scholarships given to students and teachers during the 66th SARSEF Science and Engineering Fair Powered by TEP.
The fair showcased the work of 2,900 students, prekindergarten through high school, from across Southern Arizona.
"My favorite part was actually the challenge," said SARSEF winner Amanda Whalen, a high school student from Veritas Christian Community School in Sierra Vista. "For the first time in my life, I constructed something without any help, which is out of my comfort zone, and I succeeded in creating something at least semifunctional. I cannot describe the joy that brought me. To top it all, my hypothesis was confirmed. I felt like a scientist and an engineer, and I felt hopeful for my future in STEM."
Whalen designed and built a wind turbine tower that utilized the structure of a saguaro cactus to determine if the pleats and spines would better utilize winds to produce more electricity, a news release said.
Whalen is one of eight high school students who will continue on to compete at the Regeneron International Science and Engineering Fair, including Tucson students Ethan Lee and Esha Mathur from University High, Karah Mayer from Tanque Verde, Isabel Ross from Cienega, Aaron Trinh from Canyon del Oro, home-school student Alexander Nelson and Yuma student Andrea Romero from Harvest Preparatory Academy.
For the first time, SARSEF also hosted the Arizona Regional Junior Science and Humanities Symposium, where students earned $9,725 in awards and scholarships.
Five students will continue on to compete at the National JSHS competition, including Tucson students Samira Nassi Celaya from Tucson High, Megan Bime from Catalina Foothills and Isabel Ross from Cienega, as well as Phoenix-area students Ella Wang from Basis Chandler and Arun Moorthy from Basis Scottsdale.
Photos: Girl Scouts put their technical skills to the test during Cyber Challenge in Tucson
Girl Scout Cyber Challenge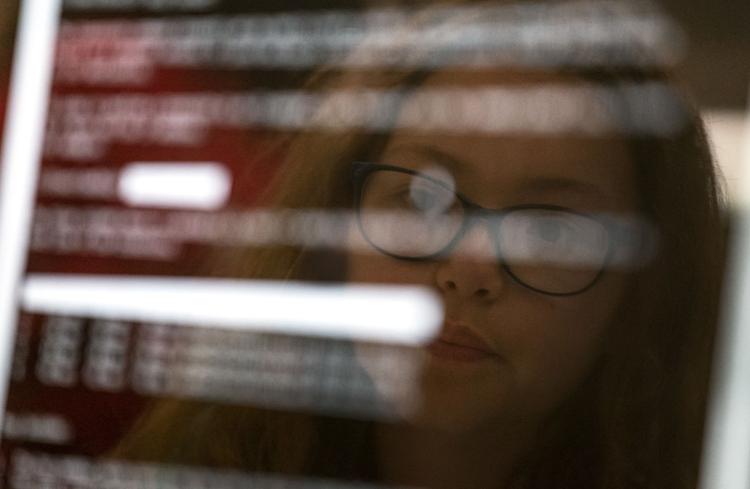 Girl Scout Cyber Challenge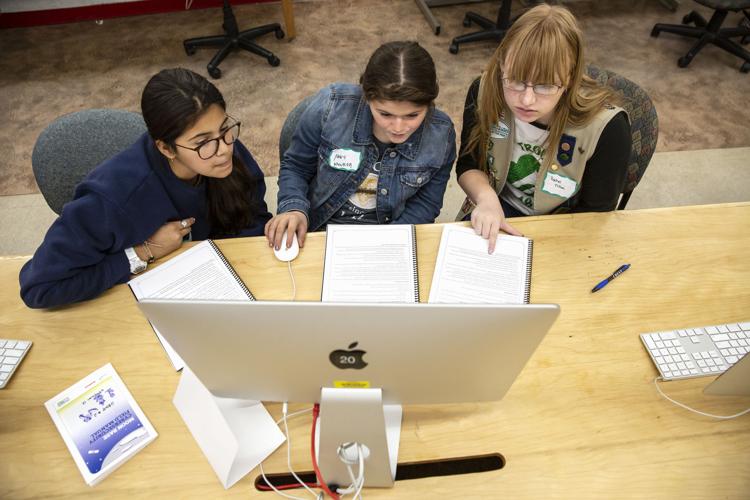 Girl Scout Cyber Challenge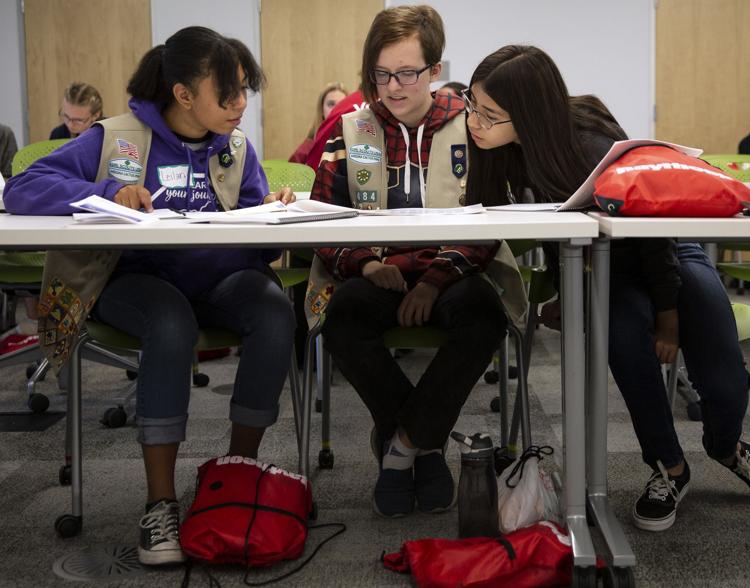 Girl Scout Cyber Challenge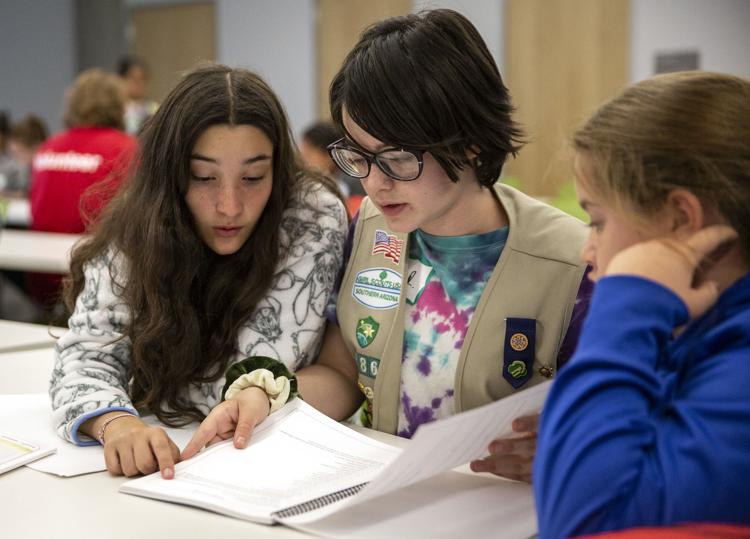 Girl Scout Cyber Challenge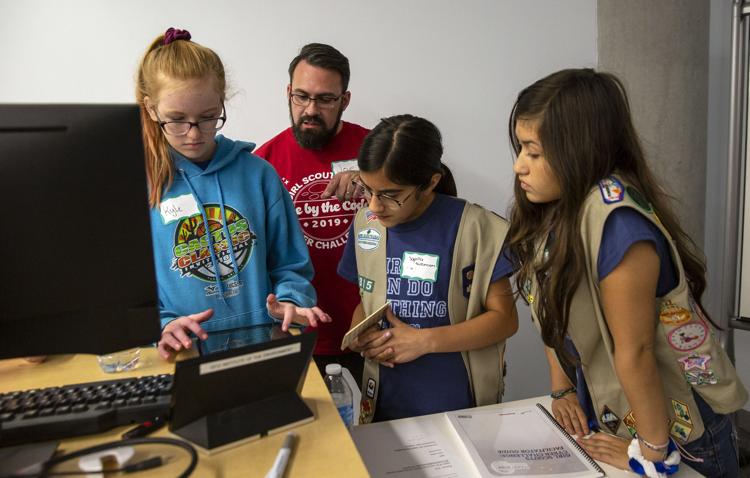 Girl Scout Cyber Challenge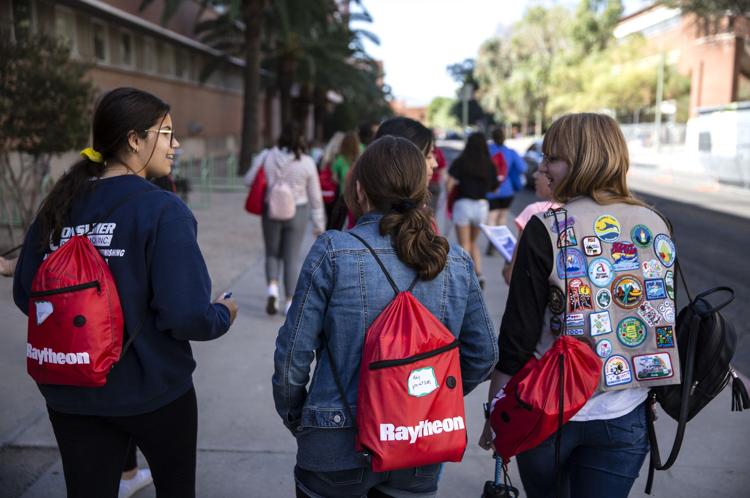 Girl Scout Cyber Challenge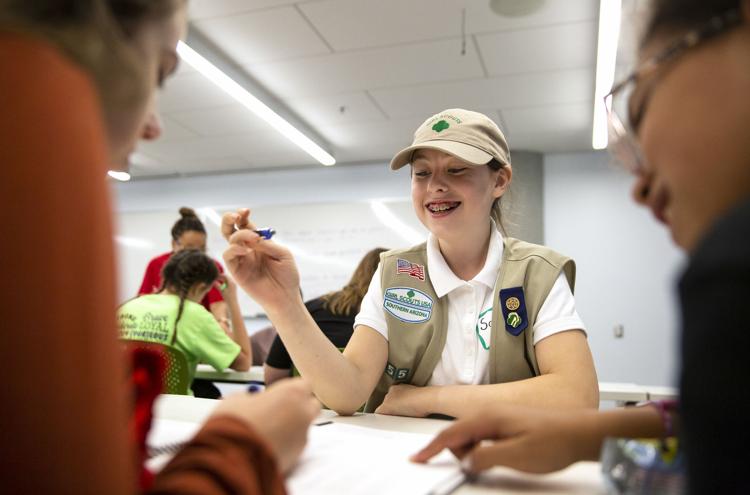 Girl Scout Cyber Challenge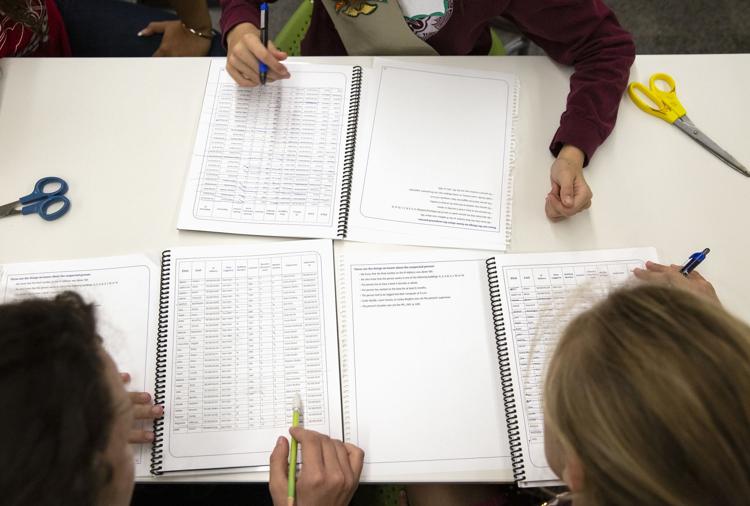 Girl Scout Cyber Challenge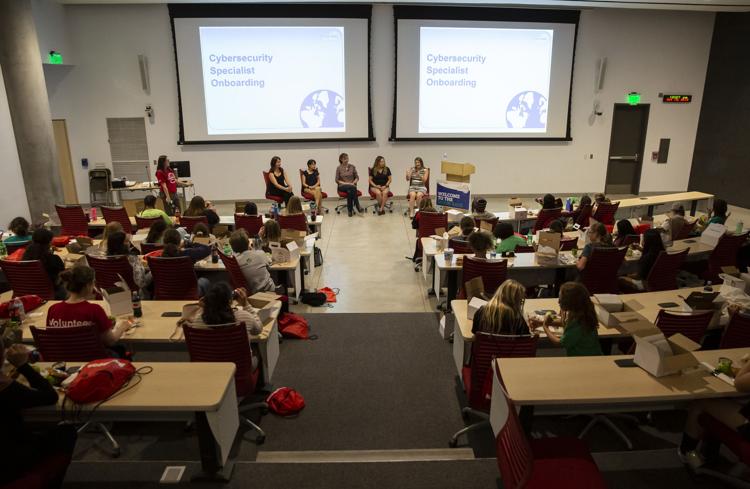 Girl Scout Cyber Challenge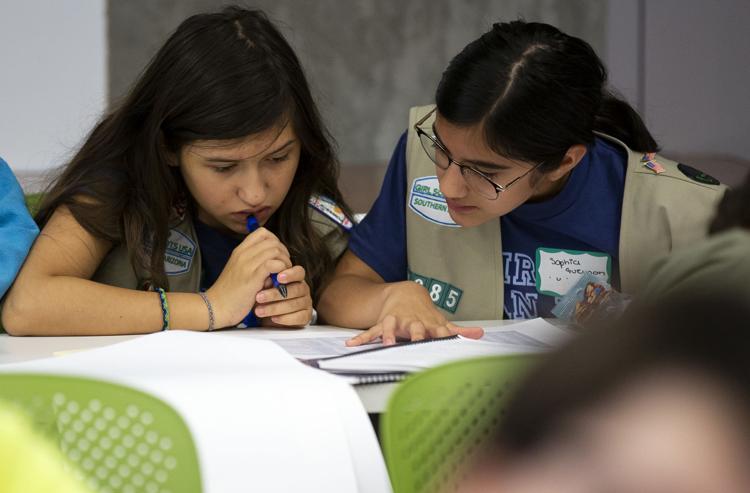 Girl Scout Cyber Challenge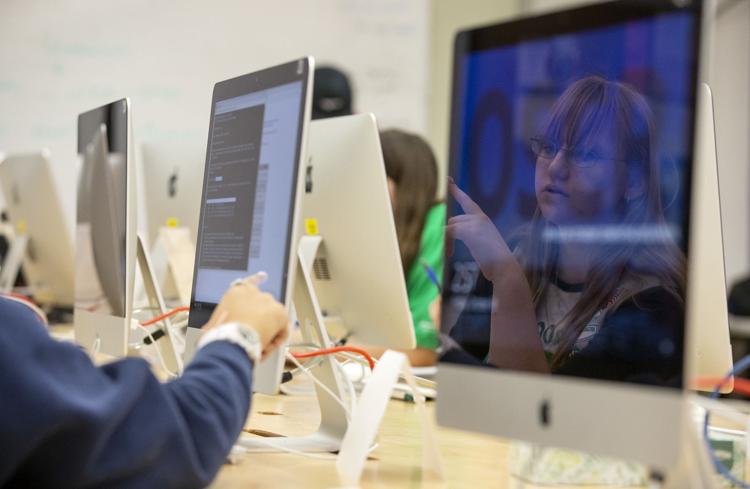 Girl Scout Cyber Challenge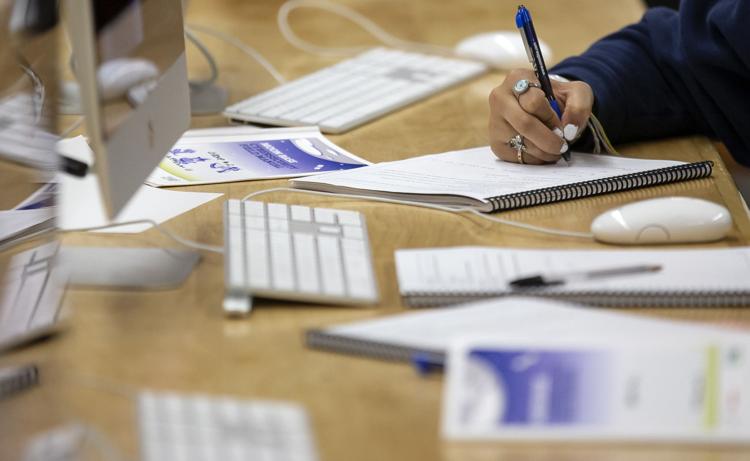 Girl Scout Cyber Challenge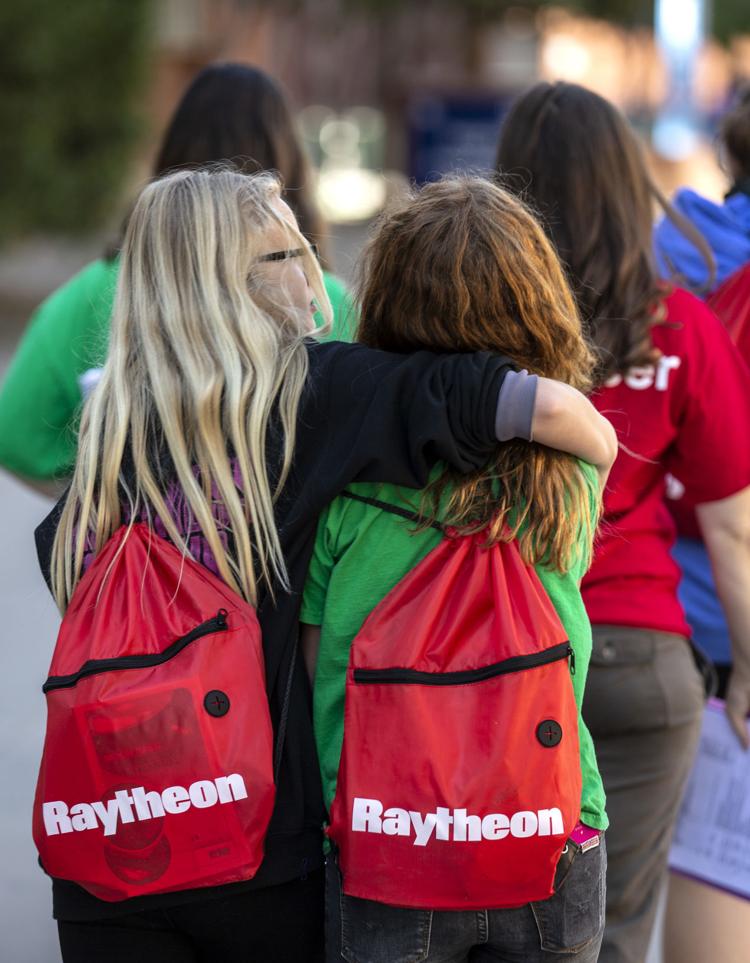 Contact reporter Danyelle Khmara at dkhmara@tucson.com or 573-4223. On Twitter: @DanyelleKhmara