Faith groups and Tucson city officials are asking the local community for help as the end date approaches for housing Central American migrant families at the former Benedictine Monastery.
The former monastery will be available through July, when it will be turned into housing and retail by a developer, Tucson Mayor Jonathan Rothschild told about 50 people gathered inside its chapel Friday morning.
The goal of the meeting was a "call out to the community" for help finding a shelter, or several small shelters, to take in families after they are processed and released by federal agencies.
"It would not be right to leave several hundred people at a closed bus station in the middle of the night with no food or water, with small children and no knowledge of our city," Rothschild said.
Since January, more than 7,500 migrants from Central American countries have been housed at the former monastery after being released by the Border Patrol and by Immigration and Customs Enforcement, said Teresa Cavendish, director of operations at Catholic Community Services of Southern Arizona.
The number of migrants who need shelter rises and falls, Cavendish said. The "new normal" since January is 60 to 120 migrants released each day by federal agencies. In the last week or so, the numbers dropped to about 40 per day, but she expected 100 on Friday.
The Casa Alitas program Cavendish oversees is staffed by more than 400 volunteers, she said, calling them "some of the finest people I have ever met in my life." They help make phone calls to families in Guatemala and Honduras, organize donations, cook food, draw with children and take part in numerous other activities.
She asked for help in "showing the real heart of the Tucson community" in the final months at the monastery and at shelters elsewhere in the city.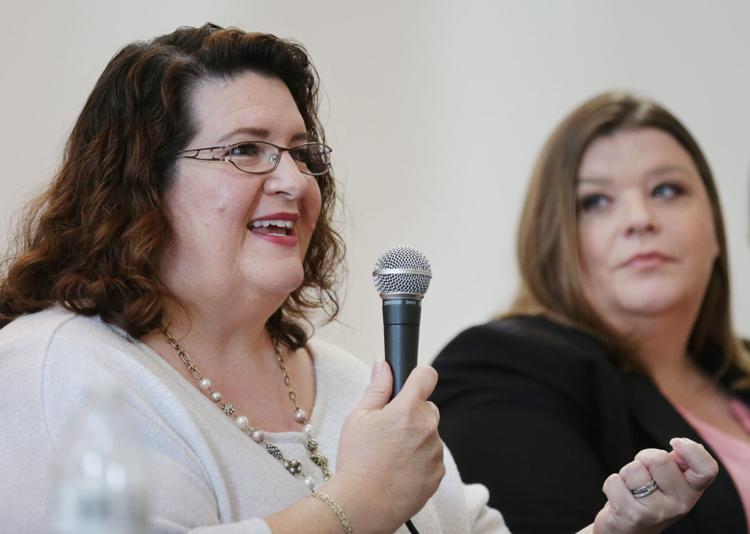 City Councilman Steve Kozachik stressed the precarious situation in which migrant families find themselves. Many fled gang violence in Guatemala and spent days or weeks on the road. They need shelter for a few days in Tucson before traveling to their final destinations in the United States.
"We're not talking about a family who's on vacation and understands what's happening to them," Kozachik said. "We're dealing with people who are incredibly scared."
Kozachik said it is unlikely another facility as large and well-equipped as the former monastery will be found, which increases the need for more shelters and volunteers.
Bart Smith, pastor of St. Mark's Presbyterian Church, said his congregation had converted the church's eating area into "Hotel San Marcos" for migrant families.
Smith said the decision to help migrants was made in Tucson's tradition of "welcoming the stranger." Instead of migrants being seen as a threat or a burden, "These folks are blessings."
Citing his church as an example, Smith said small "satellite" shelters could make a difference.
"Don't let the numbers scare you," Smith said.
Rothschild said the Jewish Federation of Southern Arizona offered to match $25,000 in donations to buy food, shoes, backpacks and other items.
In response to questions from reporters, Rothschild said the city government and Pima County are working to see if federal funds could be used to help house migrant families. Arizona state officials said the city should "keep a record of expenses," he said.
If necessary, city facilities will be available as shelters, Rothschild said. The city spent about $20,000 over the Easter weekend after opening a city recreation center to migrants. Most of that cost came from overtime pay, he said.
Marcy Flanagan, director of the Pima County Public Health Department, said, "We're not seeing them come with communicable diseases."
Instead, the migrants mostly have needed medical help with injuries, fatigue, dehydration and other effects of their long journey.
In a news release Friday, the Registered Nurse Response Network said nurses would arrive in Tucson on Friday to provide medical aid during an expected increase in migrant arrivals. The network is a disaster-relief effort by the California Nurses Foundation and first started sending teams of nurses to Casa Alitas in February.