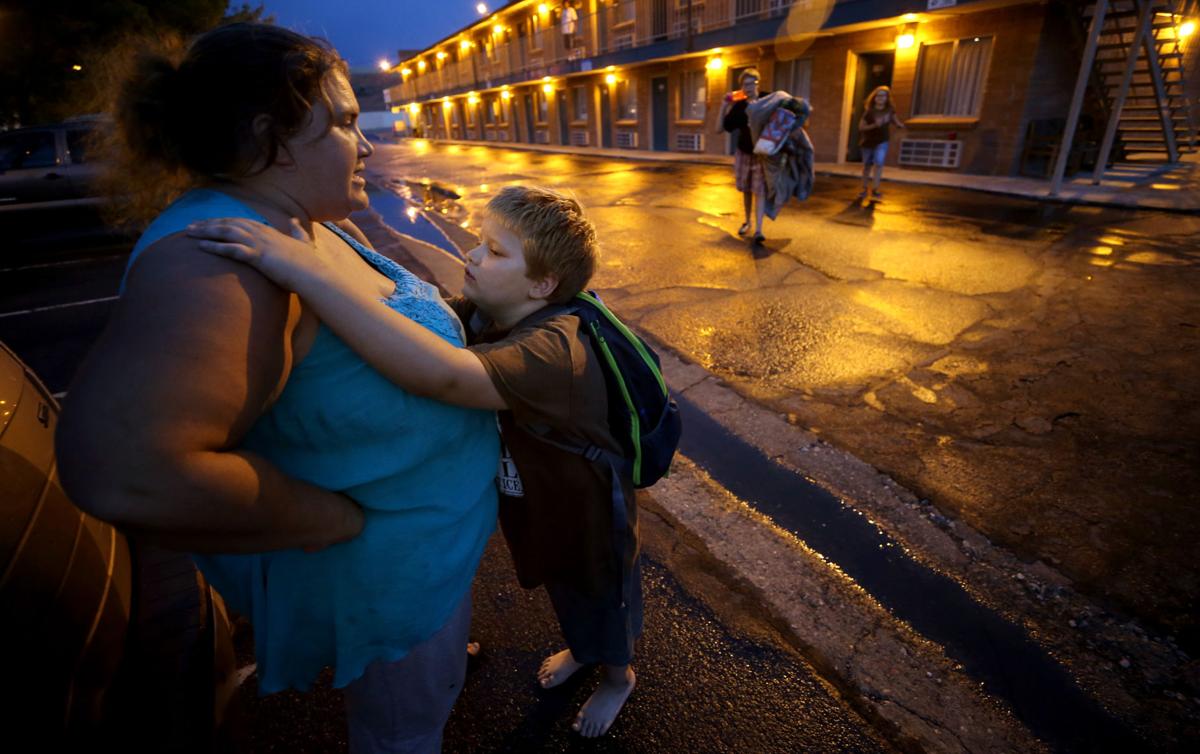 Seeking the desert climate, Donna and Derek Wilson moved their five children from southeast Texas to Tucson this summer.
The dilapidated mobile home they rented at 110 E. Prince Road needed serious work, the couple admits. But it was walking distance to public schools and it seemed to have the makings of a home.
"I cringed a little bit, but I was happy we had our own place," Donna Wilson said. "We were gonna fix it up."
They quickly realized the trailer's problems were more than cosmetic when monsoon rains streamed through leaks in the roof throughout July.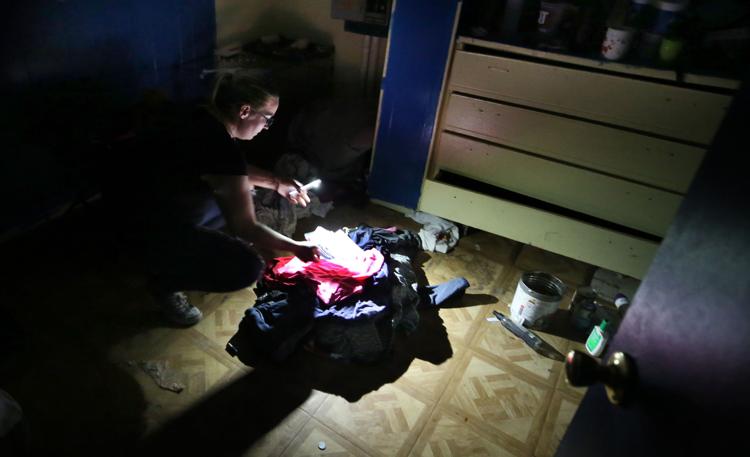 Now the family is fighting to avoid homelessness, after city code enforcement on July 31 informed them and two other families that their rented trailers had been condemned as uninhabitable — months before they moved in.
The three families were forced to vacate their homes by the end of the day. Two other tenants whose trailers were condemned during the July 31 code inspection also had to leave immediately.
Rachael Jackson, 33, said her family lived at Prince Road Park for almost two weeks before code enforcement said their trailer had already been condemned. Jackson is the breadwinner for her family, as her husband Joe cares for their three young children.
Jackson said she's now on the verge of losing her job as a pharmacy tech because of all the work she's missed while searching for a new home. One income isn't enough to find decent housing here, she said, and the family has been crashing with friends and moving between cheap motels throughout August.
"It's like you get kicked down as soon as you start making it," Jackson said. "It's been emotionally and mentally draining."
Since they were displaced, the Wilsons have stayed in four different hotels as they scramble to find a permanent place to stay. For more than two weeks, the seven-member family, plus a scrawny kitten named Spooky, was crammed into a single room at the Travel Inn motel on South Freeway Road, rotating who had to sleep on the floor.
"I hate to see anyone else go through this," Wilson said. "We have no money right now. I'm scared. "
OUT-OF-STATE LANDLORD
The Wilsons say they are out $975 between their July rent and security deposit at Prince Road Park. They are hoping to get some of their money back from the park's out-of-state landlord, Todd Kroepel, a real estate investor in Southern California.
Kroepel is managing partner of Arizona-based limited liability company Talazera Holding Group LLC, which owns Prince Road Park. City code enforcement says the park is crime-ridden and filled with uninhabitable trailers.
"I'm not trying to take advantage of people that don't have a lot," Kroepel said in a phone interview last week. "I'm a fair guy. This is an unfortunate circumstance that happened probably due to my lack of supervision. But it got out of control and I don't know how people ended up in condemned units."
Prince Road Park has been on code enforcement's radar, especially after faulty electrical wiring caused a trailer fire a few years ago, said Martin Romero, supervisor with the city's code enforcement department. A call from police investigating criminal activity at the property prompted the July 31 code inspection, he said.
Problems in the condemned trailers included hazardous wiring, broken toilets falling through the floor, roaches, broken cooling systems and roof leaks, Romero said.
"The property owners should be aware of the type of units they are renting out," he said. "We expect the property owners to be in compliance with all of our city codes."
Kroepel said he gave each displaced family $200 to pay for a week in a hotel while they got on their feet.
But one week isn't long enough to find decent permanent housing on a fixed income, all three families told the Star.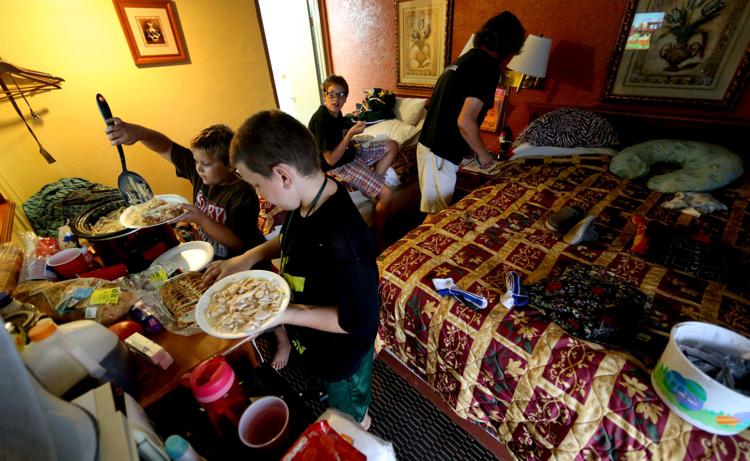 "IT'S BEEN A DISASTER"
Kroepel said he specializes in running apartment complexes and he previously owned a few in Tucson. This month, he sold the Benson Motel on Benson Highway for $525,000, county records show.
He also owns a five-bedroom house in Poway, California, that's worth more than $744,000, according to the San Diego County Assessor's Office.
Kroepel said he bought Prince Road Park under the assumption that running a trailer park would be like managing apartments.
"It's been a disaster and we're trying to sell it. We're just not qualified for a park like that," he said. "We haven't made money on this park for many years."
He said his investors no longer want to invest any money in upgrades to the park, since it's not generating income. Kroepel said too many tenants weren't paying rent, yet he still has to continue to make utility payments for the park.
"It should have been able to be maintained on cash flow," he said. "We were floating many families for free against our will. That's not our business plan."
Kroepel blames one of the park's tenants for renting out the condemned trailers without his knowledge.
"Whoever that woman is, she rented those out on her own," he said. "I don't even know how she got the keys. She was not the manager."
On a recent afternoon at Prince Road Park, that woman, Elizabeth Keith, said she was the latest in a series of tenants who were acting as the park's property manager, with Kroepel's consent.
She maintains that Kroepel asked her to be his "point of contact" and to get more tenants moved into the vacant, money-draining trailers. She said Kroepel refused to pay for any repairs and she did not know which trailers were condemned.
He "refuses to do anything for his tenants and refuses to do anything for his managers," Keith said.
"I got a lot of bad press and I've been trying to help these people as much as I can," he said. "I'm off-site. I don't know the goings-on in the park."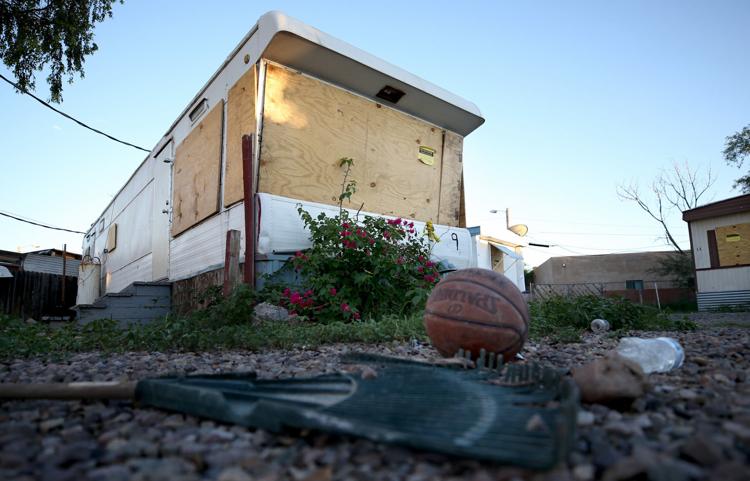 CITY CODE VIOLATIONS
Because Kroepel has the protection of an LLC, city code enforcement can't cite and fine him personally. The department has to work with the city prosecutor's office to cite him through the court system. Code enforcement is still preparing the proposed citations to send to the city prosecutor, but Kroepel's fines will range from $150 to $2,500 per violation, Romero said.
If funding increased, "we'd certainly be more inclined to get more involved," Merritt said. He recalled one egregious mobile home park case in which raw sewage from the park was running down a city street.
"It does affect the safety of the public," Merritt said. "The conditions in some past (cases) were deplorable and frankly, unsafe."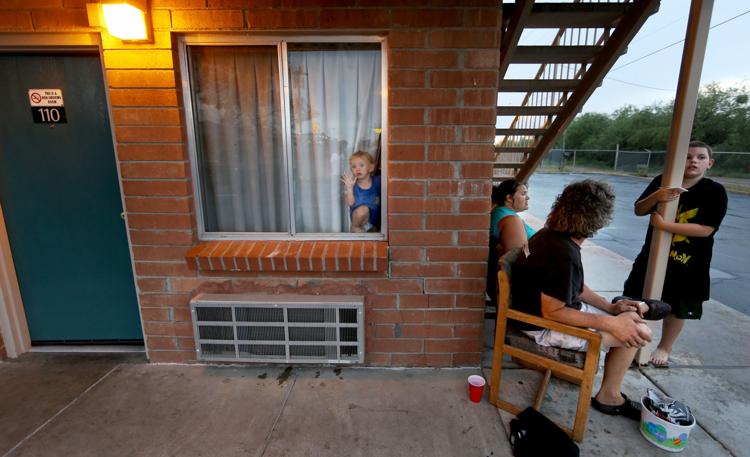 ARGUMENTS OVER RENT
Kroepel initially denied receiving rent payments from any of the three families who were living in condemned trailers on his property. All three families claim they paid rent and a $400 security deposit, but since each family said they paid by either cash or a money order, they are struggling to prove it.
The Wilsons, whose main source of income is Derek Wilson's disability benefit, said they mailed two MoneyGram money orders directly to Kroepel at his home address on July 3.
Both of those money orders were deposited on July 11, according to MoneyGram's automated telephone tracking system.
The Wilsons shared their money-order stubs with the Star: one for their $400 security deposit and one for $575 in rent for July. A Star reporter observed the couple use MoneyGram's phone tracking system to confirm the money orders had been deposited.
The Wilsons would have to pay a fee to request a copy of the deposited money order, which would show who endorsed the money order before depositing it. That request could take weeks to fulfill.
After the Star informed Kroepel last week that the money orders mailed to him had been deposited, Kroepel said he double-checked his business's bank account and discovered he did receive the Wilsons' payments. On Friday, he said he will return their deposit and hopes to return their July rent, if his investors give their approval.
Paying rent by money order is common among low-income tenants who can't afford to maintain a checking account, said James Daube, staff attorney with Southern Arizona Legal Aid.
But the payment method leaves renters vulnerable to accusations of nonpayment, unless they insist on a written receipt up front, he said.
A money-order stub alone isn't proof that the landlord actually received the payment, Daube said.
"It's indicative that you were preparing to pay, but it doesn't prove that you paid," he said. "Even legitimate landlords sometimes are reluctant to give receipts because of the inconvenience of it, but you have to be adamant about that."
"IT WAS OURS"
Displaced tenant Jackson said until recently, she'd managed to shield her children from the reality of their precarious housing situation.
Earlier this summer, they were evicted from another trailer park and had to temporarily live in a hotel. But the kids went to the hotel pool every day and thought they were on vacation, she said.
This time was different. The day code enforcement showed up, Jackson said her kids were interviewed by child welfare workers and her daughter overheard a police officer reprimanding her for letting the family live in squalor.
Jackson said her 5-year-old daughter, Maddy, later tried to comfort her.
"She said, 'You're not a bad mom. It's OK the house wasn't perfect,'" Jackson said. "That was the hardest thing for me. I couldn't try to cover that up for them. They knew what was going on."
Jackson said she has called churches, the Salvation Army and other nonprofits but was told no help was immediately available.
"We've always tried our best," she said. "We got into a place that wasn't great, but it was ours. We could make it ours."
RESOURCES STRETCHED
Most homeless shelters in Tucson are constantly near full capacity and can't meet the demand for services, said Tina Chaput, a coordinator for Gospel Rescue Mission, which has a hotel-style shelter for women and children, and a dormitory shelter for men.
The 103-bed women and children's shelter receives about 25 calls for help a day, and on average has just four open beds each day, she said.
"For those of us who are answering the phones, the hardest thing is having to say no," Chaput said. "It is so frustrating to not be able to accommodate people crying on the phone who are going to be out on the street."
The nonprofit hopes to raise money to build a 200-bed men's shelter, which would nearly quadruple the capacity of its existing men's shelter.
For Robert Bilodeau, 36, losing the $800 he said he paid for rent and the security deposit at Prince Road Park has made it hard to save up enough to rent a decent place. He said he used his $660 Social Security disability payment, plus $140 he earned washing windows, to make the payment.
Bilodeau said he's looking for a job, but he's ashamed that he's had to resort to panhandling to pay for the hotel he and his wife are staying in as they seek a permanent home.
"My money's all gone and it's caused a lot of discord between me and my wife. I'm the one that said, 'Let's trust these people,'" he said. "It was a place I could afford to get into. I just don't want anybody to fall for this again."