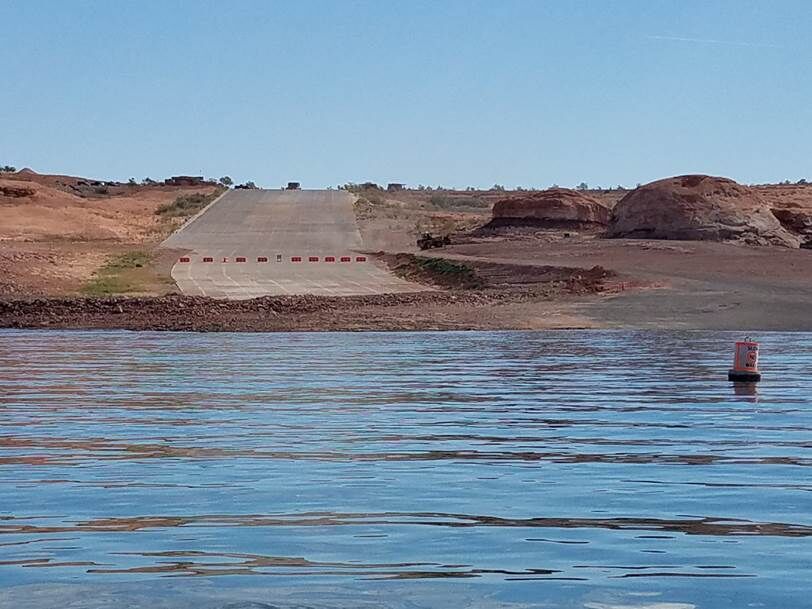 With water levels falling rapidly at Lake Powell on the Arizona-Utah border, federal officials are taking what could be the first of several steps to prop it up.
This month the U.S. Bureau of Reclamation started a six-month effort to raise the lake around 3 feet by the end of 2021 by releasing 181,000 acre feet of water from three upstream reservoirs. It comes as the lake just Sunday fell below its lowest level on record.
The reservoirs are Navajo Lake on the San Juan River in New Mexico and Colorado, Blue Mesa on the Gunnison River in Colorado, and Flaming Gorge on the Green River in Wyoming.
Billed as a trial run, this release is aimed at helping prevent Powell from falling so low that the turbines at Glen Canyon Dam — which backs up the lake — won't be able to generate power.
It comes as the lake on the Colorado River has fallen more than 50 feet in the past year.
The federal government's latest, 24-month study for the Colorado River strongly suggests this release won't be enough to meet officials' long-term goal of insuring that the lake stays at least 3,525 feet high, or 35 feet above the minimum elevation needed to generate power, 3,490 feet.
It predicts Powell will fall 8 or 9 feet below 3,525 next March and April, although it will rise after that as next winter's snowpack melts for the Colorado River's spring and summer runoff.
While authorities can get more water from the upstream reservoirs in the future, a bureau official says doing that will take more planning with the river's Upper Basin states, which share with the feds the responsibility of managing the Colorado River's reservoir system.
Glen Canyon Dam is by far the largest in a system of 11 dams in the West that generate power for 5 million people and more than 341,000 American homes in mostly rural areas of seven states, including Arizona.
While the dam's ability to deliver power is important, the longer-term concern is that Powell's plight raises increasing questions about the Colorado River's ability to keep supplying water to 40 million people in seven states who rely on it for drinking and irrigation purposes, said John Fleck, a University of New Mexico water researcher.
For a long time, Powell has served as a buffer for Lake Mead, which directly supplies drinking water to Central and Southern Arizona, by having relatively reliable releases of water, Fleck said.
But because Powell's level fluctuates more wildly than Mead's due to its reliance on annual snowpack in the Upper Basin, it serves as a leading indicator for the river's conditions. If it has less water, there's less to release downstream to Mead, he said.
"Lake Powell is where problems show up first," said Fleck, director of UNM's Water Resources Research Program. "The power issue is a problem in and of itself, but it's a warning sign of deeper problems."
Responding to Fleck, bureau spokeswoman Becki Bryant said Lake Powell's elevation is just one of many warning signs for the river from 20 years of drought and declining hydrologic conditions.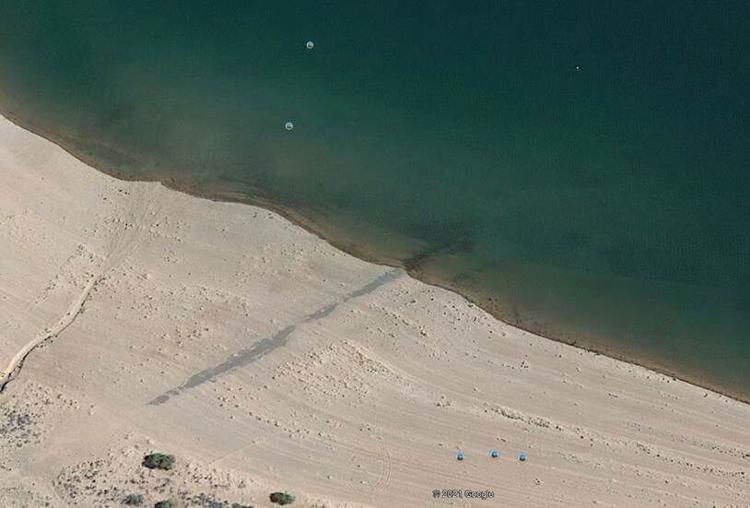 "Reclamation is committed to reducing the collective risk of both Lake Powell and Lake Mead and continues to work with entities in the Colorado River Basin to insure both facilities continue to function as authorized to meet the natural, municipal and agricultural needs of the basin," Bryant said.
Mead also recently hit its lowest level since it started filling in the 1930s and was at 1,067 feet elevation as of Friday. By the end of 2021, it's expected to fall to 1,064 feet.
That's well below the 1,075-foot level at which the reclamation agency must declare the first shortage on the river for 2022, one that will drastically cut Central Arizona Project deliveries to Pinal and Maricopa County farmers.
By the end of 2022, Mead is forecast to drop to 1,047 feet. That elevation will trigger a bigger shortage for 2023 that would cut CAP deliveries to Phoenix-area cities and several tribes, although not to Tucson Water and other Tucson-area municipal CAP users.
Low runoff
On Sunday morning, Lake Powell stood at 3,554.9 feet, four-tenths of a foot below its record low level — since first filling in June 1980 — that was set in April 2005.
One reason it got that low is that it's received back-to-back years of very bad runoff. Scientists have blamed part of the low runoff on human-caused climate change that has warmed the entire region, triggering more evaporation of snowpack and causing it to melt faster.
This year's expected April through July runoff into Powell is 24% of the 30-year average for that period from 1981 through 2010. Last year, runoff into Powell from August through October never exceeded 18% of normal in any of those months.
After Powell hit 3,555 feet in April 2005, it gained up to 50 feet in elevation the rest of the year because the Upper Basin had received a healthy winter snowpack, said Eric Kuhn, a former general manager of a Colorado-based water district.
This time, more ominously, the lake is expected to drop considerably farther for the next eight months before hitting a normal low level next spring, he said.
Turbines at risk
The concern among federal officials and outside observers such as Kuhn is that the closer Powell drops to 3,490 feet, the greater the risk that the dam's turbines could be damaged by cavitation, in which a decrease in water pressure causes air bubbles to enter the turbines.
"It's like shaking a can of Pepsi and opening it up," Kuhn said. "What happens as the pressure drops is that as the water pressure goes through the turbines, you get air bubbles that come out and suddenly collapse. The formation and collapse of the bubbles can send pressure waves that wear the blades down in the turbines."
The bureau's Chris Cutler said that as the water level in the reservoir gets too close to the level of the intake structures for the dam's turbines, it starts to create a whirlpool-like vortex of water that sucks in air and debris such as equipment or even fish that can be very damaging to the turbines.
Nobody knows for sure at what water level such cavitation can occur, Kuhn and Cutler said. Cutler manages the water and power services division for the bureau's Upper Basin office in Salt Lake City.
The purpose of keeping Powell at 3,525 has been to maintain a cushion above 3,490 to prevent cavitation, said Kuhn, retired general manager of the Colorado River District in Glenwood Springs.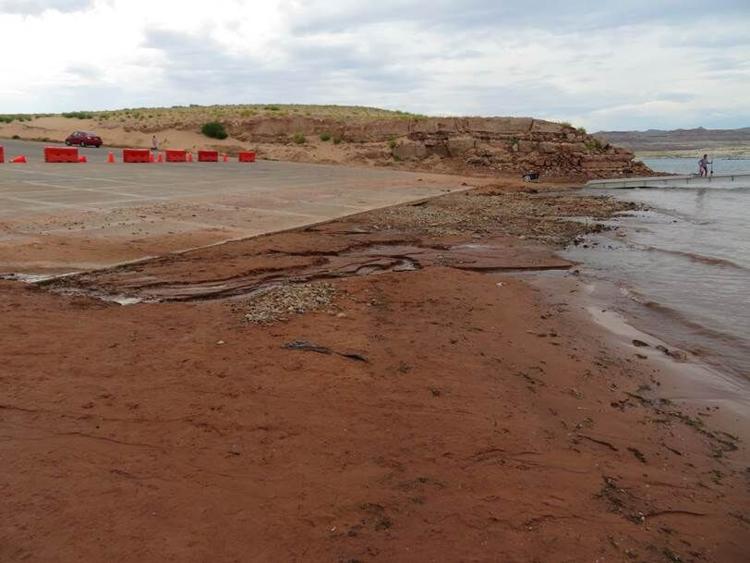 "No one knows how turbines will perform at 3,490. My understanding is there is a small risk of cavitation. Even a small risk is something very, very serious," Kuhn said.
Cutler said a slim possibility exists of cavitation if the lake falls somewhere below 3,525 but above 3,490 because "there is always a chance of some, unforeseen vortex problem due to new equipment we've installed" in the turbines. But he stressed that the 3,525 level is 35 feet above the level where they are most worried about a vortex of air entering the turbines and causing cavitation.
If more water is needed in the future to prop up Powell, the bureau could potentially move 1 million to 2 million acre feet more into the lake over the next two years from Upper Basin reservoirs, he said. But doing that would require drawing up a long-term plan in cooperation with the Upper Basin states, he said.
For now, the 3-foot increase in reservoir levels should be enough for the dam to keep generating hydropower in the short term, Cutler said.
But if the dry weather plaguing the entire river basin continues into 2022, the reservoir's situation could become more dire, Cutler told KUNC radio in Fort Collins, Colorado, adding, "There comes a point where we can't engineer our way out of this."