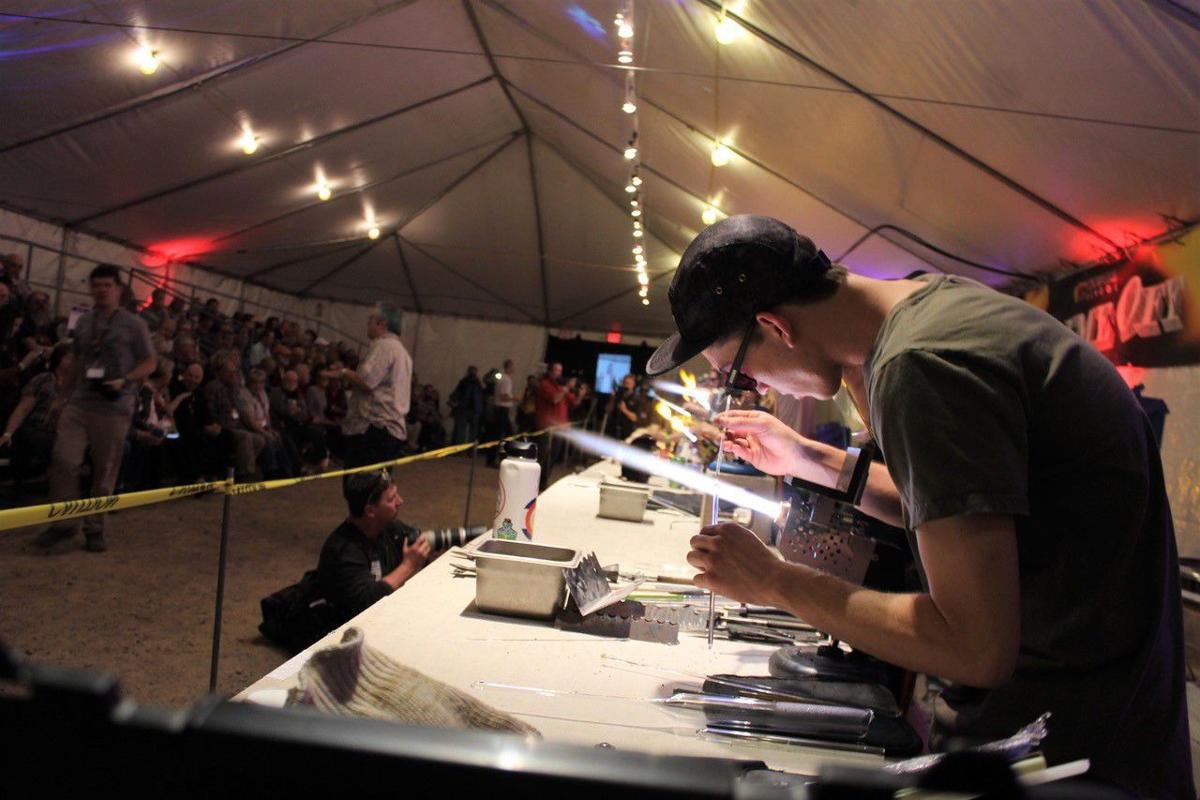 Artist Jonathan Russell finds creating and teaching glass art transformative — for the medium and everyone involved.
"Glass is special because glass is a hot liquid. If you are in a bad mood, the glass comes out bad," Russell said. "If you are focused, you are using delicacy and gravity and it helps you find your inner chi. Teaching glass is not just teaching someone to move their left arm or their right arm: You have to get into someone's psyche and show respect, care and compassion so when they do art, it is delicate and they respect themselves and respect each part of the process.
"Then the outcome is something you respect, including yourself personally and the work you have done artistically. At the end of the day, you don't have to say anything. Your art speaks for you," said Russell, a teacher and local artist whose work has been displayed at the 2014 Oscars Salute to the Stars and on the runway at New York Fashion Week in 2015.
Russell is also a three-time winner of the Flame Off, which has become known as the premier torch working competition in the region.
The event will feature at least 25 local, national and international glass artists competing against the clock — and against each other — to create works of molten glass art in three different heats between 4 and 9:30 p.m. Saturday, Feb. 8, at the Sonoran Glass School, 633 W. 18th St.
Each artist must complete a work of art within a 60- or 90-minute window. Artists will work within the 2020 theme, "A Force of Nature," to construct each piece live. After the competition, judges choose the winners.
The pieces of art — which include bowls, vases and other vessels, as well as beads, pendants and wearable art, along with marbles and sculptures — are donated to the Sonoran Glass School and can be purchased through an auction that ends Feb. 12.
Proceeds benefit education programs in fusing, mosaics, stained glass, glass blowing, torch working, bead making and kiln casting to students in 30 schools and youth organizations. The programs also include summer camps for students and encourage the creation of public art installations in local schools.
The event has become an important fundraiser for the school, which is the only full-service nonprofit glass art education organization in the Southwest, according to Pi Polletta, director of marketing and communications.
"Aside from raising funds for the school, it is a great way for people to watch artists do torch work in a competitive environment. Hopefully it introduces more people to the Sonoran Glass School so they come experience making glass themselves and support the school in its efforts to reach underserved children, veterans, seniors and developmentally-challenged adults," said Polletta.
Polletta said the school also offers a variety of private and group courses and one-on-one experiences that explore craft, color and design in glass blowing, torch working and kiln casting. It also hosts visiting artist seminars and community events designed to encourage the appreciation of glass as a visual arts medium. Classes are tailored for beginners through advanced levels.
"Creative expression is valuable and we know from an early age that the ability to be creative and express ourselves through various forms of art has long-term benefits," said Polletta.
Russell recognizes the "multi-faceted and therefore multi-functional" properties and benefits of the medium: he has created everything from light fixtures and chandeliers to custom car parts, smoking utensils and sculptures.
Also a musician and ice sculptor, Russell encourages individuals of all backgrounds to consider supporting the school and delving into the various creative, emotional and spiritual benefits of glass art creation.
"Not everyone has an exotic lifestyle. Lots of people are born with depression and insecurities and ask 'What am I doing with myself?' and those types of questions. Glass art helps in everyday life.... It is challenging and inspiring and never-ending and there is always something to be learned," said Russell.
Get local news delivered to your inbox!
Subscribe to our Daily Headlines newsletter.