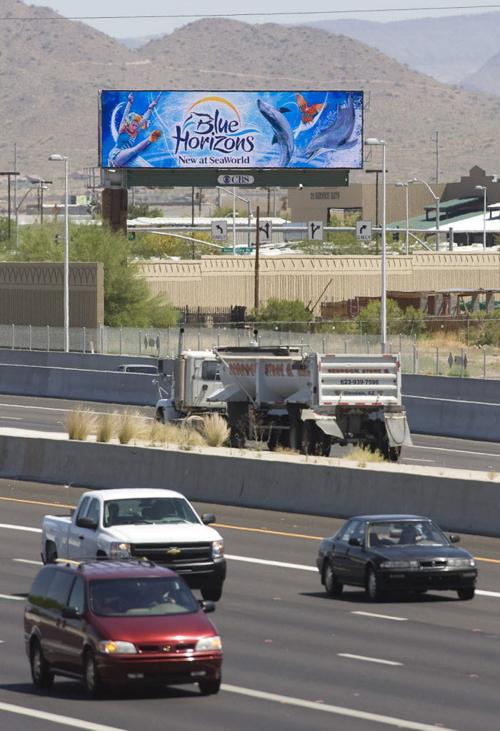 PHOENIX — Astronomers from the University of Arizona and elsewhere secured changes in electronic-billboard legislation that they hope will limit light pollution.
A Senate panel agreed Monday to allow electronic billboards in northwest Arizona after its chief proponent agreed to extensive limits, not only on what can be erected there but what will happen in the future throughout the state.
The version of SB 1114 that cleared the Senate Committee on Commerce and Public Safety would allow just 35 such internally illuminated signs with changing messages in an arc stretching 60 miles north, east and south of Laughlin, Nevada. Sen. Sonny Borrelli, R-Lake Havasu City, also agreed to a reduced cap on the level of illumination.
But the measure has potential statewide implications.
It requires companies to make "all commercially reasonable efforts to use modern and state of the art technology" to limit light pollution from all types of billboards, not just electronic ones. And firms that already have electronic signs where they are now allowed are required, "to the extent possible," to replace lights "with new and advanced technology to decrease the artificial sky glow."
Sabrina Vazquez, lobbyist for the University of Arizona, said that concession by lawmakers enables UA to agree not to oppose the bill.
"The legislative intent language is vital to establish a long-term goal to reduce artificial light in our sky," she told lawmakers, saying that light pollution has an economic effect on astronomy in general and the UA in particular.
"Our professional observatories attract significant financial contributions from outside the state," Vazquez said. "U of A astronomy program has brought in $100 million a year for the last 12 years."
And Jeffrey Hall, director of the Lowell Observatory, whose opposition helped sideline last year's legislation, called that new language "critical." He said major changes will be coming as lighting sources convert from current technology to things like light-emitting diodes.
"This is an opportunity for us to construct a model solution that is effective, efficient, works for all the constituents," Hall said.
"We're not against light," said astronomer Elizabeth Alvarez.
"But don't waste it or cause harm by how you use it," she continued. "If the goal of outdoor advertising is a direct message to the audience, then both an excess of light and misdirection are damaging. Put the light where it's needed, not in the sky."
Potential political problems remain.
The new language has the blessing of Lamar Outdoor, the company that convinced Borrelli to sponsor the legislation so it could construct electronic billboards in the area.
But John Clements, lobbyist for Up Front Media, another billboard company, said he has "serious concerns" with the new proposed limits and may seek changes in the language.
Existing law permits electronic billboards in a swath from the Phoenix metro area west to Yuma. The 2012 deal specifically made these signs off-limits in the rest of the state.
Get Government & Politics updates in your inbox!
Stay up-to-date on the latest in local and national government and political topics with our newsletter.