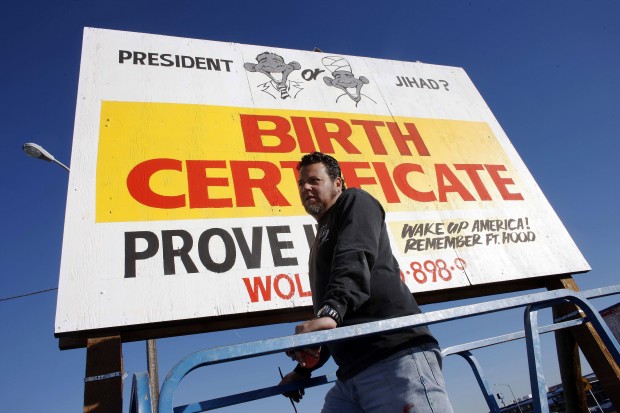 PHOENIX - Ignoring warnings of illegality from their own secretary of state, most House Republicans voted Wednesday to require him to verify that presidential candidates on the Arizona ballot are, in fact, born in the United States
SB 1024 would require political parties to submit to the Arizona secretary of state "documents that prove that the candidate is a natural born citizen, prove the candidate's age and prove that the candidate meets the residency requirements for President of the United States."
But the measure, approved 31-29 with no Democratic votes, goes even further. It gives the secretary of state the unilateral power to keep a candidate off the Arizona ballot if he or she has "reasonable cause" to believe the candidate is not qualified.
"I think that's incredible," said Rep. Kyrsten Sinema, D-Phoenix.
"Apart from the fact that it's blatantly unconstitutional and clearly in contravention of federal law, it also is incredibly ridiculous and offensive to think that the secretary of state of the state of Arizona should be the arbiter of whether or not someone is presenting an accurate, a correct, a legitimate birth certificate," she said.
Ken Bennett, the current secretary of state - and a Republican like the supporters of the bill - shares those concerns. Press aide Matthew Benson said Bennett believes the measure would violate the supremacy clause of the U.S. Constitution by having states set eligibility requirements for candidates for federal office.
"While everyone has an interest in ensuring that only eligible citizens run for president, there are obvious issues with states implementing what could become a patchwork of different tests for a presidential candidate to prove his (or) her citizenship," Benson said.
Legality aside, Sinema said approval of this measure would only add to what she said is Arizona's image "as a laughingstock around the nation."
Rep. Tom Chabin, D-Flagstaff, said those who support the measure will essentially be saying that they do not believe President Obama has a birth certificate showing he was born in Hawaii. There are some groups, often dubbed "birthers," that question the authenticity of the certificate, even with evidence of a birth announcement for Obama published in the local paper.
"It will reflect that you're captured in very unreasoned politics," Chabin told colleagues.
But others defended the provision - and the right and ability of the secretary of state to screen candidates.
Rep. Andy Biggs, R-Gilbert, pointed out that existing law requires candidates to qualify for the ballot in each state, either by virtue of their party being recognized there or by getting the required number of signatures on petitions. He said the bill is simply an extension of those requirements.
Biggs rejected arguments that the secretary of state is not qualified to check documents for validity. He said that office is where various other documents already are filed and reviewed, not just for elections but for certain types of businesses.
Rep. Cecil Ash, R-Mesa, also rejected the idea that the measure makes Arizona a "laughingstock."
"In the past several days, I've received numerous phone calls and e-mails from all over the nation from people congratulating us on making this decision," he said. And Ash said the dust-up over Obama's qualifications has shown the controversy that can arise.
"This is a way to end that controversy, as far as our state goes," he said.
The language about presidential qualifications was tacked on in the House to a bill that had previously been approved by the Senate, but without that provision. That means this new version still requires full Senate approval before going to the governor.