Karen Flores never gave up on finding her mother.
She and her father traveled to the Southern Arizona desert in search of Nancy Ganoza, hired attorneys, went to Mexico and followed any lead — no matter how small — hoping to find the 44-year-old mother of two who disappeared on her way to the United States from her native Peru.
When you have a missing loved one, you are not able to become the best version of yourself, said Flores. "It's something that haunts you every day. You don't know if they are dead or if they need your help."
The Tucson-based Colibrí Center for Human Rights has more than 3,000 open cases of migrants who went missing along the border, primarily in Arizona but also in Texas.
While Border Patrol apprehensions are down, the reports to the center grow. Colibrí currently has nearly 300 families waiting to get a call back, including those looking for a loved one who was trying to get back to the U.S. after being deported, said the center's executive director and co-founder Robin Reineke.
Identifying the missing migrants and connecting them with their families is a hard and time-consuming task and while there are only a few groups in the country that specialize in it, funding is increasingly challenging, Reineke said.
"We are trying to create a centralized system so families don't feel they have to report to different places, and to help families reclaim their loved ones' humanity, to stop the deep anguish families feel," she said.
"We are working really hard to get support to continue this project," she said, but "our runway is about nine months right now."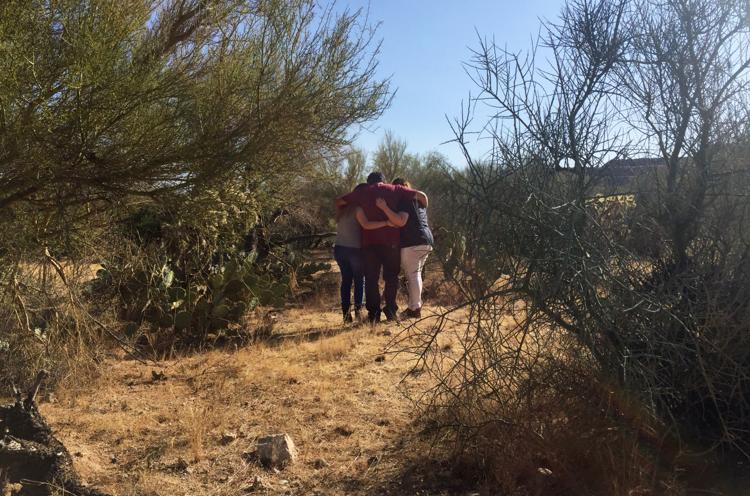 "As if she didn't exist"
When Ganoza first went missing in October 2009, her family had an advantage: some of the migrants she was traveling with called them with information.
They didn't have specifics, Flores said, but they remembered there was an antenna, a rock where they were hiding and the name of a road. Border Patrol agents were behind them, there was a helicopter hovering above and everyone scattered.
Eventually, the group reunited — except for Ganoza. The migrants said they searched the area but didn't find her.
Flores, then 19, was in college. She wanted to drop everything to come and look for her mom, but her father told her to wait. Perhaps she's been detained by Border Patrol, they thought, and will call soon.
A month went by with no word so they traveled from New Jersey and found the spot the migrants described. They went to the Border Patrol, to the local police, to the consulates, but no one could help.
Border Patrol had no record of her. The police said they couldn't file a missing persons report because they couldn't prove she was actually there.
"They felt bad about it, I could see it in their eyes," Flores said. " 'I'm very sorry, but I can't do anything for you,' " she recalls the police officers saying.
Every lead felt like a dead end, she said. "It was as if she was no one, as if she didn't exist."
That's when she met Reineke and volunteers with the local group No More Deaths, who were helping out with the search. Still, even with their help, her mother remained missing.
Through the years, Flores and Reineke stayed in touch. Flores would keep her updated on any news about her mom; Reineke would call if she had answers.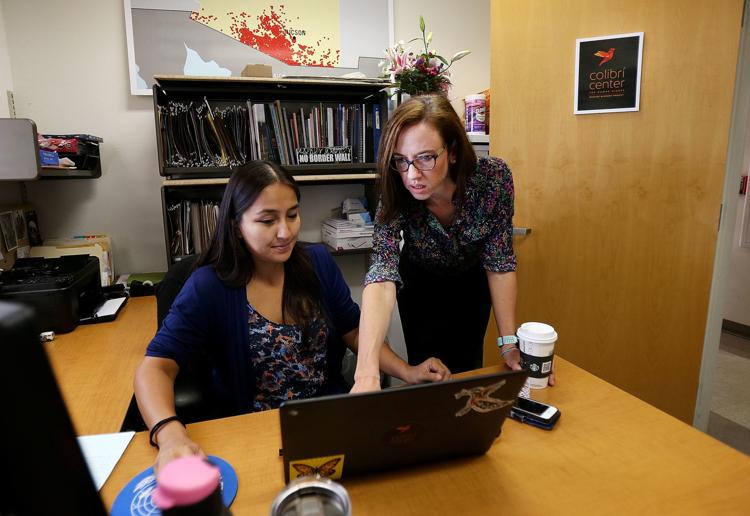 Carrying on search
Colibrí was officially founded in 2013 to help families like Flores', although the work of Reineke, an anthropologist, and that of the Pima County Medical Examiner's Office began more that a decade earlier.
As the number of people dying while trying to cross the desert climbed, the medical examiner's forensic anthropologist Bruce Anderson took it upon himself to start collecting information when relatives called not knowing who else to reach out to. This wasn't in his job description, but he knew it was important.
He created an intake form. It was simple, Reineke said, as she pulled a file from a stack of manila folders and opened it.
The file described an 11-year-old boy, 4 feet 10 inches tall, 100 pounds. He crossed with his mother in 2008. Border Patrol agents spotted them, everyone scattered and he got lost.
The mother told agents her son was still out there. "I still remember speaking with her," Reineke said.
In the mid-1990s, at a time when Border Patrol agents were making more than a million apprehensions a year, the government implemented a "prevention through deterrence" strategy of increased enforcement, especially around urban areas.
The idea was that the risk of being caught would be so large that would-be migrants would stay home. Instead, it pushed traffic to areas so inhospitable, desolate and dangerous, that officials thought they would be a natural deterrent.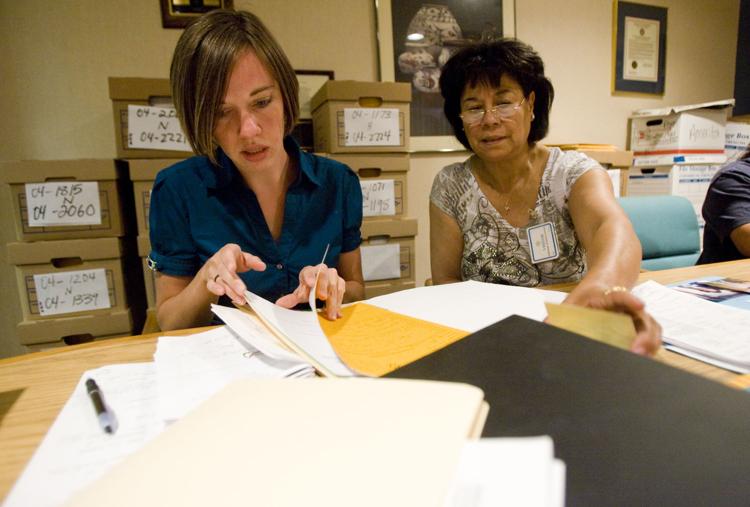 Reineke started to work with Anderson as an anthropology grad student in 2006. She learned Spanish and turned the handwritten forms into a database of missing persons reports.
While initially she joined the team to write her dissertation, she said, "once we talk with one of these family members, it's impossible to not feel responsible to carry on the search."
The remains of nearly 2,900 people have been recovered along the Arizona-Sonora border in the past two decades and of more than 10,000 along the entire U.S.-Mexico border.
The deaths and disappearances have continued unabated, said Eric Peters, deputy chief medical examiner for Pima County, who joined the office in 1998. "It peaks and valleys, but it still remains a problem."
The Border Patrol blames smugglers who guide migrants through more isolated and perilous terrain, who tell them to run if they see an agent and leave them behind if they can't keep up.
To Reineke, though, it is a painfully under-resourced humanitarian crisis that needs to be documented.
The remains recovered in the desert are often decomposed, at times just skeletons, and there's a lack of valid ID in most cases. A positive identification is very challenging, Peters said.
At the medical examiner's office they often resort to X-rays, alternative techniques to get fingerprints, as well as internal findings such as the presence or absence of an appendix or gallbladder to make note of anything that can help narrow down the search when a family reaches out, Peters said.
Still, more than a third remain unidentified, some from as far back as from 2000.
DNA collected from families
Colibrí and the medical examiner's office are considered pioneers in this kind of work.
Reineke has participated in panels organized by the United Nations and working groups in Geneva to discuss best practices. Most recently, she traveled to Greece, where she co-signed "The Mytilini Declaration for the Dignified Treatment of all Missing and Deceased Persons and their Families as a Consequence of Migrant Journeys."
In addition to Colibrí, there's the Human Rights Center in Texas and the Argentine Forensic Team working out of Mexico City that also use science and technology on forensics to identify missing migrants.
There are search and rescue groups such as No More Deaths, Aguilas del Desierto and Armadillos de la Frontera, but they are all overwhelmed and short-staffed, Reineke said.
Each call with a family can take up to an hour, and that doesn't include follow-ups and gathering photos or videos to enter into the database.
"One small detail that's incorrect means we fail," Reineke said.
And under the current political climate, it's taking longer. "We have more families not showing up to previously scheduled appointments due to fear," she said. "They are anxious to travel or to go to a building they don't know."
This is one more reason the law enforcement approach is not the solution to reports of missing migrants, she said.
The ideal operating annual budget would be $550,000 to cover all of the center's programing, Reineke said.
This now also includes DNA testing, a network for families going through similar situations, and an oral history documentation project where relatives can record messages of who their loved ones were to show that they mattered — that they are not just another number.
So far they've relied on grants and private donations, but several of the current grants they have are coming to an end. Colibrí has a goal of raising $75,000 before the end of the year.
Since January 2017, Colibrí has been able to collect DNA from families, including through organized trips to cities with large immigrant population such as Los Angeles and New York. So far, 72 positive identifications have been made as a result.
While the center's workers still get all the information they can about the missing migrants — tattoos, scars, clothing, where they were last seen — they now work backwards and DNA has been key.
"We tried for years to do the work without DNA testing, but it was like finding a needle in a haystack," Reineke said. "Now we start with the genetic results and confirm it by the circumstances and the information we collect."
Heartbreaking news
On Dec. 1, 2017, Flores was studying for an exam when she received a call from Reineke.
She had news: There was a DNA match. A skull found on the Tohono O'odham Nation in 2011 was identified as Nancy's.
"It was heartbreaking," Flores said. "No one wanted to believe she was dead."
But what Reineke and her staff did, she said, was help her move on and look forward.
Flores still doesn't know how her mother died. Did someone kill her? Did she die from natural causes? Her remains were found so close to a highway that it's hard to think the woman she knew wouldn't have asked for help, she said.
"We will always have those doubts in our heads," Flores said, but at least now she can allow herself to remember her mother as she was and finally have closure.
"I'm able to remember a few things I was trying to block," she said. Like the parihuela, a spicy Peruvian seafood soup her mother used to make. "Every Sunday we used to eat that and watch movies."
One day she finally decided to make it on her own and all those memories started to come back.
"Even though they are painful, I felt very happy," she said, holding back tears.
After Reineke called and set up an online fundraiser for the family, they came to Tucson to search for additional remains, collect Nancy Ganoza's ashes and have a memorial at the site where they found her.
"I saw how the community really cared and wanted to help us, and met others going through what we went through," Flores said.
They handed out what they called "Nancy facts," as a thank-you to those who helped them with their search throughout the years.
Nancy didn't like to wear makeup.
While the grief remains, Flores said, "we know she's in a better place."